Lee?s Locks #14
Lee posted a 1-2 record last week. He?s not too disappointed, but check out his latest locks to see if he can rebound this week.
October 17, 2011 at 8:00 PM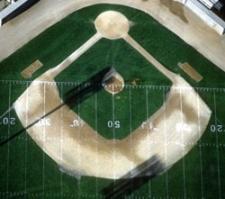 The Observation Deck:
As most of the civilized and electronically connected world is aware, CB Nnamdi Asomugha left the Oakland Raiders as a free agent and signed a very lucrative contract with the Philadelphia Eagles in the offseason.  Those same Eagles are off to the worst start in coach Andy Reid?s tenure, excluding his very first season, and are now at 2-4, while the Raiders are 4-2 and currently one game behind division leader San Diego. 
Golly, now isn?t that just something?  Show me the money, baby.
Tennessee Titans RB Chris Johnson is averaging just under 2.9 yards per carry after five games.  Johnson wanted to be paid as THE best running back in the NFL, and frankly, that holdout now looks exactly like a holdup.  It?s unknown at this time whether Mr. Johnson will be placed under arrest and charged with larceny. 
No training camp, too much guaranteed money, and not enough incentives can do that. 
The 4-2 Buffalo Bills have only lost to a Cincinnati Bengals team that is allowing under 300 total yards per game and to the New York Giants by only three points.  In the 2011 NFL, I think that says they are pretty good. 
Speaking of Philadelphia, the city has gone from a slice of heaven to the bitter end in the blink of an eye.  Riding high on the amazing season the Phillies have had and contemplating the Eagles? ?Dream Team? they are now living in a virtual sports? hell.  The Phillies, as you know, were taken out by a Wild Card team (St. Louis) in the NLDS and the Eagles are currently mired at 2-4.  Pass the Excedrin, please, uh, and the Maalox. 
The Phillies got a hot team at the wrong time, while the Eagles are just bad, making the dumbest mistakes you could possibly imagine.  ?Football Follies? now has some new material, so it?s not a total loss. 
Isn?t it amazing that former first round pick Alex Smith, the QB of the San Francisco Forty-Niners, is having so much success this season when all along he was considered a bust?  Smith, if you remember, was the first pick in the first round in 2005 with a career QB rating of 74.6 in the five seasons preceding this one; he?s boasting a 104.1 QB rating in 2011.
The Buffalo Bills, by the way, have surprised everyone with a 4-2 start and are rivaled only by the amazing start of the Detroit Lions at 5-1, having both lost this past weekend.  Still, it?s great to see these two beleaguered cities involved in such a dramatic turn-around like this one.  An actual fan of neither, I can easily see the excitement it generates and wish them both well. 
Whenever I see a Texas Rangers game, they of course show Nolan Ryan in the crowd, and I can?t shake the memory of a game where newly appointed White Sox manager Robin Ventura was batting with Ryan on the mound.  Ventura was subsequently hit by a pitch and charged the mound where Ryan easily snagged him in a headlock and pounded on his head.  This encounter drove home the point that if hit by a pitch, it?s usually better to just head to first base and retain some semblance of self-esteem than to lose all of it. 
When New York Jets? coach Rex Ryan managed to get them into the AFC Championship game two years running, it was only appropriate (in his mind) that he then go on record publically that their next stop would be to win the Super Bowl.  Rex?s mouth seems to do them more harm than good because at 2-3, they are now in a must-win mode just to keep their coaches promise and can see that he was writing checks that their bodies couldn?t cash.
The Luck Contest:
With Stanford QB Andrew Luck likely to go with the first pick in the 2011 NFL Draft, we?re keeping tabs on who is presently qualifying for that prime position and likewise, the rights to select what many claim is to be the best quarterback prospect in the last decade.
The current Luck leader field:
Indianapolis Colts
Miami Dolphins
St. Louis Rams
Minnesota Vikings
Denver Broncos
Carolina Panthers
Jacksonville Jaguars
Philadelphia Eagles
Arizona Cardinals
Not every team would necessarily be looking for a quarterback, like St. Louis or Carolina, having the first pick in each of the previous two drafts, but this list has nothing to do with need and everything to do with placement.  You can always trade your spot (or your current hotshot QB), if that?s how you choose to go. 
We?ll give it some time and see if our lucky team (no pun intended) becomes more and more apparent as the season goes along.
I wonder if the team that picks first could instead trade that pick and a bag of brand new footballs for some other teams? entire 2011 draft rights? Don?t laugh because Mike Ditka and New Orleans did exactly that for RB Ricky Williams (with Washington), while Minnesota essentially did the same with Dallas for RB Herschel Walker.  Neither deal was a good one for the team which gave up the picks. 
Recap:
For Monday Night Football, I picked the visiting Chicago Bears to derail the fairy tale story of the Detroit Lions and I couldn?t have been more wrong.  Detroit, who tamed the toothless Bears by a 24-13 margin, went comfortably to a 5-0 record on the season by midnight. 
For the baseball ALCS, I rode the hot hand and went with Detroit to take out Texas.  In spite of the valiant effort they put in to stave off elimination last Thursday night, they did fall to the Rangers on Saturday by a 15-5 count in game six.
In the NLCS, we had the Milwaukee Brewers going against the St. Louis Cardinals, and I had the Cards simply because they managed to outlast the vastly favored Phillies in the NLDS and saw them doing the same to the Brew crew.  St. Louis did manage to win this series, four games to two, and will move on to face Texas in the World Series.
I ended the week with a lousy 1-2 record.  Nuts. 
The Picks:
Let?s go with another Monday Night Football game, and this time it?s going to be the Miami Dolphins at the New York Jets for a potential snoozer.  The Jets are 2-3 and Miami is 0-4 but coming off their bye week.  The Dolphins had problems and now have lost QB Chad Henne to season-ending shoulder surgery, so that doesn?t help a team already with problems as they turn to Carolina castoff Matt Moore.  I think that the Jets have problems also, yet not quite as many as Miami, but that isn?t saying much.  These are two teams not playing very well, but I still think Miami will come out on top with their first win of the season, even though the Jets cannot afford to lose this game.  Don?t ask me why, I have absolutely no idea. 
The World Series will begin on Wednesday, and since I?ll be out next week, I?m going out on a limb and pick the eventual winner.
Not an initial believer in the Texas Rangers, but they have made mincemeat of the opposition so far in the postseason, while St. Louis was lucky to actually make it in and did so basically because of the awful Atlanta collapse to end the regular season, although they?ve played well since. 
It?s been said that pitching and defense wins championships and the Rangers have both, as do the Cardinals.  Texas, however, has a very good lineup and can score runs against anyone, anywhere. 
I just can?t keep beating my head against the wall, so I?m going with Texas to win their first World Series championship.  I?ve likely just doomed them. 
And another thing:
How about the Bob Hohler story in the Boston Globe on Dread Sox pitchers Josh Beckett, Jon Lester, and John Lackey, who basically shut down during the now-famous September collapse?  If you didn?t happen to see it, there was an actual account of how all three were hanging out in the clubhouse during games when they didn?t pitch, playing video games, eating fast food, and drinking beer while their teammates were outside on the field.  I just wonder if the Chicago Cubs ownership brought this topic up during their discussions with Theo Epstein who is reportedly going over to be their new head man.  You may think it might be important because Mr. Epstein must have been in a coma if he claims he didn?t know about what was happening with the Sox in September.  Those three pitchers mentioned earlier went a combined 2-7 with a 6.45 ERA in September, so you can possibly see the correlation.
The true character of any competitive sports team becomes apparent, not when they are winning, but when they are losing.
The Chicago Cubs could be the new Boston Red Sox, and I wonder if that?s what they want. 
Far out:
Recently, there was a rather unusual incident involving pro golfer Tiger Woods during the Frys.com Open in San Martin, Calif.  While attempting a birdie putt on the sixteenth green, an abrupt shout came from the typically subdued crowd, which was then followed by a carefully hurled wiener that landed directly in front of the focused and concentrating golfer.  Although quite surprised by the sudden and uncalled for wienerization, Woods managed to regain his composure and play on.  The confirmed Woods? wienerizer was later identified as Brandon Kelly, who was subsequently placed in police custody as he evidently did not follow the country club?s very discrete etiquette and violating a rule that disallows the throwing of wieners at any time upon any green or any tee area during a governed competition.
The National Hot Dog and Sausage Council has now gone on record calling the unfortunate incident ?reprehensible? and grateful that Mr. Woods was not harmed in any way by the careless toss of the item in question. 
You heard it here:
Note:  We?ll be on vacation next week, so everyone gets a reprieve with no locks.  You won?t have to wallow through this again until the following week when I?ll be back to provide more fodder for those who have trouble drifting off to sleep and need some help.  Take care and stay out of trouble.  

Have a great week,

Lee