Lee's Locks No. 28
Could it be? The last of the Locks for Lee? Time can only tell, but in the meantime, he's calling the Super Bowl.
February 3, 2012 at 2:04 PM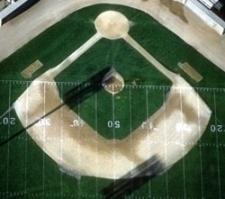 The Observation Deck:
In the NFL, it's Super Bowl week, and the excitement, anticipation, and drama are never at a level quite like this in any other professional sport – much like the World Cup final in soccer.  In Baseball, hockey, and basketball, the ultimate winner is decided in a best-of-seven game format, unlike football where it's all decided in one afternoon--or evening in this case.  
Super Bowl XLVI will be played at Lucas Oil Stadium in Indianapolis between the NFC champion New York Giants and the AFC champion New England Patriots, and it's a rematch of four years ago right down to New York being the 'visiting' team and New England, the 'home' team, which was then a defensive struggle ultimately won by the Giants with a final climatic drive and a 17-14 final score.
Historically, although the Super Bowl was the one sporting event that yearly attracted the largest audience in the world, it was also a typically boring affair where one team dominated the other, leaving it all but decided by halftime.  This century has seen a dramatic turnaround in that most of the games are decided in the final possession either by the winning drive or by a decisive game-clinching defensive stop; in fact, of the three Super Bowls won by New England in 2001, 2003, and 2004, each victory was by a mere three points.  
This game has many subplots, and none larger than the fact that New York ended New England's bid for a perfect season in 2007 with the amazing win leading the Pats to subsequently finish at 18-1.  This game will include Giant's quarterback Eli Manning playing on the field that his brother Peyton helped build by bringing the Colts to respectability, and it's Peyton that may not ever take another snap with the home team on that turf again.  There's an odd scenario.  
The Super Bowl will be played by two teams who barely made it past their conference championships except for timely plays, miscues by their opponents, and also luck, but none of that will matter on Sunday when they face off.  If there is a football destiny, then this is it: a rematch.  Better 'getcha popcorn ready' as T.O. once famously said.
In local sports, the Bayhawks beat the Bakersfield Jam 116-105 on Thursday night on the road and head to Reno for a game on Saturday and again on Monday.  Erie is now currently above .500 at 13-12 on the season, which after a cool start is a pretty solid run.
The Erie Otters are currently mired at 6-37 with the worst record in the league.  I've been thinking that they would eventually come on and finish the season strong, but with the schedule winding down, it's not looking good for the home team right now.
And locally in baseball, the Erie SeaWolves open the 2012 season on April 5 at Altoona, and on April 12 we'll have Bowie at the Uht for the home opener.  It'll be here before you know it, and I'm already thinking about a hot dog and a cold one.  I'll bet that Erie fans Tom Miller and Karen Shim know how many days and maybe hours before the gates open again on 10th and French.
Quote of the Week:
"I see three teams in the NFL, right now, that I feel like I can add a little bit of flavor to it from what they have, I won't mention those teams. But, if the phone rings, there will be a lot of decisions to make on that."  -- Former NFL quarterback Donovan McNabb was asked what his prospects were during Super Bowl week festivities.
Confidence is a good thing.  Reality, however, can be something completely different.  
Quote of the Week No. 2:
"It's frustrating to me as a coach because I can't figure out what we're doing wrong, that hard thing tonight was we couldn't run anything. We couldn't get into our offense with their pressure." – Orlando magic coach Stan Van Gundy after the Magic's win against the 4-18 Washington Wizards and their first in five games.
Now I've heard of strange statements, but as a player, I don't think that was necessarily a confidence builder, and as a fan, I don't think that made me want to purchase a ticket. 
Recap:
There were no picks made by yours truly last week as the only NFL football game that was played was the annual Pro Bowl, and that's really an exhibition game between the league's *best* players, excluding any players named that will be playing in the Super Bowl, and I use the term 'game' loosely.  This year, the AFC beat the NFC 59-41 in what amounted to a friendly flag football game between a bunch of buddies, like at a company picnic.  The most noteworthy items being Miami wide receiver Brandon Marshall's four touchdowns (a Pro Bowl record), although he scored just six all year (hmmm) and New Orleans' quarterback Drew Brees successful drop kick (another record and Doug Flutie put him up to it).  The next best thing to happen was that the game finally and mercifully ended.
My record for picks therefore remains where it was at 34-15 overall on the NFL season.  
The Picks:
I have only one pick for this week and that is for Super Bowl XLVI (46, if you don't like Roman numerals).  
The 512 regular season and 10 postseason games in both conferences all come down to this one final game.  Someone will win and someone will lose – all of the proverbial marbles.
Let's share a glimpse of each team participating for professional football's ultimate prize.  
The New York Giants –
The Giants finished the regular season at 9-7 by beating the Dallas Cowboys in New York in the regular season's final game.  Having had up and down moments all year – mainly due to injuries – they finished the season strongly, just as they did in 2007, by beating first. the New York Jets, and, of course, Dallas to clinch.  They carried that momentum into the playoffs first by beating the Wild Card entry Atlanta Falcons at home--and convincingly, by 24-2--and next they traveled to Green Bay and beat last year's NFL champs with a record of 15-1, also convincingly at 37-20.  The NFC Championship game at San Francisco was a more difficult task, but they managed a 20-17 overtime win regardless, sending them on to Super Bowl XLVI and destiny.  
Quarterback Eli Manning is playing phenomenally, and they have three first-class wide receivers in Victor Cruz, Hakeem Nicks, and Mario Manningham, while also having maybe the best defensive front in football manned with Justin Tuck, Osi Umenyiora, Chris Canty, Jason Pierre-Paul, Dave Tollefson, and linebacker Mathias Kiwanuka.  This is a team stocked with talent, and they are certainly peaking at exactly the right time, which is also exactly the way it was four years ago when they took down the Patriots, 17-14, sacking quarterback Tom Brady five times in the process.  
This team has that same look, the same momentum and the same kind of talent.
The New England Patriots –
The Patriots finished the season at 13-3 by winning their last eight games.  For the most part, many of those wins were not impressive and their porous defense – ranking No. 31 in passing yards allowed – were barely keeping them in games for quarterback Tom Brady to ultimately win.  In the postseason, and having a bye by virtue of their AFC No. 1 seeded position, they strangled Tim Tebow and the dysfunctional Denver Broncos, 45-10, but in the AFC Championship game, they escaped with a win over the No. 2 seeded Baltimore Ravens, 23-20 when a 22-yard field goal attempt was amazingly unsuccessful.  
The Patriots have a great deal of talent in record-setting tight end Rob Gronkowski (17 TDs) and also tight end  Aaron Hernandez, and arguably, the league's best slot receiver in Wes Welker (122 receptions). But with Chad Ochocinco (1 TD) inactive on most game days, they are left with veteran Deon Branch and utility man and special teams captain, Matthew Slater, and a moderate running game, primarily with BenJarvis Green-Ellis, Danny Woodhead, and rookie Stevan Ridley, although veteran Kevin Faulk has returned from injury.
Throughout the season, their much-maligned defense seemed to be their biggest problem, but in points-allowed, they actually ranked at No. 13 and that's the true indicator -- not yards, but actual points -- of success.  In the postseason, they saw the return from injury of safety Patrick Chung and inside linebacker Brandon Spikes, and along with stellar play from defensive lineman Vince Wilfork and solid linebacker Jerod Mayo, they allowed 30 points in two playoff wins, coming up with dramatic stops right when they needed them most.
These two teams have some similarities but are also very different.  They are both physical, although their strengths and weaknesses are unlike, but they have proven coaches, who are solid game managers and both have quarterbacks in the top of their class.  Virtually no one picked either team to play in this game, and now that they are here, anything can happen.  
As stated, both teams has talented players – they wouldn't be here if they didn't – yet it definitely is advantage: Giants with tight end Ron Gronkowski arriving in Indianapolis in a walking boot with a high ankle sprain and his status for the game is 50/50 because he makes the Patriot offense work just as much as Tom Brady does.  This is where, however, key players play vital roles, and it's players much like defensive lineman Vince Wilfork who can impact the game immensely and be a big factor in the outcome.  Take also into consideration that quarterback Tom Brady had a basically lousy outing in the game with Baltimore to the point where he promised owner Bob Kraft that his next game would be much better.  Brady usually never plays badly in back-to-back games.  
The other side note maybe worth mentioning is 'MHK'.  This is a patch the New England players wear on their game jerseys just above their hearts in remembrance of Myra Kraft, wife of Patriots' owner, Robert, who lost her valiant battle with cancer last July, and the players have quietly dedicated their season to her memory.  She spent a lot of time with many of them and their families so it was their idea to do this for her and for what she personally meant to them.  They have now won 15 games, and I see no evidence that this particular quest can end any other way than with win No. 16. They're playing, after all, for Myra.  
Based upon all of that, my final pick for the NFL season:  New England    
And another thing:
Have a billion dollars and you're not sure where you want to put it?  If you do, then you could get in on the bidding for the Los Angeles Dodgers since that's where the numbers start.  It won't actually buy the baseball team, but it will get you into the conversation.  Keep in mind that the Texas Rangers sold for $593 million just a few years ago, so if you're looking for investment opportunities, the Dodgers may be a pretty good bet.  Where's Warren Buffet when you need him?  
Far out:
Former Pittsburgh Steelers offensive coordinator Bruce Arians has evidently surfaced in Indianapolis with the Colts and will supposedly take that very same position under new head coach Chuck Pagano.  Not sure of what may have happened in Pittsburgh, but Arians was supposed to be retiring, not changing employers.  Linebackers coach Keith Butler will evidently not join Pagano in Indianapolis as rumored and will remain with the Steelers.  Word has it that former Kansas City Chiefs head coach Todd Haley is in the running for the vacant coordinator position.  
That's Unbelievable Department:
On the first day of February, there was a soccer match played in Egypt in the city of Port Said between Al-Ahly (from Cairo) and the Al-Masry home team, which the visitors won, 3-1 in an upset.  The final score evidently prompted a riot that left 74 people dead and hundreds more injured. This all took place in front of riot police who failed to intervene.  The situation was described as what looked like a 'war' and was the deadliest soccer violence since 1996.
It's so very sad and so difficult to believe that fans attending a sporting event would behave like that en masse.  With the difficulties happening in that country today, this is the very last thing they needed as they try and put that country back into some form of political process.  The riots that broke out in Vancouver when the Boston Bruins defeated the Canucks earlier last year for the Stanley Cup pale by comparison.
Done and done:
It's the end of the road for me, and after submitting 28 columns, I'm going to take a break for a while.  I've enjoyed putting together my thoughts, some random information, and opinion and hopefully, something that provided some entertainment and maybe also something a little different.  I've enjoyed this experience, and this opportunity and I wish you all the best in health and in life.  Maybe we'll get together again, and if so, we'll catch up with you then.
Take care and remember, stay out of trouble.  
Lee