2012 NFC Season Prognostications
Lee's making some prognostications, which he says are otherwise known as, ?Let?s just take a blind stab at it?
September 5, 2012 at 3:23 PM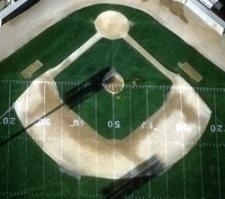 For those of you that remember me, maybe prefer to ignore me, or just plain hate me, whichever applies, but being the target that I am for questions or insults, I'm throwing my two cents in and will do basically what the other pundits/self-proclaimed experts/fools are doing, and that's to take a swipe at the upcoming NFL season, which is set to get underway as absolutely none of us have any real idea of how it will all unfold.  Got it?
I'm a firm believer that whatever happens in the first four games of the season for any team almost has no bearing on what can happen in the last four.  Teams discover an identity and morph into what they truly are either because of momentum or because of injuries or even their own mojo.  Teams get hot, teams get cold, or a team can get neither and be comatose all year long. 
The NFL truly has emerged as the number one professional sports program in the country and has become a year-round entity unlike any other.  They're numero uno, amigo. 
Without further ado and much more blabbering, let's get on with it.   
Since we have 32 teams and it will consume limitless electrons, let's start with one conference and go from there.  The NFC was essentially the NFL before the 1970 merger, so being the 'senior' league, we'll start there.  I'll list the teams in the order that I believe they will finish within their respective divisions.
NFC East
The reigning Super Bowl champs are the New York Giants, having beaten the New England Patriots, 21-17 in the February title game.  Since 2001, the Patriots evidently can beat anyone in the big game, having won three, but not the Giants, having now lost two to the G-Men.  It's simple, really: If the Giants are going to the big show, just don't go there and play them. 
New York Giants – Have nearly the same look as last year, losing only free agent RB Brandon Jacobs and WR Mario Manningham on offense while picking up RB David Wilson (VT) in the first round.  I have to reluctantly admit that Eli Manning has become an elite NFL quarterback and their defensive front, consisting of Jason Pierre-Paul, Justin Tuck and Osi Umenyiora, is phenomenal.  The unfortunate incident of Pierre-Paul tossing CB Prince Amukamara into a cold tub while at camp will be long forgotten when the games count, even though punter Steve Weatherford's unthinking tweet depicting the dunking video gained more coverage than they would have liked.  I wonder who will be blocking for good old Steve's punts in the regular season?  Guess that Steve is probably thinking about that as well. 
The Giants play in a rough and tumble division and don't have an easy schedule, but I'm picking them to go 11-5 and win their division once again. 
Philadelphia Eagles – They were a completely disappointing team in 2011 and just couldn't finish out games.  In five losses, the Eagles led at either halftime or at the end of three periods before letting the games get away.  Talent-wise, they have an offense that produced five players who caught 48 passes or more and finished an NFL fourth in yards from scrimmage and their defense should also be improved with the additions of free agent MLB Demeco Ryans (Houston) and highly touted rookie OLB Mychal Kendricks (CAL) on board. 
A second-place finish is where I have them because first place hinges on Michael Vick playing a full season, and he hasn't done that since his days in Atlanta. Knowing this, I'll still go with a 9-7 record and an improvement over last year.   
Dallas Cowboys – They are all about unpredictable.  They were 7-4 and in control of the division before giving it all away to the Giants in the final game last season.  QB Tony Romo puts up impressive numbers (31 TD, 10 Int.), but can you see him taking this team to the next level?  I'm sorry, but he looks like he's just good enough to get yet another coach fired.  Then there's the Dez Bryant situation where he will have around-the-clock security (babysitters) to make sure he doesn't get in trouble – it will be the nighty-night tuck-in and then the rise and shine, wakey, wake-up to start his day off again just right.  We all know that boys will be boys, after all.  To shore up their porous secondary, they signed free agent CB Brandon Carr (Kansas City) and drafted DB Morris Claiborne out of LSU.  Rob Ryan is an excellent defensive coordinator and DE/OLB DeMarcus Ware is a player that offenses game-plan for and this in itself could make a difference, but will it?  Besides, when your general manager is also the owner, does that mean you fire yourself when you can't even sniff the playoffs year after year?  He is the one constant, you see. 
As long as they have Tony Romo and if Jason Whitten isn't 100 percent healthy, then I can't go any better than 8-8. 
Washington Redskins – Finished last season -- as they did so many others -- in despair.  Enter the second pick in April's draft, QB Robert Griffin III (Baylor) and you have instant excitement.  What you also have is a porous offensive line that actually gave up an amazing 10 sacks in one game to Buffalo (and they had a pathetic 29 all of last season for crying out loud) and a running game that ranked 25th in the NFL in 2011.  Add to that a rather suspect defensive line and a questionable secondary (they lost S LaRon Landry to NYJ) and it isn't a recipe for an antacid-free diet by any means.  The linebacking corps is their savior, however, with veterans London Fletcher and Brian Orakpo, but does that really equate to changing games?    
I have a lot of respect for Mike Shanahan because he won two NFL titles, but we've seen nothing in the nation's capital to suggest that he's heading for another, so I'll go with a lackluster 7-9 for a final showing. 
NFC West
San Francisco Forty-Niners – The Niners were basically the darlings of the NFC and amazingly went from also-ran to the NFC Championship Game in one season and the biggest difference was in coaching where Jim Harbaugh took over a team that was not competitive on any level annually and made them relevant again, even getting the most out of previously unheralded first-round QB Alex Smith.  In fact, they were basically within a couple of outs of getting to the NFL title game until two episodes of ball-handling miscues doomed their efforts.  Even so, you have to like where this organization is going, and it reminds me very much of the late Bill Walsh and how you expected them to be in it year in and year out.  If only they had a top-flight quarterback. 
I'm staying the course and again have high expectations, so I'm thinking a 12-4 finish and the division title.
Seattle Seahawks – Pete Carroll will definitely be pumped and jacked this year (unlike 1999, when he got jacked right out the door) when the season rolls around, because on paper, this team looks better.  The Tarvaris Jackson quarterback experiment didn't provide the results everyone had in mind (uh, they didn't have the expected results in Minnesota either, but never mind about that) and they now have surprising rookie QB Russell Wilson and Matt Flynn (FA - Green Bay) waiting in the wings.  They even gave WR Terrell Owens a look, but he didn't make it out of camp, yet with WR's Sidney Rice and Braylon Edwards, they likely felt a 38 year-old diva wasn't in their best interest.  During the preseason, they put up 45 on Kansas City and although it wasn't the regular season, the rookie QB's numbers were flat-out awesome.  Better get him as your back-up, fantasy owners, because he's only costing you about $20.  Matt Flynn will start out riding the bench with $10 million in guaranteed money and that's a high-priced backup. 
I'm thinking better, but not playoffs better.  Let's go with a respectable 8-8 ending to the story. 
St. Louis Rams – I'm a Jeff Fisher believer – and I believe that he won't coach another Super Bowl team.  Don't get me wrong; I respect his coaching abilities and can see him fielding competitive teams, but I just don't see them as the crème de la crème or in the upper echelon of the NFL anytime soon.  Maybe I'm wrong and the problem in Tennessee was Bud Adams (which is easily believed), but here's the chance to make us non-believers change our minds.  I admit that I like Sam Bradford and Steven Jackson, but there's no one else on that offense that strikes fear in any defense because Brandon Lloyd in is Foxboro today.  Although Gregg Williams is suspended indefinitely as the defensive coordinator due to his role in 'Bountygate', they have a solid staff in place, and actually, his son, Blake, is handling the play-calling for them.  They have some good defensive pieces in the mix and added DE Michael Brockers (LSU) and CB Janoris Jenkins (N. Alabama) in the draft, while signing DB Cortland Finnegan (Tennessee), so it stands to reason that this side of the ball would likely be improved.    
I'm still having trouble thinking good things because they were 31st in total offense in 2011 and they lost their number one wideout.  This all looks like 7-9 from here. 
Arizona Cardinals – it seems like eons since this club went into the final minutes of a potential Super Bowl win against Pittsburgh just a few years ago because they haven't accomplished much since Kurt Warner retired even though they have arguably the best wide receiver in the league in Larry Fitzgerald.  When they traded for QB Kevin Kolb, everyone figured that this was it, the missing piece, but he won't even be the season starter, and they'll likely go with veteran John 'Red' Skelton (who?).  They also lost veteran LT Levi Brown for the season so whoever the starting quarterback is, he loses (his health) by winning (the job).  On defense, they have Darnell Dockett and Calais Campbell up front and also S Adrian Wilson, but LB Clark Haggans is 35 years old and free agent addition DB William Gay (Pittsburgh) doesn't necessarily put a scare in anyone. 
If your offense struggles to move the football and you leave a questionable defense on the field for long periods, you start to look a lot less like the 8-8 you were last year and look more like 4-12 this year. 
NFC North
Green Bay Packers – There they were, at 15-1 and looking like the kings of the hill and wham, party's over.  They must not have watched the film from 2007 when the Giants came in and beat a Brett Favre led Packer team again as underdogs, so how would they have seen this one coming?  This one stung, baby.  This is also one very good football team, at least offensively.  Aaron Rodgers puts together a serious argument for the NFL's best quarterback and they have ample weapons on offense, including WRs Greg Jennings, Jordy Nelson, and Donald Driver and also TE Jermichael Finley.  Moving the ball is not a problem.  Keeping other teams out of the end zone is, however.  That's what they spent their six highest draft picks on defense this year.  They did lose offensive coordinator Joe Philbin (Miami), but otherwise they have continuity on their staff.
I just can't see another 15-1 because the AFC North should basically be improved and giving the Pack a tougher route to the division crown.  I can still give them a 13-3 mark and a first round bye.
Chicago Bears – The Bears have quite a few people picking them to put some real pressure on Green Bay.  Okay, they have a healthy Jay Cutler at quarterback and he's now reunited with diva WR Brandon Marshall – who had his best season with Cutler in Denver – so that and newly re-signed RB Matt Forte should spell trouble for defenses.  Uh, okay, but what about that offensive line?  While we're on it, how about that stout defense that already has MLB Brain Urlacher out?  Yes, Julius Peppers has been as-advertised, but this unit is getting older and not necessarily better.  The addition of RB Michael Bush should give Forte some breathing room, but this team is looking at one tough schedule, and I don't necessarily think it's going where people may think they are.
I won't be unkind, but I have to be realistic and I'll pick them to go 10-6.
Detroit Lions – were surprising in 2011.  They managed to put their offense together and QB Matthew Stafford threw for over 5,000 yards (41 TD, 16 Int.), and he also managed to stay on the field, which was surprising in that the former overall No. 1 pick hasn't been able to do that prior to last year.  When you have a wideout like Calvin ('Megatron') Johnson, then gaining yards and scoring points gets a little easier.  In spite of this, the Lions have virtually no running game, and their offensive line had problems at both tackle spots although they did take LT Riley Reiff (Iowa) at No. 23 in the April draft to address that problem.   Defensively, they have one of the best lines in the league with Nadmukong Suh, Cliff Avril, Kyle Vanden Bosch, Corey Williams, and Sammy Lee Hill, along with Nick Fairley.  If only Suh could control his temper and Fairley could stay off police reports -- then you could have an outstanding rotation.  The linebackers are an unremarkable bunch, and former first round pick Bobby Carpenter is hanging out in New England now.  The secondary gets torched weekly, although the return of a healthy S Louis Delmas would definitely help the stressed-out bunch. 
I'd be remiss if I didn't at least give these guys a chance, but this isn't about sentiments, it's about winning and losing.  I'll be kind and go with 9-7. 
Minnesota Vikings – Is it me or is this franchise not heading in the right direction?  Now let's see, we have second-year QB Christian Ponder who did show some effectiveness and then there's Pro-Bowl RB Adrian Petersen and we know they don't come any better than that.  Petersen, however, won't even take the field in the preseason and may not be ready in week one after tearing his MCL and ACL last December and those injuries typically take a year to come back from.  TE Visanthe Shiancoe left (New England) including a host of others and their replacements are not exactly household names.  They did take highly-touted OT Matt Kalil (USC), hoping to protect the fragile Ponder. 
There isn't very much to get excited about with this club and I just can't will them to do much, except maybe go 4-12. 
NFC South
New Orleans – Okay, this has been an offseason like no other and things will be different on the team and on the sideline.  Much has been said about head coach Sean Payton and the fact that he has been suspended for the entire season due to the bounty scandal, which also included coach Joe Vitt (six games) and several players as well.  Defensive coordinator Gregg Williams went to St. Louis and then went on vacation for his role and was replaced by former St. Louis head coach Steve Spagnuolo.  Will this affect the team?  There's no way that it couldn't.  This is one good football team, however, and like San Fran against the Giants in the playoffs, they came very close to playing in the NFC Conference title game last season, having lost to the Forty-Niners at the end.  QB Drew Brees continues to put up numbers that are simply as good, if not better than anyone else in the NFL today.  The offense is loaded with talent and they've lost no one from last year who had any significant impact.  They brought in three linebackers, including MLB Curtis Lofton (Atlanta) and OG Ben Grubbs (Baltimore) to replace G Carl Nicks (FA).  It will be interesting to see what Spagnuolo brings to the defense because they flourished under Williams.
Common sense tells me that this team will take a big step back, but in reality, I just don't see that happening here and will tag them with a 12-4 outcome. 
Atlanta - A team with former number one pick Matt Ryan at QB, Michael Turner at RB and first-round WR Julio Jones as well as future hall-of-famer TE Tony Gonzalez on offense should – in my mind -- produce a better record than 10-6 and then post a numbing first-round playoff shutout loss to the N.Y. Giants.  Basically, this offense remained intact, but it's the offensive line that is solid in some spots and questionable in others, although that was addressed with OL Peter Konz (Wisconsin) in the second round and OL Lamar Holmes (S. Mississippi) in the third.  On defense, they brought in ILB Lofa Tatupu (Seattle) and CB Asante Samuel (Philadelphia) to address some of their concerns, but I thought that Tatupu's play had dropped off and Samuel tends to run his mouth almost as much as he runs around with receivers, so I'm not sure if I see the net gain, here, but that's just me.
I have a lot of respect for GM Tom Dimitroff, but I'm not sold on head coach Mike Smith.  Therefore, I don't see them heading upward from here, so we'll stay at 10-6. 
Carolina – This was a team that was fun to watch and basically because of QB Cam Newton, who was the overall top pick in last year's draft and performed admirably right from the start and is the first NFL quarterback with 4,000+ yards and 500 yards rushing along with 14 rushing TDs.  Their 6-10 overall record wasn't indicative of how competitively they actually played because several games slipped away in the fourth quarter that they could have otherwise won.  Along with RBs Jonathan Stewart and DeAngelo Williams and having now added FB Mike Tolbert (San Diego), who is a strong blocker and receiver out of the backfield and solid wide receiver Steve Smith along with productive TE Greg Olsen.  There could be some issues along the line, but this offense looks pretty good on paper and with a full off-season to go on rather than the strike-shortened season last year, Newton should actually improve upon last year's performance.  The defense, however, doesn't quite match up, talent-wise, with their offensive teammates.  They did bring in LB Luke Kuechly (BC) who many compare to Brian Urlacher, but the secondary is the real weakness on this side of the ball and the corners struggle against anyone.  The kicking situation is noteworthy because Olindo Mare is considered a liability. 
I still think they're on their way up, just not all that high, so I'll tag them with a 7-9 record. 
Tampa Bay – A once proud franchise that has struggled recently and finally became a doormat for the rest of the league.  They've now brought in Greg Shiano (Rutgers) to be the head coach and instill a winning regimen.  QB Josh Freeman went from 25 TDs, 6 INT in 2010, to a terrible 16 and 22 in 2011, although in all fairness, he was surrounded by meager talent.  They brought in WR Vincent Jackson (San Diego) and TE Dallas Clark (Indianapolis), but what do we know about either?  Jackson caught passes from Drew Brees and then Phillip Rivers, so what happens with Freeman?  Admittedly, I didn't see a lot of Dallas Clark last year, but when I did see him, he looked like he was dragging a truck tire around while running uphill.  DL Gerald McCoy, Adrian Clayborn and Michael Bennett are pretty solid players on defense, but the rest of this beleaguered unit offers little in the way of talent and Ronde Barber is 37 years old.  CB Aqib Talib offers a glimmer of hope, but he could be suspended because of a previous arrest.
I believe that Schiano will put together a competitive squad, but I don't think that happens this year with regard to actual wins, so I'll pick them to again notch a 4-12 record.
Finally, don't wager any money on these forecasts because I can assure you they are not a get-rich-quick scheme recipe.  This prognostication represents only the NFC and only the regular season with no playoff predictions included.  If I get in the right state of mind, I may just do the same for the AFC. 
Have a happy season,
Lee