Lee?s Locks #24
Posting a 2-4 record last week, Lee?s looking to bounce back from his worst outing to date. Think he can? Check out this week?s lock.
January 7, 2012 at 11:30 AM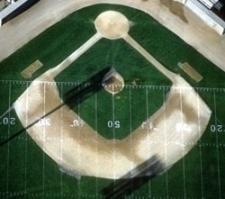 The Observation Deck
Got a lot of NFL stuff here, so I'd appreciate it if I didn't get a lot of lip about it.
The annual firings in the NFL have now officially begun.  The St. Louis Rams let go of head coach Steve Spagnuolo and GM Bill Devaney, while the Tampa Bay Bucs dismissed head coach Raheem Morris (and his entire staff) as both commanders had very disappointing seasons after showing much promise last year.  Likewise, the Chicago Bears have released longtime GM Jerry Angelo amid the late season collapse of the team to subsequently end out of the playoff picture; meanwhile, offensive coordinator Mike Martz has also left the team, reportedly of his own accord.
More surprisingly, Indianapolis Colts owner Jim Irsay has removed Vice Chairman Bill Polian and also his son, GM Chris, in an alarming move that will significantly change the face of the franchise.  The question now is, will head coach Jim Caldwell be retained and what will happen to quarterback Peyton Manning and his $28 million roster bonus?  They also have a number of veteran free agents (Reggie Wayne and Robert Mathis among them) that they will need to make decisions on as well.  The Colts are in major overhaul mode, and it's quite possible that when the music stops, Mr. Manning, Wayne, and Mathis may not all have a seat.
As I went on record in a previous column, the rationale behind the trade for former Cincinnati quarterback Carson Palmer in exchange for a first round pick from Oakland is a study in contrasts and  questionable at best.  The Raiders, as you may remember, traded with the Bengals believing that they needed the veteran quarterback to make a run at the playoffs, but now they've missed the postseason with an 8-8 record and all they have to show for it is one less very high pick and one more average quarterback.  Who'da thunk?
Speaking of questionable moves and mindless decisions, the hated New York Jets not only didn't make good on coach Rex Ryan's promise to win the Super Bowl this year, they didn't even qualify for the postseason at all.  Their loss to Miami in their final game was typical of how the season went with QB Mark Sanchez's failure to come through in the clutch and WR Santonio Holmes basically quitting during the game.  Holmes is due $7.5 million for next season, and it will be interesting to see what happens, because oddly, it's all guaranteed money.
The San Diego Chargers finished the season at 8-8, beating Oakland at their place.  Only Kansas City at 7-9 finished below .500 in the AFC West, while the Chargers, Raiders, and Broncos were all tied with the same record, but Denver won via the tiebreaker scenario.  If not for the six-game losing streak, San Diego could have easily walked away with the division crown.  They live at the Heartbreak Hotel.
Regarding Penn State football, New England Patriots offensive coordinator Bill O'Brien interviewed for the head coaching position this week and received the job.  The Lions will interview Green Bay Packers quarterback coach Tom Clements, and according to sources, San Francisco offensive coordinator Greg Roman interviewed for the position last month.  All three of the candidates are currently working for NFL teams that are in the playoffs.
The NFL MVP candidates are raising quite a ruckus.  Many feel that New Orleans' quarterback Drew Brees should win it since he established the new record for passing yardage this year, but I strongly feel that Green Bay quarterback Aaron Rodgers made the most impact for his team, leading them to a 15-1 regular season record and the top seed in the NFC, thus earning him the top individual prize.
The Luck Contest
With Stanford QB Andrew Luck likely to go with the first pick in the 2011 NFL Draft, we now have a winner in that the teams that did not make the playoffs already know the specific draft order for each of them (with two coin flips yet to occur).  The five lowest ranking teams are:
Indianapolis Colts (2-14)
St. Louis Rams (2-14)
Minnesota Vikings (3-13)
Cleveland Browns (4-12)
Tampa Bay Buccaneers (4-12)
 
The Colts won the contest by virtue of a tie breaker and will pick first in next April's draft.  The next question will be: Who will draft Baylor quarterback Robert Griffin III?
I'm saying that it's the Browns.
Quote of the Week:
"I'll tell you what. It's tough for guys to follow a captain that kind of behaves in that manner."  -
Jets RB LaDanian Tomlinson when asked about the behavior of Jets' wide receiver and team captain Santonio Holmes during the game in Miami this past Sunday.
Quote of the Week II:
"Brunette girls" – University of Michigan kicker Brendan Gibbons who made a 37-yard field goal in overtime to beat Virginia Tech, 23-20 in the Sugar Bowl, when asked what he was thinking as he lined up for the potential game winning kick. 
Recap:
This was my worst week for picks during this NFL season as I bucked the trend of the nationwide writers and took a chance on the long shots and that's where I had problems (read: had my ass handed to me).
The first game was the Tennessee Titans at the Houston Texans, and I went with Houston simply because I didn't think that they wanted to go into the playoffs as losers of their last three, but being on their fourth starting quarterback, they lost an ugly game anyway, 23-22.
Riding the recent success of the Indianapolis Colts who had won their last two games, I chose them over host Jacksonville and missed again because the Jaguars took this one, 19-13 over Indy, who reverted to the bumbling clowns there were for their first 13 games.
Then I had the detested, despicable and overconfident New York Jets at the Miami Dolphins where I went with Miami to keep New York out of any playoff consideration and they came through, 19-17 with QB Mark Sanchez graciously throwing three picks in the effort.
I next went with the Baltimore Ravens at the Cincinnati Bengals and really reached on the Bengals thinking that they could possibly beat the Ravens at home considering they came pretty close the last time they played each other at Baltimore.  I was wrong again as the Ravens won, 24-16.
My next game was the Kansas City Chiefs visiting the Denver Broncos and I had Denver, but Kansas City prevailed, 7-3 in a defensive struggle.  Denver's lost their last three and it looks like New England came up with the recipe to beat them and now everyone has it.
The final game was the Dallas Cowboys at the New York Giants for the NFC East Championship and going with New York, I was rewarded when they downed the listless Cowboys, 31-14.  Dallas is quite uninspiring and I just can't see where people have faith in Tony Romo because he's just good enough to get coaches fired. 
That left me at a completely deplorable 2-4 for the week and a fairly lackluster 27-12 on the season.  Glad that I don't care otherwise I'd be dejected.
The Picks:
Since this is the NFL Wild Card weekend, I'll make selections on each of the four games slated for Saturday and Sunday.
The first game is the AFC No. 6 Cincinnati Bengals (9-7) at the No. 3 Houston Texans (10-6).  The Bengals have struggled (read: lost) against good teams and beat up on average or bad teams, but after besting Cincinnati at home, Houston dropped their last three games of the season.  They went with their fourth quarterback in Jake Delhomme, and that's really as bad as it gets. Although third-string QB T.J. Yates is returning, I'm again looking at the Bengals, who haven't won for me all year so why quit now?  Because Albert Einstein once famously declared that doing the same thing over and over and expecting a different result is a clear sign of insanity.
Pick: Houston.
Then we have the NFC No. 6 Detroit Lions (10-6) at the No. 3 New Orleans Saints (13-3).  The Lions have had a very good year and nearly beat Green Bay last weekend in a wild shootout, but there's no one quite like QB Drew Brees and the Saints are going to be one tough out in the playoffs, if you can get them out at all and especially at home in the Superdome.
Pick: New Orleans
Next, it's the No. 5 Atlanta Falcons (10-6) at the No. 4 New York Giants (9-7).  The Falcons have been an up-and-down team all season, but you could say the same thing about the Giants because they've failed to capitalize on weaker teams and lost very winnable games (Seattle, Washington), so what does that mean?  It means that this is the playoffs and none of that will matter today.
Pick: New York
Finally, we have the No. 5 Pittsburgh Steelers (12-4) at the No. 4 Denver Broncos (8-8).  The Broncos and Tim Tebow have been deciphered by the rest of the league and finding a way to beat them isn't quite what it once was now that they've lost three in a row, with two coming at home.  Pittsburgh has injury issues galore with QB Ben Roethlisberger's bad ankle, safety Ryan Clark's health at Mile High, center Maurkice Pouncey's ankle sprain, and now the loss of Rashard Mendenhall to a torn ACL.  That being said, the Steeler defense is playing lights out, and it's tough to imagine beating them with a limited offense like Denver's because Pittsburgh defensive coordinator Dick LeBeau will likely show them things they've never seen before.  This will be Tebow's last start at quarterback for the Broncos.
Pick: Pittsburgh
And another thing
The problems associated with the Dallas Cowboys seem attributable primarily to one person, and that is the defacto general manager, Jerry Jones, who happens to also own the club.  There's good news for the rest of the NFC East and bad news for Cowboy fans in that Jones has no plans to relinquish that role in the foreseeable future.  I wouldn't expect things to change if that is the case.  Status quo means no playoffs they go, so get used to 8-8 because he's the problem and not the solution.   
Speaking of 8-8 records, it's a lot like the San Diego Chargers with head coach Norv Turner and GM A.J. Smith who are both expected to return next season.  There's another prime example of nothing much is going to change, so I wouldn't be making Super Bowl plans any time soon, if ever.
Coach Andy Reid will also be retained in Philadelphia, and although he's had a good run, they never did win a Super Bowl on his watch, and they don't appear to be getting better with a large payroll and an 8-8 record to show for it.  Hey, it's just money.
Far out
In their final four regular season wins, the Tennessee Titans scored exactly 23 points in each game.
In the 12 team NFL playoff format, six teams that made it in this year are new arrivals for 2011:  the Detroit Lions, San Francisco Forty-Niners, and New York Giants in the NFC, with the Denver Broncos, Cincinnati Bengals, and the first-timer Houston Texans in the AFC.  
For the 16-game season, the Oakland Raiders managed to give up 1,358 yards on 163 total penalties, which is an NFL record.
Not only did quarterback Dan Marino's 27-year-old passing yardage record at 5,084 yards get broken this season, it was done by three different quarterbacks: Drew Brees, Tom Brady, and Matthew Stafford.  This happened without any offseason programs or any team-organized activities.  Practice?  Who needs that?
New England led the AFC with 34 takeaways during the season and of their 513 total points scored, 124 of them have come from turnovers.  They've given up 411.1 yards per game, which is second to last in the NFL.  Who is dead last exactly?  Why, it's the Green Bay Packers at 411.6 YPG.
Have a great week and steer clear of trouble.
Lee