Live Music Preview: Broccoli Samurai
Broccoli Samurai take the stage at the crooked i Friday, April 6.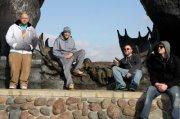 A band name is a great way to pique a listener's interest. Some bands stick to the least exciting naming trend out there, just placing "The" before their word of choice, such as The Strokes, The Cure, and The The. Others can raise enough eyebrows to draw in inquisitive new fans.

Take Broccoli Samurai for example.

It's not often you see a fusion of Japanese military nobility and tree-like member of the cabbage family, but after a late-night viewing of an old Saturday Night Live skit, Broccoli Samurai was born, a freewheeling electronica band based just two hours west of Erie, that's ready to take over the crooked i Friday, April 6.

"We enjoy playing every second we can," keyboardist Ryan Hodson said. "It's about entertainment. We're about keeping people dancing, encouraging people to come out and have a good time."

After becoming a serious force in the Cleveland live music scene three years ago, the four-piece of Hodson, drummer Chris Walker, bassist Steve Fade, and guitarist Neal Campbell makes sure that their work has enough play thrown in to keep things fun.

"There is some seriousness and some playfulness in our show," Hodson said. "We bounce off of each other when we're on stage. Every so often we'll start having some fun with the crowd, start shouting 'choppin' broccoli' and stuff like that."

Heavily influenced by electronica, Broccoli Samurai mixes up its sound, shifting every so often to keep the crowd on its feet. At one moment, the band will churn out soothing chillwave and then quickly changing gears, throwing in some funk to keep the toes tapping and the hips shaking. With different dance-inducing elements all packaged into one real rock-band feel, these fun-loving Ohioans know how to start a party.

Unlike some bands that pump out the same tracks every show, Broccoli Samurai ensures that each performance is different than the one before, making for a new experience every time out.

"I'd say about 80 to 90 percent of our show's are improvised," Hodson said. "We start out with a shape or a plan, but we keep it open-ended, changing it as we go along."

While jamming on the fly runs the risk of lost connections within the band, Broccoli Samurai has a strong enough chemistry to match rhythms and test new waters seamlessly, matching each other's artistic ability but also the intensity of the audience.

"A big part of our improv stems from feeding off of the band," Hodson said. "If that's 50 percent, then the other 50 percent comes from the crowd. We just try to mix it up and keep it chill, keeping people dancing as we go along."

What else can you ask for than a group of musically-minded broccoli enthusiasts to kick off the weekend? So, make sure you head down to State Street to join in on a dance party that would even get George H.W. Bush's toes tapping.