Live Music Preview: He Is Legend
After a two-year hiatus, He Is Legend is back... and they're coming to Erie.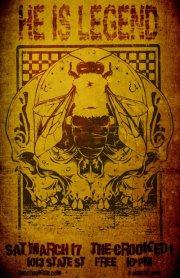 It seems the crooked i has tapped into the "luck o' the Irish" for St. Patrick's Day.

Finally out of its long hiatus, He Is Legend will be playing in Erie as the third stop on their first tour in over two years. To make the night even sweeter, the show is free--one of the greatest four letter words you can ever hear. Add in that St. Patrick's Day falls on a Saturday this year, and we've got a night to remember.

Well, depending on when you start celebrating, that is.

Hailing from Wilmington, N.C., He Is Legend got its start in the late '90s, when frontman Schuyler Croom and company started the band in high school. After releasing "I Am Hollywood" in 2004, He Is Legend started drawing in fans for their infectious mix of hard rock and metal. After releasing "Suck Out the Poison" and "It Hates You" in 2006 and 2009, respectively, the band went on hiatus while various members began playing with different groups.

Lucky for us, He Is Legend is back.

While the group's recorded material showcases their mix of heavy riffs and menacing mythology, fans of He Is Legend know that the band's live show is where it's at. If you don't believe me, just ask He Is Legend Manager Zach Neil.

"I remember going to see them live, and I was absolutely blown away," Neil said. "You've never seen anything like it. It's like getting to see one of the classic rock bands. I was so blown away that I started managing the band after seeing them."

Neil described He Is Legend's sound as "Nirvana meets Slayer," with the band drawing from within to fuel the creative fires.

"Their songs are pretty introspective," Neil said. "Most of them are painted on a picture of personal experience."

Now that the band is back together, He Is Legend has more than just a tour in store for 2012. The group locked themselves into a studio to work on a new album that should be completed sometime this year. That means there's a chance Erie could be one of the first places to hear some of He Is Legend's newest material, yet another bonus for an already exciting show.

More importantly, this is a band that places its integrity first.

"They're 100 percent music and art," Neil said. "The band isn't interested in the PR or the fame. They're dedicated to their music. They're the real deal."

A band that's not only ready to rock after a long break but also dedicated to quality tunes? Sounds like a plan to me.

So, if you're a longtime fan that's been dying for He Is Legend to return or someone that's just ready to rock out for St. Patrick's sake, then follow the rainbow to the crooked i Saturday 17 and make sure your holiday ends up golden.