Nerdist Combines Game of Thrones and Taylor Swift in Music Video
If you ever wanted to see a fake George R.R. Martin remake a T-Swift song, then you're in luck!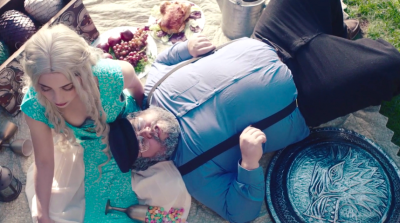 Late last year, I listed Taylor Swift's music video "Blank Space" as one of my favorites of 2014. It was ridiculous in all the right ways (also, I'm not afraid to say that "Blank Space" is a pretty damn catchy song), but Nerdist Industries took the crazy to another level.
The media behemoth dedicated to, well, nerdy things presented a video that combines author George R.R. Martin and his Game of Thrones series with the Swift song and video earlier today. Yeah, you read that right, Martin meets T-Swift. Before this video, the only place you'd expect that to potentially happen would be on a late night talk show couch, but Nerdist thinks differently than most people.
That's a good thing, mind you, as the video for "Blank Page" is tremendous. The whole video hinges on Martin's reputation as a writer who is unafraid to kill popular characters in the lengthy ongoing series in surprising, and often horrifying, ways. Nick Mundy stars as Martin - who takes the place of the unstable lead a'la Swift in the orginal - and does a fantastic job turning a man who seems like a genuinely sweet guy in real life appear like a crazy, death-obsessed man.
We see Mundy's Martin chase around Emily Rudd's Daenerys Targaryen, destory paintings, and consume heart candies, all while singing appropriate lines like "Yes, it's true - No one's safe/ But isn't that what makes it great?" over the Swift original. It's extremely bizarre, but in such a wonderful way. Plus, as someone who's partook in some Game of Thrones, it's quite a fun video, indeed.
Plus, the look Martin's face when Jon Snow walks in at the end of the video is just delightful, so twisted and giddy. You can almost imagine the excrutiatingly painful ideas that zip through his mind... Watch it for yourself below.