News of the Weird: August 17, 2016
Bacteria to the rescue once again. 
August 17, 2016 at 11:30 AM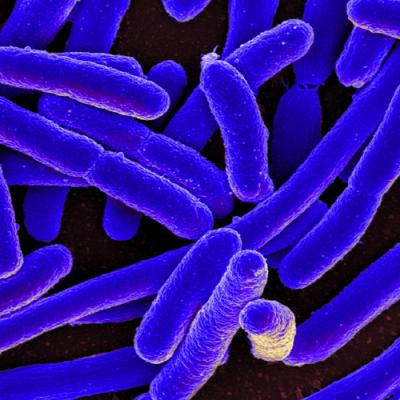 By: Chuck Shepherd
LEAD STORY -- Designer Leather
The late fashion designer Alexander McQueen (who dabbled in macabre collections, himself), might appreciate the work of acolyte Tina Gorjanc: She will grow McQueen's skin (from DNA off his hair) in a lab, add back his tattoos, and from that make leather handbags and jackets. Gorjanc, a recent graduate of McQueen's fashion school alma mater, bills the project mainly as showcasing the meager legal protections for abandoned bits of human DNA -- and fears industrial use of such DNA on a much larger scale. [Quartz, 7-16-2016]
War Is Hell
Jihadists had a rough year militarily and now suffer further from an array of field reports (such as a new book by retired Lt. Gen. Michael Flynn) that their most sensitive laptop computers captured in battle by U.S. forces seemed always to be loaded with pornography -- including "vile" material involving kids and animals. (Initially, said one analyst, there was so much porn that U.S. intelligence figured its purpose was only to disguise tactical messages within the sex-scene pixels.) (2) On the other hand, jihadists can claim one victory, in that the actor Michael Caine said recently the terrorist-caused airport discomforts had finally convinced him to legally change his name to "Michael Caine" -- after tiring of explaining to screeners why he had Maurice Micklewhite's (his birth name's) passport. [ABC News, 7-14-2016] [The Guardian, 7-22-2016]
Awkward Flirtations
For Some Reason, Ladies Turned Them Down: (1) Patrick Marsh, 59, was charged with indecent exposure in Woodward Township, Pennsylvania, in July after he rang the doorbell of a 30-year-old female neighbor seeking, as he told police, "courtship." He greeted the woman naked, "with his genitals in his hands." (2) In Florida's The Villages senior community, Howard Sparber, 69, faces several charges after having, in June, fired 33 9mm rounds into the home of a woman who had been declining his sexual overtures. (The lady was away.) (3) John Taylor, 57, said he was just lonely and wanted to meet women when a court sentenced him in Shirley, England, in July, for a three-month spree of furtively slipping men's underwear through various women's house letterboxes. [PennLive.com, 7-12-2016] [WKMG-TV (Orlando), 6-21-2016] [Birmingham Mail, 7-26-2016]
Compelling Explanations
In June, Dieter Uchtdorf, a high official in the Mormon Church, said the historic narrative of Mormon founder Joseph Smith's use of a "seer stone" to translate the "golden plates" that gave Smith ultimate worldly knowledge has been authenticated, basically, by the 2007 invention of the iPhone. "I can get the collected knowledge of the world through a few little inputs," said Uchtdorf, and thus it is likelier than ever that God gave Smith something like a smartphone in 1823. [LDS Daily (Salt Lake City), 6-21-2016]
Geoffrey Fortier, 23, was arrested in Craighead County, Arkansas, in July and charged with video voyeurism of a woman he had allowed to shower in the home occupied by Fortier and his girlfriend. After the woman stepped out of the shower, she noticed a logged-on iPad propped against a wall. Fortier informed deputies that it was all a misunderstanding -- that he had earlier recorded himself urinating in order to sell the video to a urination-fetish website, and he simply forgot to remove the device. [Arkansas Online, 7-28-2016]
Scientific Breakthroughs
Friendly Bacteria: Plastics are well-known to decompose slowly, but the most difficult is the polyethylene used for containers such as the omnipresent water bottles, and despite recycling, tens of millions of metric tons wind up in landfills, where the plastic's strong polymer bonds resist breakdown. Recently, however, two Japanese researchers, after tedious trial-and-error, identified a bacterium that views the polyethylene terephthalate as an efficient, tasty meal. A colleague of the two said further tweaking was necessary before using the bacteria industrially. [Chemical & Engineering News, 3-11-2016]
Room-Sized Bong? Samuel Oliphant, 35, was arrested on various charges in Scottsdale, Arizona, in June after police were called to a house to investigate a "strong and unusual" odor (which cops suspected to be drugs). Inside, they found a "laboratory," necessitating use of their "hazmat protocols," because Oliphant had allegedly built a "complex and elaborate" system apparently for the purpose of enhancing the smoking of marijuana. [KPHO-TV (Phoenix), 7-1-2016]
Awesome!
Rapper Kasper Knight apparently shot himself in the cheek with a revolver on July 17 in Indianapolis -- as part of a staged music video -- according to raw footage of the incident posted on his Facebook page (and then of course seen by almost 2 million people). Knight, seen bleeding afterward, said he tried to recruit a shooter, but when no one volunteered, shot himself, anticipating (as in previous times he had been shot, by other people) "like a 4 out of 10 on the pain scale." [WRTV (Indianapolis), 7-27-2016]
The Passing Parade
The Belton (Texas) Early Childhood (pre-kindergarten) School staged an "Enchanted Evening" prom in May and posted many photos on its Facebook page of little toddlers arrayed in tuxedos, gowns, corsages and of course, for some, limousines. (A Kansas City Star reporter suggested that this was just the beginning of an expensive parental trend.) (2) The village of Trecon was inducted recently into the club of French towns with silly names. "Tres con," translated, is "very stupid." Mayor Georges Leherle accepted the town's membership, joining 38 incumbent members including "Monteton" ("My Nipple") and "Mariol" ("Dumbass"). [Kansas City Star, 6-27-2016] [The Local (Paris), 7-11-2016]
Recurring Themes
Things That Have Happened Before: (1) An ambulance was called in July when jockey Chris Meehan was kicked in the face by a horse and knocked out cold after he fell during a race in Merano, Italy, but the arriving ambulance accidentally backed over his leg. He is recovering. (2) At England's premier agricultural event (the Great Yorkshire Show), a winning show cow was stripped of her title, suspected of having artificially "enhanced" udders. The runner-up, of course, was promoted. [The Racing Post via Daily Telegraph (London), 7-5-2016] [The Northern Echo (Wycombe, England), 7-14-2016]
A News of the Weird Classic (September 2012)
"Pheromone parties" attract men and women seeking romance, not via often-insincere conversation, but based on the primal-scent signals emitted by each other's slept-in T-shirts. Organizers have staged parties in New York City and Los Angeles and plan to expand, according to a June (2012) Associated Press report. The organizers' initial conclusion: People prefer lovers with a somewhat-different genetic makeup than their own, but not too different. (Update: "Pheromone parties" were attracting attention as recently as 2014, but not much since then.) [Associated Press via USA Today, 6-23-2012] [The Atlantic, August 2014]
Perspective
Almost half of all produce raised by U.S. farmers is thrown out before it reaches a consumer's plate, and though there are several contributing explanations, the most striking is American eaters' "cult of perfection." "It's about blemish-free produce," said one farmer, e.g., "sunburnt cauliflower" or table grapes not quite "wedge-shaped" enough. America's "unyielding cosmetic standards," according to a July report in The Guardian of London, even means that much of the annual $160 billion worth of imperfect food is simply left to rot on the vine, or sent directly to a landfill, because farmers anticipate retailers' reluctance to stock it. [The Guardian, 7-13-2016]
COPYRIGHT 2016 CHUCK SHEPHERD