NFL Picks: Week Four
Alex bieler makes his picks for week four of the NFL season.
September 30, 2012 at 1:34 PM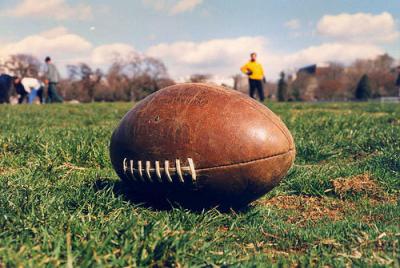 Well, last week was rough. Like many people across the nation, a slew of upsets, missed field goals, and botched overtime 4th and 1s (silly Detroit) derailed my chances at a winning record, leaving me with 5-11 on the week and under .500 total for the year. Instead of packing it in, this week I'm getting serious. 15 games on the docket, 15 picks. With Baltimore defeating Cleveland in a close game Thursday night, I'm already on step closer. Here we go.
Carolina at Atlanta
Carolina hasn't been playing quite up to expectations this season. Atlanta, on the other hand, has been destroying everything in its part, Sherman style. I don't see any reason for that to change. Falcons take out the Panthers.
New England at Buffalo
Would you have believed before the season that the Patriots would be in a position to be 1-3 this season? Well, playing against a hot Buffalo squad, they might. I don't see New England faltering here, though. After barely losing to Baltimore, Tom Brady will not be letting his team slip against a divisional opponent.
Minnesota at Detroit
Matthew Stafford has not been playing nearly to the level that he can. I may be putting too much faith in him, but he's got to turn it around one of these weeks. The Lions come out on top.
Tennessee at Houston
Tennessee should be riding high after its thrilling overtime victory over the Lions. However, that should make the crash against the stout Texans all that more jarring. Houston is too good on both sides of the ball for the young Titans, especially without Kenny Britt.
San Diego at Kansas City
San Diego is coming off a blowout loss to Atlanta, but with how hot the Falcons are playing, I can forgive that. Kansas City got a big win against the Saints, but San Diego has enough defense to put a damper on the Chiefs.
San Francisco at New York (Jets)
The 49ers should focus after falling flat against a mediocre Minnesota team. The Jets should get shut down this week.
Seattle at St. Louis
I know, I know, Seattle shouldn't have won that game against the Packers last week. However, I don't think people are giving this defense enough credit. However, the Rams are better this ear than many people expected. This should be fairly close, but I still like Seattle.
Miami at Arizona
I've still got a feeling that after becoming the surprise of the NFL, Arizona should have a let-down game sometime soon. I think Miami will keep it close, but Arizona's defense will be enough to keep them undefeated. Fair warning, I said the same thing about San Francisco last week.
Oakland at Denver
Denver may have lost two straight games, but it was against two of the best teams playing right now. Even with the momentum carrying over from the Pittsburgh shootout, Denver should take this.
Cincinnati at Jacksonville
Cincinnati is starting to piece everything together after a questionable start to the season. Jacksonville should be riding Maurice Jones-Drew against the bungling Benglas run defense, but the other facets of Cincinnati's game should put down the Jaguars.
New Orleans at Green Bay
I dub this game the Desperation Bowl. A combined 1-5, both teams need to come out of this week with a victory. After the dust settles and the points are scored, but the Packers will come out on top.
Washington at Tampa Bay
The Washington hot streak has sure hit a slowed down.  With the big question marks on defense I'll take the Buccaneers at home in a close one.
New York (Giants) at Philadelphia
Philadelphia may be 2-1, but it sure doesn't inspire any confidence with the way the team has played. The Giants should take advantage of the numerous turnovers the Eagles generate.
Dallas at Chicago
I'm tempted to take the Bears in this game, but the Cowboys, led by DeMarcus Ware, should obliterate the constantly questionable Chicago offensive line. Cowboys win on Monday night.
Survival
Well, I took a risk and it bit me. I picked New Orleans last week, despite their issues, due to the favorable matchup against Kansas City. Well, the Chiefs were able to come from behind, and now this section is done for the year. Good night, and good luck.