NFL Picks: Week One
Alex Bieler makes his picks for week one of the NFL season.
September 9, 2012 at 12:40 PM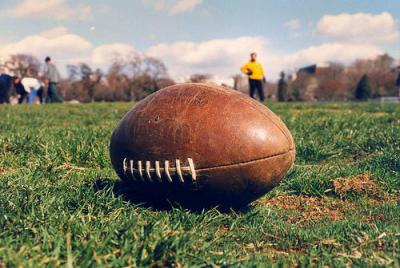 Howdy, everybody. I'd ask you all if you're ready for some football, but I fear that if some of you hear that phrase some more, I'd be hunted down and mercilessly frowned at. I wouldn't like that. Instead, I'll be giving everybody a chance to do something they love: criticizing someone's sports predictions.
Throughout the season, I'll be picking which NFL teams I believe will emerge victorious in each and every game for your judgmental pleasure. It's time to see how the Erie Reader stacks up against the experts from the NFL, ESPN, CBS, and all those places that don't have nearly as much fun. In addition to making picks for each game, I'll be making survivor-style picks as well, which I'll explain later in this post.
So, now that I've got you all up to speed, let's go straight to the picks, shall we?
Dallas at New York (Giants)
Well, what a fantastic way to kick off the season. Like many others, I believed that the Giants would take this game, given their powerful defensive line and the woes of the Cowboys they lined up against. Instead, Kevin Ogletree blew up for a pair of touchdowns and Dallas beat the reigning world champs.
Indianapolis at Chicago
This should be an interesting matchup as Andrew Luck makes his debut against the Bears defense. Even with a gimpy Brian Urlacher, Chicago should be able to contain the Colts while Jay Cutler and Brandon Marshall have their way with the Indy secondary.
Philadelphia at Cleveland
As a Browns fan, I feel very confident in saying that Philadelphia should take this by at least a pair of touchdowns. With loads of talent and the need to make a statement that their disappointing last season is behind them, tThe Eagles should control this game.
St. Louis at Detroit
Sam Bradford and the Rams shouldn't be nearly as dreadful as they were last season, but the Lions aerial assault is just too much for the bottom dwellers of the NFC West.
New England at Tennessee
Tennessee could have a pretty good offense this year, depending on how well young starting QB Jake Locker fares. However, offense isn't the problem for the Titans here, as Locker will be forced to play catch-up when Tom Brady and the Patriots light up the scoreboard.
Atlanta at Kansas City
This is a tough matchup for the Falcons. While Matt Ryan and crew should be electrifying this year, having to face a Kansas City defense in Arrowhead Stadium could be a challenge. Still, Atlanta can still outscore the Chiefs run-heavy offense.
Jacksonville at Minnesota
With neither Adrian Peterson or Maurice Jones-Drew expected to receive a full workload, this game is about each defense keying in on the other team's young QB. That being said, Jacksonville has the much better all-around defensive squad.
Washington at New Orleans
Robert Griffin III will get to face the Sean Payton-less Saints in his debut, so he'll get a real close look at how to play his position. Drew Brees, already excellent, is even better at home, averaging over three touchdowns per game in New Orleans last season. That alone should be enough for the Saints to down the Redskins.
Buffalo at New York (Jets)
While the media circus around the Jets has primarily focused on the team's offense, the New York defense is still pretty solid. Unfortunately for Jets, the Bills added some big defensive pieces in the offseason. The Bills should be able to score enough while the defensive line finds the weak holes around Nick Mangold and D'Brickashaw Ferguson in the line.
Miami at Houston
Excellent on both sides of the ball, Houston should make Ryan Tannehill's debut a nightmare. When everybody is healthy, the Texans are a scary team.
San Francisco at Green Bay
The game of the week looks to be a battle of who wins between Green Bay's offense, a pretty unstoppable force, and San Francisco's defense, a fairly immovable object. Aaron Rodgers will still find enough mistakes, while Alex Smith won't be able to do enough against a Packers defense that should be better than last year.
Seattle at Arizona
The Cardinals QB situation is dreadful, while Seattle's Russell Wilson snatched the job with his impressive performance in the preseason. If it weren't for the presence of Larry Fitzgerald, this would be an easy call for Seattle, but the superior Seahawk defense still wins this for Pete Carroll's squad.
Carolina at Tampa Bay
With the additions of Vincent Jackson, Doug Martin, and coach Greg Schiano, Tampa Bay should be a fair bit better this year, but unless Cam Newton suffers a sophomore slump, the Panthers offense should take this one.
Pittsburgh at Denver
There are a lot of questions in this game. Will Peyton Manning be the same as he was? Could the Steelers offensive line stop an infant? Ultimately, there are more questions for Pittsburgh, with the uncertainty of Mike Wallace's effectiveness and the loss of Ryan Clark due to playing in Denver. Different QB, same result for the Broncos.
Cincinnati at Baltimore
I like the core of Andy Dalton and A.J. Green for this young Bengals team, but I have trouble picking them against an aging, but still tough, Ravens squad. With the help of home field advantage, Baltimore wins a close one.
San Diego at Oakland
Geez, they picked a couple of tight games for Monday Night Football. With the absence of Ryan Mathews and Vincent Brown, I like the Raiders more than the inconsistent Chargers, although I'm not completely sure of how well Carson Palmer can do. The Raiders take this one.
Survival Pick
As I said, I'll also be making picks, survival style. For those that are unfamiliar with survival football, I pick the winner of one game each week. It can be any game, so as long as the team I pick wins, I move on to the next week. If your team loses, you're done. Simple, right?
Well, once you pick a team, you can't pick that same team for the rest of the season. This prevents someone from picking the Packers and Patriots every week while forcing you to make some gutsier decisions down the stretch.
As for the first week, I'm going pretty safe, taking the Detroit Lions over the St. Louis Rams. The combo of Matt Stafford and Calvin Johnson should handle the Rams easily. Of course, when I pick teams in survival, horrible things tend to happen to them.
Good luck to all your teams, except for the ones I picked against. I'll see you next week.