NFL Picks: Week Two
Alex Bieler makes his picks for week two of the NFL season.
September 16, 2012 at 1:10 PM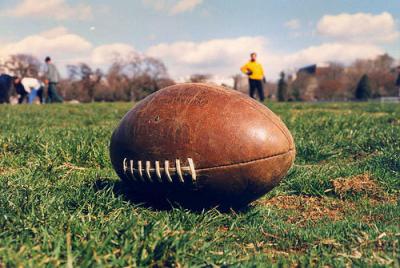 I have a love-hate relationship with the first week of the official NFL season. On one hand, real football games have finally arrived, providing us with meaningful matchups. However, the first week always wreaks havoc on my NFL picks.
A combination of exceeded expectations (New York Jets) and organizational distress (New Orleans Saints), as well as impressive performances (Tony Romo, Robert Griffin III) led to an unfortunate 8-8 record last week. However, I'm already off to a better start this week, with Green Bay taking down Cory Vaillancourt's Chicago Bears behind solid defense and a killer fake field goal for a touchdown.
With one game down, here are the rest of my picks.
Kansas City at Buffalo
Early injuries loom over these two teams, with the Chiefs defense and Bills offense getting hit hard. However, C.J. Spiller went off against the Jets defense and should do the same here against an ailing Kansas City squad while the missing Buffalo defensive front shows up after going missing last week.
New Orleans at Carolina
Week one was not kind for either of these two teams. New Orleans looked rusty against the Robert Griffin III-led Redskins while Carolina couldn't score much on Tampa Bay. Out of the two teams, I trust Drew Brees and the Saints to rebound more than the Panthers.
Cleveland at Cincinnati
Well, Cleveland's defense actually kept the game against Philadelphia close, which is really impressive considering that Mr. Bean could have played better than Brandon Weeden. Cincinnati may have been blown out by Baltimore, but at least they showed some offensive promise. Take the Bengals in this one.
Minnesota at Indianapolis
Adrian Peterson is a freak of nature. Not only did he recover from wrecking his knee much earlier than expected, he also was big last week when he wasn't predicted to produce much. With him healthy, the Vikings should be able to take a close one over the Colts.
Houston at Jacksonville
Maurice Jones-Drew may be back now, but it won't matter against the Texans. Houston may have the best shot at ranking in the top 5 in both total offense and defense at the end of the year.
Arizona at New England
Is there a safer bet than Tom Brady and the Patriots? Now with an improved defense, New England should be able to easily handle a Kevin Kolb-helmed Arizona team.
Tampa Bay at New York (Giants)
Although I give a lot of credit to the Cowboys, the Giants just did not look right in week one. With the extended week to recover, the unfocused Victor Cruz and co. should be able to right the ship and beat the Bucs.
Baltimore at Philadelphia
Both teams in this bird bowl may have won in week one, but only Baltimore looks trustworthy. While Michael Vick should play better than his horrendous effort in Cleveland, the Ravens have too much momentum for the Eagles to stop.
Oakland at Miami
With a long trip on a short week after a special teams disaster in week one, the Raiders seem to have run into some tough luck. Fortunately, their playing what is arguably the worst team in the league. Take Oakland over Miami.
Dallas at Seattle
Tony Romo may have trouble against an excellent Seattle secondary, which really helped limit Larry Fitzgerald last week. The Cowboys should still score enough to take the win after the Dallas defensive front forces rookie Russell Wilson to turn it over a few times.
Washington at St. Louis
Washington has a lot of momentum heading into St. Louis after taking New Orleans down last week. The Rams, however, look much better than last year. I like Washington in a close game, but I wouldn't be surprised by a Redskins letdown.
New York (Jets) at Pittsburgh
Nobody saw that coming from the Jets last weekend. It won't happen again this week, either. Pittsburgh is at home and angry. Look for them to swarm Mark Sanchez in a win.
Tennessee at San Diego
Kenny Britt may be back, but Tennessee is still a little banged up. I think they'll hang around, but the overall talents on San Diego should pull them ahead, especially if Ryan Mathews can play.
Detroit at San Francisco
Calvin Johnson is always a threat, even against the best defense in the NFL. However, San Francisco's offense looks much more efficient this year and Detroit's defense is really hurting in the secondary. The 49ers take the night game.
Denver at Atlanta
This game should be a shootout. After last week's performance, I trust Peyton Manning more than Matt Ryan, who was also excellent, but I prefer Atlanta's receivers. With the Falcons at home and Matt Ryan's dominance in the dome, I'll give Atlanta the slight edge.
Week One Record: 8-8
Overall Record: 8-8
Survival
Detroit barely survived St. Louis, mainly because three Matt Stafford interceptions dug the Lions an early hole. Still, the better team came out victorious after a late drive, moving me on to week two.
This week, I'm taking Cincinnati over Cleveland. Brandon Weeden looked horrific in his debut and I see the Bengals bouncing back from a Baltimore blowout. I actually prefer New England over Arizona this week, but I'd rather save them for a later date.
Teams used so far: Detroit