Now Hear This: DCFC's Plans Turns 10
Associate Editor Alex Bieler reflects on Death Cab for Cutie's major label debut.
September 1, 2015 at 7:25 PM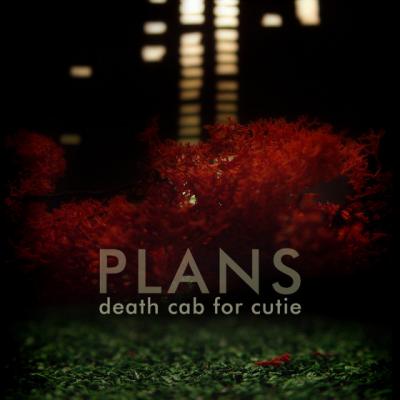 Things change. These days, Death Cab for Cutie is known as a veteran band, with some people paying more attention to the fallout from Death Cab frontman Ben Gibbard's divorce with public manic pixie dream girl No. 1 Zooey Deschanel than to the band's actual music. I guess that's what happens when you're in a hugely successful band that been around for nearly two decades, but 10 years ago, the it was potential changes to the band's music that scared some fans.
Death Cab's album Plans turned 10 Sunday, Aug. 30, a fact that will leave plenty of readers thinking back to those awkward high school days (and potentially make a few 20-somethings feel "old," as ridiculous as that sounds). The album marked the bands jump to the majors when it signed with Atlantic Records. What they came out with was an album that's pretty damn divisve among Death Cab fans.
Listening to Plans, the album definitely sounds the part of a major label debut, with more polished production than anything we had encountered on earlier Death Cab releases. It's like the band had a fancy new toy and tried to see just how crystal clear they could make everything sound, something that really seems true on the sonic twinkle of "Soul Meets Body" and "Different Names for the Same Thing."
What's most impressive is how well the transition worked, as Death Cab produced some damn good songs on Plans, although there are some fans who decry it as the beginning of the band's downfall. Yes, there were a couple of songs that land with a thud on the album (I'm looking at you "Someday You Will Be Loved"), but a few of the tunes will always be counted among the band's most memorable creations, including "I Will Follow You Into the Dark" in particular. 
Plans was an album that scared off several small-label purists, as a band that they grown to love back in the late '90s and early '00s during. When Transatlanticism blew up in 2003, the mainstream noticed, and it was feared that the mainstream would bastardize this beloved Pacific Northwest band when it moved from Barsuk to Atlantic.
To be fair, Death Cab's output following Plans does fail to reach such great heights. Yes, Gibbard and company could pump out a few gems like "Cath...," but Narrow Stairs, Codes and Keys, and the front-heavy Kintsugi just couldn't quite capture the same spirit that Death Cab achieved on it's earlier efforts, so maybe the small-label purists were'nt completely off. But it wasn't because of Plans, an album that shows off how one-time indie band can shine on a major label debut.
Some fans still look down upon Plans, clutching their vinyl copies of The Photo Album and We Have the Facts and We're Voting Yes close to their chest (which is not how you play records, mind you). That's fine to love those albums, because they're also special, but Plans stands out in its own right as an album where a small band worked with the big boys and created something gorgeous. Even today, it's hard not to hear "What Sarah Said" without the song hitting me right in the feels, and "Crooked Teeth" still stands among their best tracks to date. The band may have started its slide after 2005, but that's partially because they had a high point to fall from after Plans.
Now Hear This is a newly-formed but soon-to-be regular column in which Associate Editor Alex Bieler writes about music - both new and old - that he thinks you should introduce to your ears. If you've know an album that you think he should highlight, shoot him an email at abieler@eriereader.com or Tweet at him at @Catch20Q.