Now Hear This: RTJ and TVotR on Colbert
Run The Jewels and TV on the Radio teamed up for a blistering late-night performance.
September 16, 2015 at 9:00 PM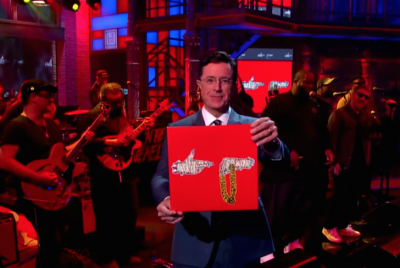 Man, I love Run The Jewels. I've written a few posts about the hip-hop superduo comprised of Killer Mike and El-P, including a year-end review in which I named Run The Jewels 2 as my favorite album of 2014. Well, that album is getting plenty of play in 2015 as well. Hell, they even performed at Dismaland, the Banksy's "bemusement park" in England.
Now it's not quite so easy to head across the Atlantic to have seen the Dismaland gig, but the duo did treat the American audience this Tuesday when they teamed up with TV on the Radio to perform "Angel Duster" on The Late Show with Stephen Colbert. Yeah, that's right, RTJ+TVoTR=Fire (I started off as an engineer before the whole journalism thing, so my math is impeccable).
"Tonight's musical guest is so hip, their backup band is TV on the Radio," quipped Colbert before the performance, which tells you just how much awesome was on the stage of the Ed Sullivan Theater Tuesday. Hell, most late night shows don't have musical guests like this for months and Colbert's already getting acts in his first bunch of shows as host of The Late Show. That man has skills.
Like most of Run The Jewel's TV gigs, they killed it, so check it out on this conveniently-embedded YouTube video and then go back and listen to Run The Jewels 2 on repeat. Seriously, I had to stop playing it in my car this summer because I was expecting everything to catch fire. Still, if you're going to go out in a blaze, "Lie, Cheat, Steal" isn't a bad song to do it to.
Now Hear This is a regular column in which Associate Editor Alex Bieler writes about music - both new and old - that he thinks you should introduce to your ears. If you've know an album that you think he should highlight, shoot him an email at abieler@eriereader.com or Tweet at him at @Catch20Q.