Only a Few Hours Left to Help Beautify Erie!
Brewer needed your votes, and you provided them. Now, let's seal this deal.
November 18, 2011 at 8:01 PM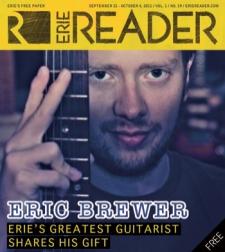 We called, you responded. And as of 8 p.m. Friday evening, Eric Brewer has pulled in to the lead in the Guitar World "Lick of the Day" challenge. But it aint over till the fat lady sings, and she's still quiet - voting ends at midnight Pacific time tonight.
Sign in to YouTube, watch Brewer's vid, and click 'Like.' First place earns a new Paul Reed Smith guitar amplifier, which will help beautify Erie's sonic landscape for years to come once it's plugged in to Eric Brewer's Paul Reed Smith guitar.
Don't forget: sign in, watch the vid, and click 'Like' before midnight Pacific time tonight!
www.youtube.com/watch?v=caW7XtaU1Qc&feature=watch_response
http://www.youtube.com/watch?v=caW7XtaU1Qc