Paddleboarding
Jay Stevens took to the water. See how things went during his first encounter with paddleboarding.
June 23, 2011 at 11:34 PM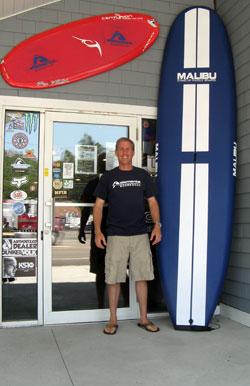 I pop out of the car at Elements Boardshop on 12th Street and hop up the steps. When I look up, there it is: a towering, wide blue board propped in the corner next to the door. I had seen it when I pulled up in the shop's parking lot, but I didn't notice the size of the thing until I stood next to it. It's well over 10 feet tall and probably three feet wide. It's huge. I grab the sides and lift – perhaps recklessly – but it's surprisingly light.
It's a paddleboard. And I'm about an hour away from standing on it in Presque Isle Bay.
You've probably seen paddleboards on Lake Erie. You have if you've spent regular time out on Presque Isle. Or maybe you opened your National Enquirer and saw Matt Damon or Jennifer Aniston paddleboarding on their vacations in Hawaii. The sight might have puzzled you: a person standing bolt upright on what looks like a flat board, poling away at the water with a long paddle. The paddleboarder looks weirdly at ease, yet the board glides quickly across the water. It's an odd, yet appealing sight.
Get ready: the paddleboarding craze has just begun in Erie.
Paddleboarding – and surfing, of which it is an offshoot – goes back almost 1,000 years when Hawaiian natives used surfing not only as a form of travel between islands but for recreation, too. The first recorded instance of surfing by a Westerner is found in "The Voyages of Captain James Cook" in 1777 when a ship's lieutenant described a Hawaiian riding a "small canoe." The islander paddled offshore, caught a wave, and "was carried along, at the same swift rate as the wave, till it landed him on the beach." This 18th-century Spicoli – oblivious to his observer and everything else – paddled out for another go. "I could not help concluding," wrote the officer, with a touch of envy, "that this man felt the most supreme pleasure, while he was driven so fast and so smoothly by the sea."
The best beaches and boards were reserved for Hawaiian royalty, who were said to resolve disputes through surf competition. And the best board – the olo, especially light and long and used exclusively by kings – was the inspiration for the modern paddleboard when, in the 1920s, a lifeguard and silent movie stunt double named Tom Blake drilled holes in a redwood plank board, lightening its weight by 20 pounds from its original 200. After refining his design later by hollowing chambers into boards and reducing a board's weight to 40 pounds, Blake went on to win a number of open-water paddling contests and modern surfing was born.
The stand-up paddleboard is a wider and longer version of the more familiar surfboard. It allows a person to stand on the board without sinking it, and it offers a lot more stability, making it harder to fall off the board and into the water.
"A lot of people want to learn how to surf. Surfing is very, very hard to learn. It takes a lot of balance and so forth."
This is Jeff Jones, the proprietor of the Elements Boardshop. He's explaining why people like paddleboarding. He a former sales rep and a current business owner, but he's a lifelong surfer, too. He's a sandy blonde in his 30s or 40s with a brilliant smile and eyes the color of November lakewater and has that unflappable, easygoing demeanor of a surfer, a guy who finds our daily human traffic somewhat amusing. Which makes sense if half of you is always out in the sea and tide, dedicated to the most supreme pleasure of catching a fast, smooth wave. The rest of it – well, it is kind of silly if you think about it.
"With paddleboarding," says Jones, "it's like, hey, I've got a paddle, it helps stabilize me, the boards are bigger and wider, they're more stable. It's just easier to do. You can catch little waves – you don't need a monster wave to do it."
Which also explains why the lake around Presque Isle is the perfect place for stand-up paddleboarding to catch on. Beginner paddleboarders can cruise around on the bay and its inlets for flat water boarding, and those thirsting after something more can hit the lakeside and surf waves on Beach 10, from the little ripples of quiet days, to intense waves on windy days.
"For me, it's therapeutic," says Jones. "I go out and forget about everything. I don't mean to sound corny, but on a paddleboard, you're one with nature. It's really, really nice."
He shows me his selections of boards, from long, flat foam beginning boards, to narrower fiberglass boards, each for different skill sets, water types, and body weights. He shows me where the fins fit on the tail, how the paddles should be 8 inches taller than the paddler.
And then, he asks, "you want to go out paddleboarding?" He's genuinely excited now. You can tell he wants to cut out of the shop, turn over the keys to his high-school help, and hit the water. And, goddamnit, so do I. I rush home for my bathing suit, and the two of us head out to the beach in my beatup Suburu with two boards strapped to the roof, feeling good, like we're in an Elvis movie or something.
At the water Jones gives me quick instruction. I should kneel first, just behind the handle in the center of the board, just to get used to the balance. Then I should stand, one foot at a time, both feet forward. "Your legs are going to be a little wobbly," he warns me. "It's going to be a little tippy. But that goes away after you start moving. Kind of like riding a bike."
And then, before I know it, I'm standing on the paddleboard. It is wobbly – but much more stable than a kayak or canoe. I have no problem atop the board – but my legs tremble. They're desperately trying to grip onto the paddleboard while balancing at the same time, kind of like the way you'd imagine it'd feel walking across a tightrope with eggs balanced on your toes. The blue board that looked enormous at the shop looks much, much smaller now that it's the only thing between me and a plunge into the bay.
We paddle upwind. I struggle. Every time I dip the paddle in, it pushes the paddleboard from where I want to go. The wind is tricky, too: it lifts the nose of the board, stopping me even as I paddle furiously. But after a while, I get it. I paddle straight down – not out – and I get into a rhythm, and the boat glides forward.
But it's not until the wind's at my back do I "get" paddleboarding. Everything is still and quiet. The board hardly tosses up a ripple. It's almost effortless, and my body begins to relax. Below, northern pike dart and slice, resembling in their long and spotted yellow bodies a cross between an eel and leopard. The sun beats down, but my feet with the water splashing across my toes are cool. I'm gliding across the water. I've never felt anything like this, not in a kayak or sailboat. It's like...supreme pleasure...
Elements Boardshop is renting paddleboards both from the shop and on Presque Isle at Beach 6 and Sunset Point. The store also leads a women's-only paddleboarding class called, "Chicks on Boards," on Saturday mornings. The store is located at 3445 W. 12th St. in Erie. You can get information about rentals and the class at 814-520-6244 or on the web at elementsboardshop.com.