Penn State Behrend Faculty Honored
Accolades abound for accomplishments in science and fiction
September 27, 2021 at 3:54 PM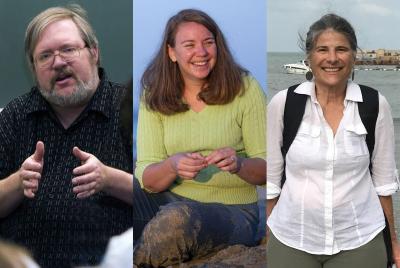 It's been 73 years since Mary Brownell Behrend, widow of Hammermill Paper Company co-founder Ernst Behrend, donated the couple's Glenhill Estate to the Pennsylvania State University. The list of accomplishments by Penn State Behrend faculty, staff, and students since then would take literal reams to print — but are by no means a work of fiction. 
Unless of course, you happen to be George Looney, founder of the university's creative writing program, editor of its Lake Effect literary magazine, and published author of numerous celebrated literary works, including The Worst May Be Over (Elixir Press Fiction Award), What Light Becomes: The Turner Variations (Red Mountain Press Poetry Award), Report from a Place of Burning (Leapfrog Press Fiction Award), The Precarious Rhetoric of Angels (White Pine Poetry Prize) and Animals Housed in the Pleasure of Flesh (Bluestem Award). Add another to the affable professor's list for The Visibility of Things Long Submerged, a collection of short stories that was honored with the 11th annual BOA Short Fiction Prize last month. Looney's award-winning manuscript will receive publication by BOA Editions, Ltd. within the American Reader Series in spring of 2023. 
Definitely science but not fiction are the endeavors of Behrend faculty members Sherri A. Mason, Ph.D. and Allegra Cangelosi. The two women were recent recipients of Great Lakes Protection Fund Awards in recognition of their efforts to preserve the environmental health of our Great Lakes Region. Dr. Mason, Behrend's sustainability coordinator and a leading expert on microplastics, is responsible for raising awareness of plastic microbeads in cosmetics products en route to an FDA ban, forcing juggernauts like L'Oreal and Unilever to overhaul their production processes. Meanwhile, Cangelosi is innovating in the area of ballast treatment technology; her research has helped reduce introduction of invasive species to Great Lakes waters by more than 90 percent. 
Given these achievements, Behrend can certainly corroborate the value of a good intake system.
Matt Swanseger (mswanseger@eriereader.com), a Penn State Behrend alumnus, graduated from the Creative Writing BFA program in 2009.