Random Sports Topic
Wondering what's wrong with the New England Patriots? So is Lee, and he's watching the team closely.
November 10, 2011 at 12:00 AM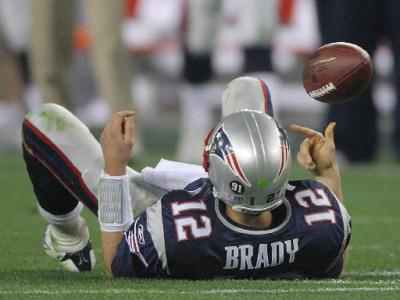 What's wrong with the New England Patriots?
As of today, the Patriots are tied for first place in the AFC East with the New York Jets and the Buffalo Bills.  They lost two games in a row for only the third time in the past decade, having first lost to Pittsburgh at Heinz Field and then to the New York Giants this past Sunday in Foxboro.  At first glance, it doesn't seem to be much of a problem, really. 
With a record of 5-3, they appear to be in good shape for the their annual playoff run, and although they have concerns – same as just about any NFL team – a closer look reveals some rather troubling questions. 
Quarterbacking:
Let's start with Tom Brady.  This season and after eight games, he has 20 TDs with 10 interceptions for 2,703 yards and a 66 percent completion percentage.  There's nothing really wrong with those numbers, as any number of NFL quarterbacks would attest, but they are simply not Brady-like. 
In 2010, Brady had 36 TDs and four interceptions for 3,900 yards and a 65.9 percent completion rate, so although the touchdown numbers and yardage are consistent with last season, the interceptions are up significantly and we're only at the halfway point.  If nothing changes, he's on pace for 40 TDs, but he's also on pace for 20 interceptions.
And you can see those numbers are not what we are accustomed to seeing from Brady.    
If you watch Brady as I have, you can see that he's not making the throws that he's typically made throughout his career, and he's also using some poor judgment on some of his reads.  The Patriots are having problems being consistent, and although we have several areas to point to, it all begins with strong quarterback play and we're not seeing it from Tom Brady so far this season.  He's in fact become rather mortal.

The lack of a deep threat:
No one can deny that Wes Welker is rewriting the slot receiver position today and could likely set the standard for years to come. So that's not the problem. And the Pats also have two excellent tight ends in Ron Gronkowski and Aaron Hernandez that can effectively use the middle of the field and keep defenses honest.  The Patriots have proved that they can run the football and can utilize the screen play very well.  The real issue is that they lack any true home-run threat.   
The Patriots can't spread out the defense and hit the big play downfield with any consistency.  Deon Branch does an admirable job, and they have some talent in WR Taylor Price, but the Chad Ochocinco experiment is a complete bust so far, and basically, there is no one else.  Ochocinco, for example, was targeted five times last Sunday and had zero receptions.  He is their only stretch-the-field option, and if he can't develop some form of chemistry with Brady, then the Pats are painfully two-dimensional, limited to a running attack and a short passing game, and that won't help you win on most Sundays.
The defense or lack thereof:
Much has been made of the fact that the secondary has been grossly inconsistent, but that's not the end of the story.  Admittedly, I've only played high school football, but I've studied the game rather intently for some years and I can understand the many concepts and the importance of winning one-on-one match-ups, opponent film study, and using proper technique and angles.  With that in mind, there is a problem with the defensive backfield, but there are also some very major issues with the linebacking corps as well as rushing the quarterback and that can come in the form of quarterback sacks, hits, or even hurries. 
Rushing the passer is directly related to defending the pass.  If both are not working, there will be problems.  You also can't leave the defense on the field well over 30 minutes each week, and if you can't properly manage third down, you'll likely get killed on the scoreboard because it puts additional pressure on the offense, and they obviously don't need any more of that. 
To try and solve some of the problems, New England has transformed itself from a predominantly 3-4 based defense to a more 4-3 version to generate more pressure and help set the edge against the run.  Albert Haynesworth was integral to that happening, but he has not been able to stay on the field for any length of time, and although he can be formidable when he wants to be, if he gets knocked down during a play, he just won't get up and re-engage. 
News on Tuesday had Haynesworth being released by the team after only playing in six games and being credited (use that term loosely) with only three tackles.  Newcomer Andre Carter has been solid, as has Shawn Ellis, but there's no one on the other side to provide pressure, so Carter just gets double-teamed.  The real problem here is the fact that they let Richard Seymour go to Oakland and never replaced him, and although former first round pick Jerod Mayo has been a playmaker, the rest of the linebackers are only adequate. And basically LB Jermaine Cunningham has been a failure and a healthy scratch on game day, while Brandon Spikes has been inconsistent and plays undisciplined.  
Other than Patrick Chung, the rest of the secondary is quite average, and they don't even have a second safety, unless you count Josh Barrett or Sergio Brown, which I don't.  2010 rookie surprise and pro-bowler Devin McCourty has regressed in his sophomore season, and CB Darius Butler never caught on and was cut this year, while top draft pick Ras-I Dowling didn't contribute and landed on injured reserve.  Former starter Leigh Bodden was also cut as he was becoming a locker room cancer and his play really dropped off to make him very expendable – a bad combination.  Former first round pick Brandon Meriweather was released in camp and was then signed by Chicago can usually be seen riding the pine today. 
Frankly, it's hard to get excited about this lineup.   
A primary issue with the defense seems to be the defacto coordinator and that's Matt Patricia, although he's listed officially only as safety coach.  In years past, the defense was in good hands with Romeo Crennel, who was also adept at teaching and developing the players, but when you either see good players regress or not improve (McCourty, Butler, et al) the way it is now, then that is a definite reflection on the coaching staff.  If the class fails the test, then the teacher failed the class: it's that simple. 
There are very few cases where higher-profile coaches remain on the staff and not everyone that remains is necessarily better than those who left (take Green Bay defensive coordinator Dom Capers for example).  Other than maybe Dante Scarnecchia, Ivan Fears, and Pepper Johnson, there is no one to question the status quo.  No one to say: 'hey, Bill, now that's pretty much a lousy idea'. 
The bottom line is this: Although Bill Belichick is a brilliant coach, he has not surrounded himself with top-notch coaching talent, and when you are dead last in the league in defense (No. 32), you can't be surprised when you don't stop anyone when you need to, and that it will continue to plague you. 
Maybe the release of Haynesworth will allow them to play more of a 3-4 concept, and with Vince Wilfork in the middle of the line, there could be more success than we've seen so far this season.  Pepper Johnson, who is the defensive line coach, would likely make a better coordinator than Patricia has.  He has fire and knows the defense. 
You also can't ignore the fact that other than a few players, the Patriots have not drafted very well, especially with their top picks, which they tend to stockpile simply to have good leverage on draft weekend.  Other than Mayo, Chung, and McCourty, can you name one other recent defensive draft pick that is really worth mentioning?  I thought not.  Having extra picks are just swell, but I'd be looking more at improving my team today and not give a fling for three years from now.  Developing players is important and I don't discount that, but the people buying season tickets are hoping for a few 'W's right about now, not down the road. 
This just in: The Patriots are no longer an elite team (great), and they are barely in the second tier (good), while teetering on the third (average).  This coming Sunday, they will travel to the Meadowlands to take on the detested Jets, and if they drop a third game in a row, you can easily see them staking claim to a spot in that third tier, and you could write them right out of the playoffs.  Blowhard Rex Ryan and his Jets meanwhile are just chomping at the bit to get the Pats while they are down.  Their mouths will be going all week long. 
If the Patriots lose that pivotal game, then they are essentially toast in 2011.  If the same team shows up like the one that played the previous two games, then expect the results to be the same and that's loss number three (in a row).  If you can say that they can leave New York with a win, I've either wrongly wrote them off or everyone else is watching some other team.     
Regardless, the Super Bowl era is over in New England.  They may still be entertaining, they could make the postseason, but the Kraft family won't be raising another championship banner at Gillette stadium anytime soon.  The window has closed and Elvis has left the building.