Reaping What We Sow: Preserving the Historic Barns of Erie
Local nonprofit draws attention to fading agricultural heritage
August 8, 2022 at 10:30 AM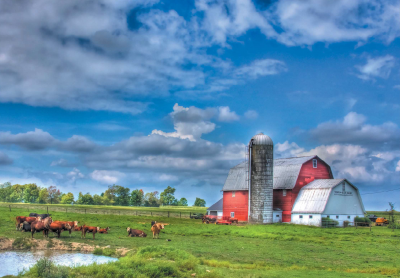 Photograph from The Barns of Erie County by David Nelson. Nelson completed a huge photographic preservation project with his book, documenting the disappearing barns of Erie County. (Shared with artist's consent)
When one thinks of Erie's historic architecture, the first buildings that come to mind are usually ornate and awe-inspiring mansions, churches, or museums. But in reality, some of the oldest structures that exist in Erie County are its barns, which are oftentimes older than the homes on the same property, and can tell a vibrant history of early immigrant culture and agricultural heritage through their style and structure. 
According to the latest survey (done in 2017), Erie County is still home to over 1,100 farms and has, more than most counties in America, been able to sustain some amount of agricultural success, largely due to the grapes and cherries of North East and Harborcreek. But those abundant small family farms of yesterday, with historic barns on the property, are being lost at a fierce rate. When barns no longer have a functional use, their size makes repairs extremely costly, then those barns start to crumble beyond repair and are lost to history.
Local nonprofit group Preservation Erie has decided to call some much needed attention to the preservation of our agricultural heritage and the rural architectural history of Erie County for their upcoming event: the organization's 10th annual Greater Erie Awards being held Thursday, Aug. 18. These awards aim to highlight the most impressive preservation projects, as well as the best examples of adaptive reuse or preservation advocacy happening throughout Erie County. 
While historically the event was city-centric, taking place in the Masonic Temple's ballroom in the heart of Downtown Erie, this year the organization has decided to expand their reach into the county. It will be held in the 1860s historic barn and homestead at Mound Grove Golf Course in Waterford, with the event's theme built around that location.
Committee chair and local historian Michael Fuhrman speaks to the group's choice to focus on barn preservation for this event: "It's often said that the railroad built America during the late 19th and early 20th century. But that's only partially true. What is often unrecognized was the key role of the farm and the barn which produced and stored the food that was shipped on those rail carts to the exploding cities like Chicago, Cleveland, and Buffalo. Once the backbone of American economic success, the family farm and its barn are fading quickly from the American landscape. I can't think of a better use of Preservation Erie's effort and time than to bring the much needed recognition and awareness to the family farm and particularly to the barns of Erie County."
There are many distinct architectural styles of barns and Erie is actually home to a number of those examples, all in various stages of repair. These barn styles happen to be conveniently listed by style and address on the website eriebuildings.info, which is a countywide survey completed by Preservation Erie in 2014. Most often the style in which the barn was built is indicative of the country of origin of the family building it. These range in style from Standard German Barns, Dutch Gable Entry barns, English Bank barns, etc. 
Preservation Erie plans to discuss these different types of barns and their contribution to Erie's rural landscape by hosting two different barn aficionados to speak at the Greater Erie Awards event on Aug. 18. One is David Nelson, a local photographer who recently published his photographic barn chronicle The Barns of Erie County. The second is barn and house historian Gregory Huber, author of the book The Historic Barns of Southeastern Pennsylvania, who will be giving the keynote address. Both men are passionate about barns and their preservation, and their knowledge and genuine excitement about historic barns is inspiring.
When Nelson was in high school he delivered janitorial supplies for his father's business, which took him on long drives all over rural Erie County. "As I drove the van through the countryside, I marveled at the beauty of the idyllic country scenes and the amazing barns that had been built around the turn of the century." After leaving Erie for many years and traveling all around the country, Nelson realized that there was no place quite like home and, some 35 years later, decided to return only to find that many of the idyllic farms he had admired in his youth were now gone. 
It was then that he and his wife, Marilyn, decided that the only preservation hope that many of these dwindling barns had left was documentation. "We constantly found ourselves saddened by the loss of another barn and decided that the best thing we could do was to try and at least get some documentation photographically of the barns that were still standing." And what they ended up capturing, after going through the county very methodically, is a remarkable, artistic, and thorough photo-documentation of most of the existing barns of Erie County. And even now, a mere five years after the book has been published, a photograph is all that remains of many of those historic barns.
Gregory Huber, barn historian and author of *The Historic Barns of Southeast Pennsylvania, will be sharing his knowledge of barn architecture and preservation as the Keynote speaker during the Greater Erie Awards event.
Gregory Huber agrees. "Because the upkeep and renovation of so many historic buildings are so prohibitive, the very least we can and should do to safeguard them is to record them. This should form a very high priority in any area or any county." Huber was also inspired to care about barns at a young age and his massive tome, The Historic Barns of Southeastern Pennsylvania, is a definitive guide to understanding how the architecture of a barn tells its origin story.
In addition to privately owned barns, there are a number of historic barns in Erie County that one can see up close, and while most of these are no longer functioning in an agricultural capacity, they are being reused for educational, commercial, or artistic ventures. Some examples include: 
Goodell Gardens and Homestead in Edinboro (who was awarded a Preservation Erie Greater Erie Award in 2020 for their bank barn restoration), which has multiple historic barns on their property.
Asbury Woods maintains their 1928 Browns Farm barn.
Port Farms in Waterford has a multi-generational barn and homestead that they rent out for special events.
Grounded Print Shop, located at 19th and Cherry, has a Civil War era barn on the property that has somehow survived all these years in an urban setting.
The former Sprague Farm and Brew Works in Venango and the Riverside Brewing Company in Cambridge Springs have both reused historic barns for their businesses.
Among these restored barns in Erie County is the 1860s barn and homestead at Mound Grove Golf Course, Restaurant and Bar, in Waterford, where Preservation Erie will hold their event.
Mound Grove's barn and homestead were named and built by Jesse Coover, who was born in 1814 and lived until the ripe old age of 90. When Jesse was young, he left Greene Township, went to Louisiana and married his wife, Sophianna. When he returned to his family's land just prior to the Civil War, he had a grand home built on the property in the style of those elegant Southern homes he grew to love, which still stands majestically on Mound Grove's property today. Around the turn of the 20th century, Mound Grove was purchased by Peter Biebel and the Biebel family descendants still own and maintain the property today. The owners and staff are very excited to help Preservation Erie bring some attention to the history of Erie's barns, to show off their beautifully preserved barn and the very same elegant Southern style home that was built by Jesse Coover so long ago, which has been lovingly cared for through the years. After the awards ceremony, the house will be open to attendees for self-guided tours.

Historic postcard showing the homestead at Mound Grove Farm, residence of Jesse Coover. This home has been fully restored and will be available for tours during the Greater Erie Awards event at Mound Grove, Thursday August 18th, 2022 at 5:30 pm.

Historic photo showing a Coover family reunion at Mound Grove. Jesse Coover is seated, far left and the barn in the background is the very same that will accommodate the Greater Erie Awards this year.
Events like the Greater Erie Awards are helpful for focusing positive attention on those doing the work to keep the historic structures of Erie standing for generations to come, much like the Biebel family has done for the historic homestead of Mound Grove. Preservation Erie's board president, Melinda Meyer, reflects on their importance: "Our built environment is changing so quickly, it's easy to focus attention on the buildings and special places we've lost. The Greater Erie Awards is an opportunity to celebrate the preservation success stories happening across the county: stories created by ordinary people who see the value and beauty in old buildings and invest their own time and money to keep them thriving, active places for the benefit of Greater Erie."
Please join the board of Preservation Erie for their 10th Annual Greater Erie Awards to celebrate some exceptional local preservation projects, along with David Nelson and Gregory Huber, who will both be speaking at the event as well as signing and selling their books. Mound Grove Golf Course, 10760 Donation Road in Waterford, on Thursday, Aug.18 at 5:30 p.m. Ticket information is available at preservationerie.org or by emailing info@preservationerie.org 
And, as always, please remember Preservation Erie on Erie Gives Day on Aug. 9, 2022 to help them carry on their mission of preserving the built history of Erie.
Erin Phillips runs the Instagram @olderieonfoot, an in-depth look at local architecture "by foot, stroller, papoose, bike, and occasionally minivan."