Republicans Target Young Voters with ID Laws
If you can't beat 'em, keep 'em from the polls.
December 27, 2011 at 11:15 PM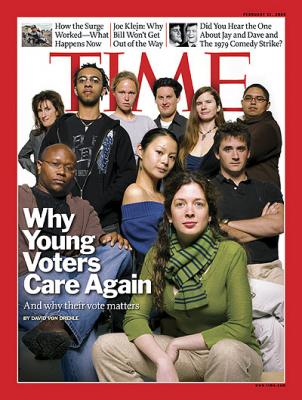 Don't know if you've been following the recent push in Pennsylvania to pass a voter ID law -- which are part of partisan ID bills passing in conservative legislatures across the country. If you haven't, don't worry. I'm hoping to write all about it soon. 
But while that brews, here's a teaser, about how voter ID laws discriminate against young voters:
Seven states have already passed strict laws requiring a government-issued ID (like a driver's license or a passport) to vote, which many students don't have, and 27 others are considering such measures. Many of those laws have been interpreted as prohibiting out-of-state driver's licenses from being used for voting....

William O'Brien, the speaker of the New Hampshire State House, told a Tea Party group earlier this year that students are "foolish" and tend to "vote their feelings" because they lack life experience. "Voting as a liberal," he said, "that's what kids do." And that's why, he said, he supported measures to prohibit students from voting from their college addresses and to end same-day registration. New Hampshire Republicans even tried to pass a bill that would have kept students who previously lived elsewhere from voting in the state; fortunately, the measure failed, as did the others Mr. O'Brien favored.
Erie, of course, has a large number of college students.
The rationale behind voter ID laws is that they prevent voter fraud. But it's also true that virtually no fraud that strict ID requirements would curtail exists in the United States. What is true is that those without driver's licenses or passports or proper in-state identification are more likely to vote Democratic: the poor, the young, and minorities. And that explains why the ID laws are backed solely by Republicans.
And you better believe the young are going to be targeted. After all, Obama and Democrats recently cruised to election victories in 2006 and 2008 on the back of the youth vote, thanks in large part to a fervernt push to register voters.
Attacking the eligibility of Democratic voters isn't new, of course. Republicans have been working away at these kinds of voters for decades. But a recent ruling by the ultra-conservative Supreme Court (activist judges!) allowing an Indiana voter ID law to stand has opened the floodgates.
And it's coming to a town near you.