Saturday Spotlight: The Lee Boys
Alvin Lee of your Blues & Jazz fest Saturday night headliner the Lee Boys talked to our own Ryan Smith. See what Alvin had to say in advance of their 8 p.m. performance. 
August 2, 2014 at 7:30 PM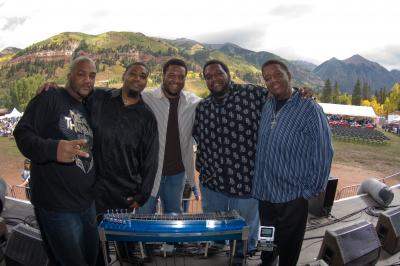 If you're not familiar with the mightiness of the music that's come to be known as 'sacred steel,' this year's Erie Art Museum Blues and Jazz Festival is just where you should be.
Saturday at 8 p.m. is when The Lee Boys take the stage at Frontier Park, wrapping up the festival's first day.
As part of our continuing Blues and Jazz Festival coverage – just like we promised we'd have for you – here's a quick question-and-answer with one of the Boys, Alvin Lee:
Ryan Smith: Hey, Alvin! First off, describe your sound. And, to the lay listener, how would you describe the form itself?
Alvin Lee: Our music is a form of gospel, infused by blues, funk, jazz and soul. It's most definitely feel-good music.
RS: So, from where you're at, what do you have to say about this year's Blues and Jazz Festival in Erie?
AL: Well, we are from Miami, and we are excited to bring our style of music there.
RS: And what's some of your favorite listening at the moment?
AL: We love all styles of music.
RS: Cool. Now, lastly, can you share any secrets of how you keep it so cool, musically speaking?
AL: Well, we just let the music move you and take you to that place.
RS: Thanks for that, Alvin.
For a full lineup, and more, about this year's Erie Art Museum Blues and Jazz Festival, check this out. And keep checking back in here at eriereader.com for more Q-and-As with some of this year's illustrious Blues and Jazz performers.