"Stay With Me" Officially Sounds Like "I Won't Back Down"
Tom Petty and Jeff Lynne receive songwriting credits for Sam Smith's "Stay With Me."
January 26, 2015 at 1:00 PM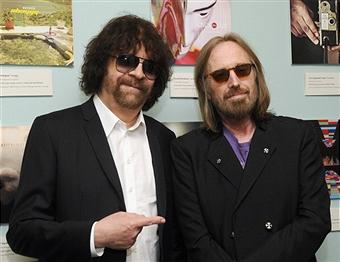 Tom Petty and Jeff Lynne may have penned "I Won't Back Down" over 25 years ago, but the 1989 hit song helped the two influential musicians pick up new songwriting credits in 2015. Originally reported by The Sun, Petty and Lynne have each been awarded 12.5 percent writing credits for Sam Smith's Grammy Award-nominated "Stay With Me" do to similarities found between it and the Tom Petty track.
The development is not a complete shock, as people have gone to lengths to display to impressive amount of similarities between the two songs. What is suprising is that Smith the "dispute" was apparently settled quite easily, given that NME reported that Smith's side openly acknowledged the sonic likenesses between the songs.
A source close to the case said: "When Sam's track was originally released, it was clear to a lot of musicians that there were notable similarities between the tracks. After it was pointed out to Sam's camp, they didn't try to fight it and amicably dished out royalties. It wasn't a deliberate thing, musicians are just inspired by other artists and Sam and his team were quick to hold up their hand when it was officially flagged."
It appears that Smith was quick to back down in regards to accidentally copping parts of "I Won't Back Down." Go figure. It's rather refreshing to hear that a case like this was settled so nicely, instead of having a situation like when Joe Satriani would cry foul about Coldplay every chance he would get. The American Society of Composers, Authors, and Publishers (more conveniently known as ASCAP) now lists the official writers of "Stay With Me" as Smith, Petty, Lynne, and Jimmy Napes (sorry Jimmy). Also, I'm pretty happy Lynne is received a credit, because he put out some pretty great stuff back in his heyday, yet people tend to overlook him. As for Petty, he had a pretty good 2014 for a guy who put out a forgettable album, what with Smith and some other artists serving as a new generation of fans.