Street Corner Soapbox: Pepper spray, police, and the Occupy movement
Did University of California Davis police set a new low with the reason pepper spraying of a group of Occupy protesters? Jay Stevens weighs in.
November 24, 2011 at 10:00 AM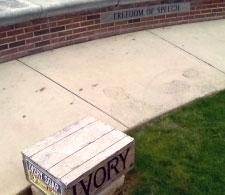 You might have to see it to believe it, but the pepper spraying of a group of Occupy protesters by a University of California Davis police officer set a new low for police in responding to demonstrations with the "less-than-lethal" weapon.
Which is saying a lot. Just last week brought us the picture of a young woman being sprayed full-on in the face by police in riot gear, and that of a maced 84-year-old woman being half-carried, tears streaming down her face, from a protest in Seattle. And, of course, the Occupy Wall Street came to the attention of the country when NYPD Deputy Inspector Anthony Bologna in September pepper-sprayed two women protesters without provocation.
The Cal Davis incident was far worse, especially for the stark contempt displayed by police for the protesters. In videos from the protest, you can see a police officer casually strolling along a line of seated protesters – their arms locked – pepper spraying the students slowly and steadily in the face from inches away with the same insouciant posture of a man ridding his garden of pests.
Pepper spray is an agent made from a chemical extract found in cayenne pepper. When sprayed in a person's face, it affects the mucus membranes, causing mucus to run freely from the nose and mouth, as well as swelling, temporary blindness, and pain. Some have even died of respiratory failure with its use.
The chemical agent is for police an effective alternative to deadly weapons in subduing suspects resisting arrest or attempting to flee. It is, however, typically abused by police when dealing with protests, especially the Occupy protests. Most police forces have a clear policy regarding the use of pepper spray: it's reserved for suspects actively resisting arrest or posing a threat to officers or others. But that was hardly the case at Cal Davis: the students were sitting quietly and offering absolutely no resistance, nor were they posing any danger.
In such a situation, use of pepper spray to compel protesters to move is excessive use of force by police – at least that's what the Supreme Court ruled in a 2002 decision favoring environmental activists occupying a lumber company's headquarters who had pepper spray rubbed into their eyes by Sheriff's officers. The Court found the officers' use of pepper spray was "plainly in excess of the force necessary under the circumstances, and no reasonable officer could have concluded otherwise."
Bologna has been punished, and two Cal Davis officers put on administrative leave, but dozens, perhaps hundreds of other similar brutal attacks on Occupy protesters by police over the last two months have gone unpunished – likely because they were not caught on video and posted on YouTube.
But the pepper spray is mere symbol. Behind the spray stand thousands of police officers and millions in taxpayer dollars, all arrayed to enforce local ordinances forbidding sleeping in public parks.
"This deployment of law-enforcement resources already dwarfs the amount of money and manpower that the government 'committed' to fighting crime and corruption during the financial crisis," wrote Matt Taibbi in Rolling Stone recently. "This is a profound statement about who law enforcement works for in this country."
The irony here is that it's the pepper spray and the disproportionate police response to the Occupy movement that's kept it going, kept it in the public eye. Instead of breaking up the encampments, the police have succeeded only in making them stronger.
http://www.youtube.com/watch?v=bBH6WVqPRzk