Street Fashionista: Colleen Dixon
Colleen Dixon's mega-smile caught Leslie McAllister's attention. See what got her noticed in this installment of Street Fashionista.
December 14, 2011 at 3:00 PM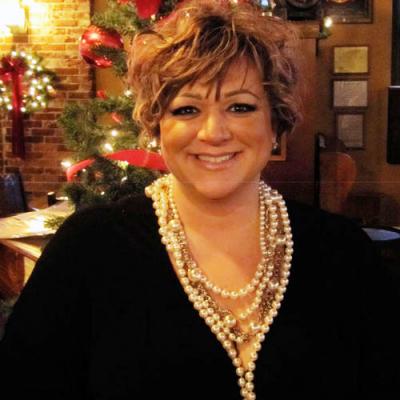 All that Jazz!
The holidays are my most favorite time of year to dress.  There are three natural accessories that will add to your holiday garb this winter:  The soft glow of Christmas tree and garland lights offer the most flattering flicker; smiling from the warmth and cheer of the season always makes one look glorious; and the rosiness from the cold wind brings the most sought after pink to our cheeks, making us look fresh and healthy.
In years past, I have always talked about lux fabrics—jacquards, brocades, furs, velvets, metallics, and jeweled-toned silk dresses—these have not gone by the wayside; however, this year I'm being pulled in a new direction.  The basics.
Take your most basic dress and jazz it up!  I love a wrap dress—it flatters all shapes and gives the illusion of curves where there are none.
My new approach this year is accessories.  Build upon those three natural accessories and add strings upon strings of pearls, diamonds, or sapphires.  Put flowers and feathers in your hair; buy those bold-colored stilettos and pair them with your black dress. Purchase turquoise tights and wear them with your beige shift dress.
Sparkling cocktail rings that stretch across two fingers are a conversation starter or stand out with mile-long-glittering chandelier earrings.
However you choose to deck your halls this season, remember what Coco Chanel once said:  "A woman may be overdressed, but never over elegant."  So get over accessorized this holiday!
Who? Colleen Dixon, Business Development Officer, PNC Bank
Where? The U Pick 6 Tap House (for a friend's holiday party), downtown Erie
Why Colleen?   She's dripping with pearls!  I love her mussed hair piled atop her head—it makes her look effortless, especially with all those golden strands.  She wears a maxi wrap dress that accentuates her figure and shows off her best assets.  Her mega-watt smile is her best accessory, and the glow from the Christmas tree makes it all the more festive, merry and bright!  **Not shown a delicious dirty martini; a great holiday accessory as well! **
Style Icon?   Colleen loves Christina Hendricks – "She has it all…striking beauty, and expressive face, a sweet smile, impeccable style, and sassy curves!"  She also attributes Crystal Renn as her favorite style icon. "She is a non-conformist fashion model who has thighs that actually touch!"  These women are proof that beauty comes in all shapes and sizes.
Style Motto? "It's just this simple," Colleen, says. "Just because it comes in your size, doesn't mean you should wear it!!!"
Style tips for New Year's Eve?  Colleen is attending a wedding this New Year's and had some great ideas to share with ER's style gurus!  She spills the dish; "Let's face it: what can't you do with a classic black pant suit?  Pair it with a sequin tank underneath and you're ready for a party.  Or out a crisp white shirt on and you're ready for the office.  Multifunctional!"  For this New Year's Eve festivities, Colleen will wear her pantsuit sans both, she's wearing a lacy bralet, playing up her best assets.  For a pop of color she's adding cobalt blue stilettos and, yep, strands and strands for diamonds and pearls!
When Colleen isn't hamming it up at the Tap House, she can be found cheering on her favorite local soccer team, The Erie Admirals (she's the Managing Director), hitting the pavement as PNC's Business Development Officer, haunting the aisles of Target, TJ Maxx, and Gabes, and scoping out the best nail polish colors at JC Penney's Sephora!
Find me out on the town and challenge yourself to get noticed by the Erie Reader.