Street Fashionista: Pie in the Sky Fashion
I had an ex-boyfriend who once said, ?When are you going to start dressing with more sophistication?? And I suppose it was then that I wondered that as well. There must be a balance between dressing up and down; effortless chic as I?ve heard it called.
August 8, 2012 at 6:00 AM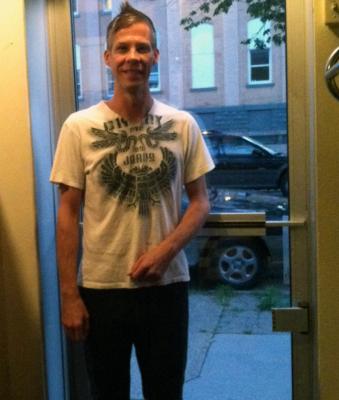 I often think back to my early 20s, in terms of fashion of course, and how flamboyantly I dressed. I was always challenging myself with mixed prints, too much jewelry, bold colors, crossing garments (pants and skirts borrowing from Indian tradition), and wearing what my father referred to as "Frankenstein's shoes." I was always stopped on the street for how I looked - good or bad. Even now, instead of counting sheep at night, I gaze, longingly at my closet; so full of life, color, sparkle, texture. I had an ex-boyfriend who once said, "When are you going to start dressing with more sophistication?" And I suppose it was then that I wondered that as well. There must be a balance between dressing up and down; effortless chic as I've heard it called. Since then I have tried to cultivate the art of structured chaos or just dressing like Kate Moss (I wonder how many times I've mentioned her since writing for the Reader...Ben! Can we get a count on that?) I have traded in my Indian vests for a structured blazer, yoga pants for liquid leggings, holey jeans for wide-legged denim, electric purple body suit for a white T, feathered headdress for tousled beachy waves. Have I grown up or have I grown into myself? The point is that having that effortless structure makes us look real, truly who we are, not trying too hard, being present, aware. I love that going out on the town now means jeans and a tee with a great pair of earrings and a killer pair of heels. On my way out the door last Saturday night I asked my boyfriend, "How do I look?" He said, "You look professional."
Who? Todd Geoffery Michalczik / Designer
Where? Pie in the Sky, and Todd Geoffery Designs, Erie
Why Todd? Just black pants and a tee. This is how to dress effortlessly with thought. Clothes fit and compliment and his hair is perfect. Nothing to distract people, just you. Nothing to hide. I love the duality of simplicity and depth that fashion has. I mean let's reflect on James Dean for a moment - perfect hair + jeans and a tee + black leather jacket = jackpot.
What we want to know…
Describe your style. In true effortless form Todd says, "I never thought about breaking down what I would call 'my style'. Though some may say I am a bit of boy next door with a dash of punk and a pinch of Euro." Being an interior designer, Todd isn't afraid to try new things in terms of expression; color, texture, proportion. "Since I can remember I have never been afraid to push the fashion envelope. Like design, there are no rules. The key is not to be afraid to try something bold while staying true to ones own style."
The inspiration quotient, how does it affect you? Todd derives inspiration from everywhere; architecture, fashion, art, music, people. He shares, "I love to travel experiencing new people and places. When I see somebody with a creative, fresh look and idea, I take that and add a twist so it reflects me."
Favorite items in your closet. "I'm torn between two things: My slim fit navy pinstripe blazer. It goes great with a pair of jeans with a graphic or plain tee for a quick dress up or evening look. The other is my lion's head belt buckle. It has interchangeable straps so I can match it with my shoes. I always get stopped when I wear it."
If you could be a Superhero who and why? "I am not a comic or sci-fi enthusiast however, I would have to say NorthStar from X-Men. I relate to his past, his family dynamic, super powers, and how he uses it all to help others do the right thing. He's one of the first openly gay comic heroes. He travels fast as light, has superior reflexes, tough skin to withstand pain, heals quickly, he's photokinetic ( moves in reaction to light), and can emit blasts of energy from his body. You didn't think I was going to like a superhero that can only swim or turn into an elephant, did you?"
Why do you love Erie? "It's home and it's where my heart is; my family is here. As an artist and designer I find Erie very stimulating in terms of landscapes. The historical architecture, Presque Isle, and the changing seasons which are a great backdrop for color shifting. Sometimes, just walking around, I pause to take it all in. I get great ideas for my designs."
You work at Pie in the Sky, why do you love it? "It makes my tummy happy and my body healthier. The food is made in house daily with multiple fresh choices for everyone. It's not a big place, which makes it intimate, friendlier, eclectic and a great place to be, and it's BYOB everyone loves that!"
After living in Florida for 17 years working as a design consultant for Restoration Hardware and Pottery Barn and other reputable firms, Todd started his own business, Todd Geoffery Designs. Living in Erie for over 4 years now and redesigning local businesses, Todd would like to thank this little town for its warm reception and allowing him to make it a beautiful place to live.
Find him at Todd Geoffrey Designs 460.5031 or email ToddGeoffreyDesigns@gmail.com
Find me out on the town and challenge yourself to get noticed by the Erie Reader