Street Fashionista?Cynthia Aikey
Leslie McAllister offers up: A Prairie's Style Companion for her latest installment of Street Fashionista.
November 7, 2011 at 10:00 AM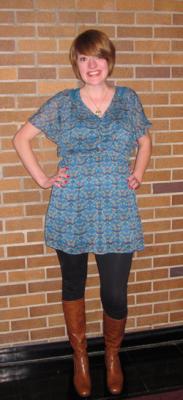 I've always been a sucker for petticoats and calico dresses (calico: a floral printed textile incorporating teeny-tiny flowers).  I don't know if it was growing up with the Ingalls', but either way, I loved getting my boots wet in a stream and a good old-fashioned hayride.  All that aside, I'm not alone: the fashion industry has embraced the look this past runway season—adapted, of course, for modern wear. 
The whole vibe is a combination of tall riding boots, lace up booties, maxi length floral dresses with chunky oversized sweaters, loads of black leggings, suede vests, fur coats, and lace, lace, lace.  A sort of John Wayne meets Nellie Oleson. 
When pulling together your look, try to mix and match styles—long, flowing skirts, wide-brimmed hats, chunky boots, and a white lacy blouse.  If you're still stumped, flip trough the Free People catalogue; they always get it right: short velvet skirts with ivory cable knit thigh highs and engineer boots, fringe vests with leather blouses...it doesn't always makes sense, but it always looks right. 
Who? Cynthia Aikey
Where? Standing in line at Mary D'Angelo Performing Arts Center at Mercyhurst College, waiting for David Sedaris' book signing, Erie, PA
Why Cindy?  She keeps her prairie style simple with the flowing calico / floral print chiffon blouse with a cinch at the waist.  I love the tall, camel-colored boots—a find she scored at the Downtown Sal Val!  They are the kind of boots that can really complete any outfit; they make a bold statement against her black leggings.  Cynthia's style is altogether classic, flirty, effortless, and chic all in one.
Style Icon?  I love Zooey Deschanel. She has this simple vintage style that I love; every time I see her, I want to own what she is wearing!
Style Motto?  I love the thrill of the hunt when it comes to my clothes; I find most of my pieces at thrift stores or on clearance racks. I love scouring the racks and then finding that perfect dress or top for only a few dollars!
What are you currently listening to and reading? On my iPod now is the new album "mountaintops" by Mates of State and lots of podcasts:  This American Life, Comedy Bang Bang, Wait Wait Don't Tell Me, and the Savage Love Podcast.   I am reading a book called "The Pirates of Somalia: Inside their hidden world," an interesting look into the world of modern day pirates off the coast of Somalia.
When Cynthia isn't mentally stimulating herself by the humor and wit of one of America's finest writers, she is a Supported Living Advisor at the Barber National Institute.
Find me out on the town and challenge yourself to get noticed by the Erie Reader.