Summer Music Festival Preview 2018
Your guide to fun-filled weekends in the sun
That first day that really feels like summer, that's when you start to get the festival cravings. There's actual, tangible proof that winter is ending, and it's not too soon to look ahead. For some places, that happens in March, but for Erie, it's May. That gap is just all the briefer; as the last few weeks of the year's fifth month start to inch close, it's already time to pack.
Music festivals — they've become a part of life for some of us. They're a part of summer at least, an important part. They're a time to connect with friends and like-minded people who share your musical tastes. Walking in the summer sun (note: always bring shades and sunscreen), hearing the distant bass and aggregate roar of the crowd (note: bring earplugs), you know you're going to find something good when you get to the stage, not ready to go to bed until the dew of the morning starts to form on the flap of your tent.
Last year, music festivals reached a critical mass. The notorious fate of the Fyre Festival signaled the end of an era for the festival boom. No longer a surefire investment, some have folded, even canceling weeks before the scheduled date, like Buffalove and Pennsylvania's ambitious Karoondinha. We lost a few over the course of the year. Scranton's Susquehanna Breakdown, Columbus' Fashion Meets Music Festival, The Mad Tea Party Jam (along the Potomac), Slyfest at the Heron campgrounds in Sherman New York, and Toronto's Wayhome all will not be happening this year.
From Coachella to Glastonbury, the art of the music festival is far from a lost one — it's just getting more specialized. What began as a congregation of jam and folk bands (note: just take a peek at the early Bonnaroo lineups) is seemingly over the mainstream hump section of the bell curve.
Still, there are many places all around our city where you can get this experience, and of course, places around the nation. If you're willing to travel, the world is your festival oyster (note: probably not the best food to pack for a festival). For the auto-faring public at large, a driveable fest seems to be the best bet, an easier way to make a home away from home. Sure, you can make the seven-and-a-half hour trip to LOCK'N or Firefly (note: almost exactly equidistant despite one being in Arrington, VA and one being in Dover, DE, respectively), but there are dozens of great ones a short jaunt away.
All prices reflect a standard, full-weekend pass. Distance was measured from the center of Erie, PA. Single day passes are available for all events.
Downtown Edinboro Music & Art Festival
May 17 - 20
Edinboro, PA (30 minutes away)
Headliners: Donna the Buffalo, Jim Donovan and the Sun King Warriors, Driftwood
Kicking off a few days after spring commencement, Edinboro's ever-growing celebration of music and art is happy to be the unofficial start of festival season. Spread out over four days and six stages throughout the borough, the wonderful college town will be pumping out folky sounds from every corner. Featuring a roots-driven lineup of some regional favorites, it's also a great way to check out work by talented local artists.
Edinboroartandmusic.com // Free (no camping)
LionFire Music Festival
May 26 - 27
Slippery Rock, PA (1 hour 21 minutes away)
Headliners: Moon Taxi, The Floozies
This year will be inaugural installment of the LionFire Music Festival, one that has all the trappings and idiosyncratic flourishes to get it noticed. The festival takes place at Cooper's Lake Event Venue and Campground, a 450-acre space alongside I-79, and a popular spot for medieval reenactments. In fact, that theme will come into play at the festival, with games inspired by the era, along with blacksmithing and fire performances.
lionfirefestival.com // $80 (plus camping fees), children under 6 free // VIP options available
Three Rivers Arts Festival
June 1 - 10
Pittsburgh, PA (2 hours 5 minutes away)
Headliners: Mavis Staples, Valerie June, Ricky Skaggs and Kentucky Thunder
Taking more a non-traditional festival approach, the Three Rivers Arts Festival provides 10 days worth of free events in locations all around the city. It's a coordinated effort put on by the Pittsburgh Cultural Trust, with help from sponsors like Dollar Bank. In addition to dozens of musical performances — including Erie's own Charles Brown on Jun. 7 — the lengthy cavalcade of events has slews of visual art and creative activities to be part of.
TRAF.trustarts.org // Free (no camping option)
Spring Badfish
June 8 - 10
Garrettsville, OH (1 hour 40 minutes away)
Headliners: Badfish
The first on this list of five weekends at Nelson Ledges Quarry Park (NLQP), Spring Badfish gives fans a healthy double dose of the popular Sublime tribute band, along with acts with a similar vibe to the Long Beach legends. The beloved location provides a beautiful backdrop for a full weekend of outdoor activities like volleyball, basketball, and of course, the quarry's iconic cliff diving.
TicketQuarry.com/events // $85 gate, $70 advance (camping included)
LaureLive
June 9 - 10
Russell Township, OH (1 hour 39 minutes away)
Headliners: Foster the People, Brandi Carlile, Fitz & the Tantrums, Cold War Kids
In its third year, LaureLive shows no signs of slowing down. Run in association with Laurel School (a K-12 school for girls in Shaker Heights) and the Elevation Group (a locally-based promotions company) the city festival's tagline is "Music with a Mission." The two-day fest features a solid middle card of artists, as well. Some, like Twiddle, and X Ambassadors, would easily be able to headline other festivals.
LaureLive.com // $115 (no camping option) // VIP options available.
Classic Fest
June 15 - 17
Garrettsville, OH (1 hour 40 minutes away)
Headliners: Several Species, Kashmir
This event at NLQP promises to be an entertaining one, full of convincing acts faithfully playing hits from your favorite rock bands of all time. While headliners pay homage to Pink Floyd (Several Species) and Led Zeppelin (Kashmir), others will offer up sets by the Janis Joplin (Ball & Chain), The Allman Brothers (Whippin' Post), and more, all amidst the welcoming natural atmosphere of the quarry.
TicketQuarry.com/events // $85 gate, $70 advance (camping included)
Cambridge Springs Music Festival
June 15 - 17
Cambridge Springs, PA (42 minutes away)
Headliners: Jim Donovan and the Sun King Warriors, Adam Ezra Group
After the tragic fire at the historic Riverside Inn, the legacy of the Riverside Music Festival continues. Though the loss of the 133-year-old hotel was devastating, the Cambridge Springs Fire Department and event organizer Justin Moyar are determined to bring local music to the town. With four stages over three days, this will be the destination for anyone who supports local music in Erie County, rebuilding that welcoming feeling that made the Riverside so special.
CambridgeSpringsMusicFestival.com // Free (no camping option)
Freedom Fest
June 29 - July 1
Garrettsville, OH (1 hour 40 minutes away)
Headliners: Mike Love, Jones for Revival
During the weekend before the 4th of July, NLQP will be lit up. A fireworks show will take place over the water to celebrate the holiday. It's a unique opportunity to catch some great music in a beautiful location.
TicketQuarry.com/events // $100 gate, $80 advance (camping included)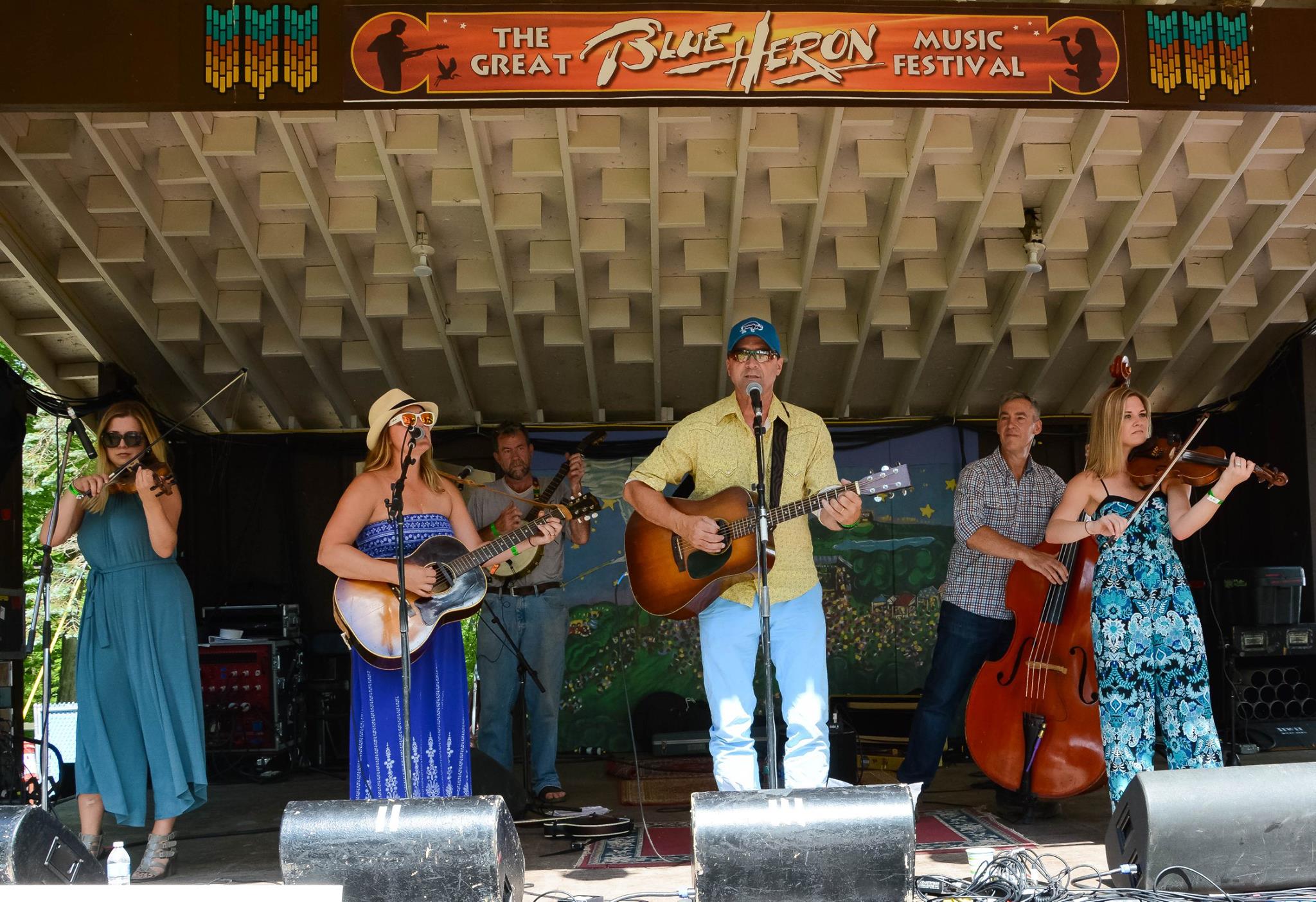 Steve Leitzinger
Great Blue Heron
July 6 - 8
Sherman, NY (42 minutes away)
Headliners: Donna the Buffalo, The Felice Brothers, Suitcase Junket
After the fireworks, it's time to head over to Heron's hallowed grounds. Now in its 27th year, this weekend provides an oasis of folk and authentic American music that's some of the best in the world. Talk to anyone in the area about this festival and their eyes are sure to light up. From the gorgeous location (home to an organic farm) and the family-friendly atmosphere, it's easy to have a "happy heron" at this festival.
Greatblueheron.com // $130 gate, $115 advance (plus camping fees) // Youth options available
Slightly Stoopid
July 6 - 8
Garrettsville, OH (1 hour 40 minutes away)
Headliners: Slightly Stoopid, Stick Figure, Pepper
Much-adored California band Slightly Stoopid has been making loveable, weird music since 1995. The band will bring its signature sound to NLQP for three massive nights of music. This weekend will prove to be a perfect opportunity for fans both casual and dedicated to cut loose and enjoy the scenery.
TicketQuarry.com/events // $140 gate, $120 advance (camping included)
INKcarceration Festival
July 13 - 15
Mansfield, OH (2 hours 39 minutes away)
Headliners: Rise Against, Bush, Clutch
At the historic Ohio State Reformatory which served as the location for the Shawshank Prison in The Shawshank Redemption. Featuring 30 bands between two stages and three days, as well as more than 70 tattoo artists on hand, this may prove to be the most unique hard rock festival of the summer.
Inkcarceration.com // $165 (plus camping fees) // VIP options available
Cobblestone Live
July 27 - 28
Buffalo, NY (1 hour 40 minutes away)
Headliners: Broken Social Scene, Turkuaz, The Sheepdogs, Aqueous
In its sophomore year, Cobblestone Live is once again assembling dozens of fantastic bands at one of Buffalo's hippest places. With plenty of bars, restaurants, and venues residing in the Cobblestone District, having a festival there just makes sense. Kevin Drew and company are sure to put on an amazing show, as well as winning undercards like Golf Clap and Ratboys.
CobblestoneLive.com $45 (no camping option) // VIP options available.
The Gathering at Chaffee's
July 27 - 28
Girard, PA $60 (28 minutes away)
Headliners: The Werks, Mungion
One of the longest-running music festivals in the United States, the 38th annual Gathering at Chaffee's is sure to be a defining moment of the summer. Featuring a veritable who's-who of local talent in addition to popular regional bands like Chestnut Grove and — of course — ekoostik hookah, the festival is a favorite of the Erie music scene, and when you're there, it's easy to see why.
TheGatheringatChaffees.com // $80 gate, $70 advance (camping included)
Erie's Blues & Jazz Festival
August 3 - 5
Erie, PA (8 minutes away)
Headliners: TBA
In its 27th year overall, the Erie's Blues and Jazz Festival is in its second year as a three-day experience. Formerly known as the Erie Art Museum Blues and Jazz Festival, it's now being spearheaded by Erie Arts and Culture, with the Art Museum's John Vanco still at the helm supervising the music. Continuing the tradition of excellence, all of Erie is welcome at the free Frontier Park event for what is an iconic local experience. Stay tuned for full, exhaustive coverage in our August 1 issue.
erieartsandculture.org/bluesandjazzfest// Free (no overnight camping option)
Freakstomp
August 9 - 12
Medina, OH (2 hours 16 minutes away)
Headliners: Tropidelic, Afroman, Bumpin' Uglies
Now in its second year, Freakstomp is a festival founded by Cleveland's own favorite party band, Tropidelic. Named after a track on thier 2015 recording Police State, the two-day event also features many like-minded acts the band has met along their way.
http://thefreakstomp.com/ // $65 (camping included)
Summer Hookah
August 10 - 12
Garrettsville, OH (1 hour 40 minutes away)
Headliners: ekoostik hookah
Featuring two nights of music from one of the region's most iconic, and long-running bands, this weekend at the quarry is great way to spend the weekend. Formed in 1991 in Columbus, ekoostik hookah has built up a loving fanbase, one that will get to enjoy all the features of this wonderful backdrop.
TicketQuarry.com/events // $70 gate, $55 advance (camping included)
Night Lights
August 23 - 25
Sherman, NY (42 minutes away)
Headliners: TBA
As summer starts to wind down and September lurks right around the corner, Night Lights provides one last hurrah just in time. Taking place on the same beautiful campgrounds as the Great Blue Heron, Night Lights provides feasts for the eyes as well as the ears. As some of the top jam and electronic bands take the stage, luminary decorations adorn the wooded grounds, hence the name. It'll be lit.
NightLightsFest.com // $99 (camping included).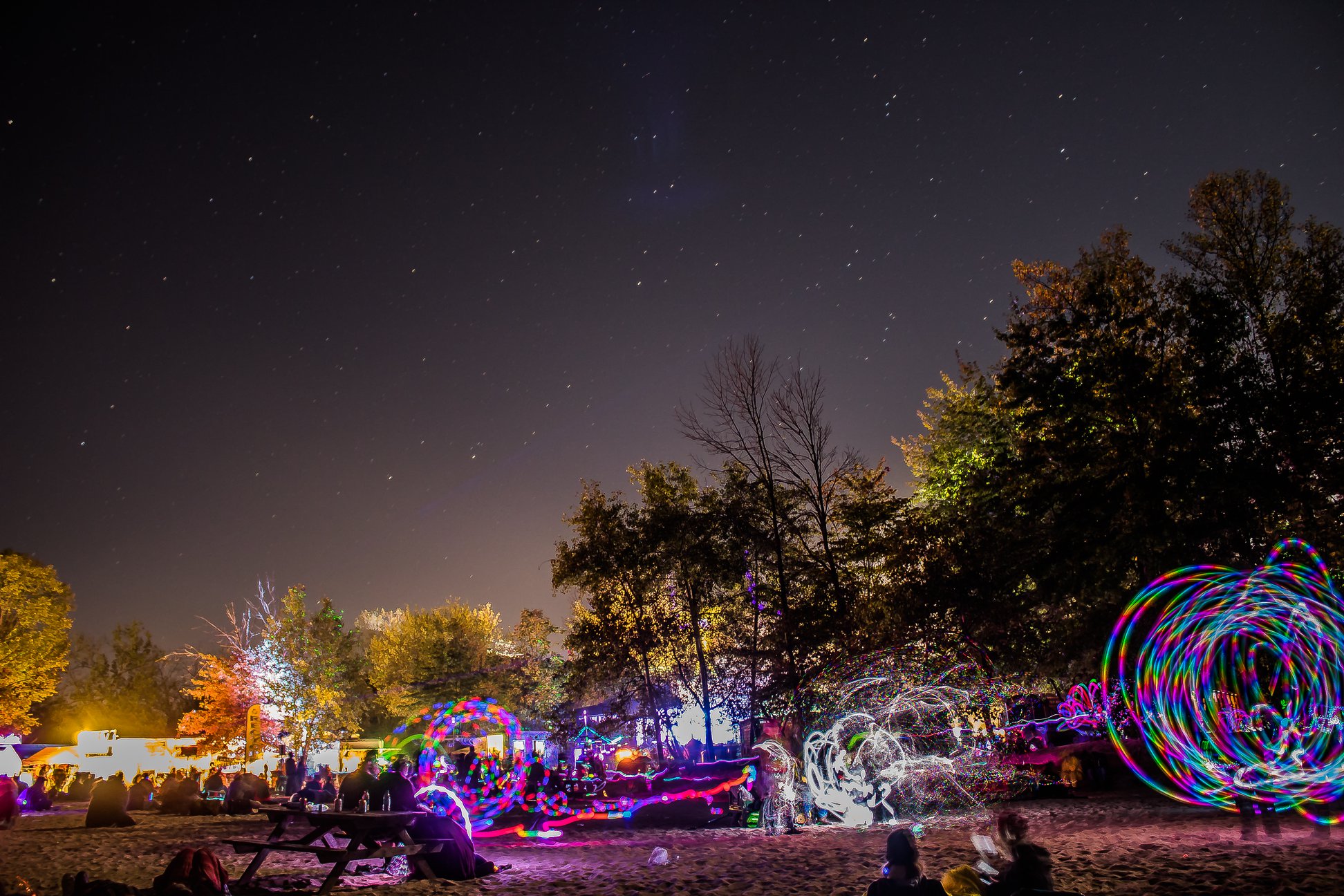 WSR Productions
There are also plenty more fests worth checking out within a five hour radius.
Dome Festival
May 17 - 19
Bedford, PA (3 hours 42 minutes away)
Headliners: Pigeons Playing Ping Pong, Broccoli Samurai, The Magic Beans
domefestival.com // $100 (plus camping fees)
Dark Star Jubilee
May 25 - 27
Thornville, OH (3 hours 58 minutes away)
Headliners: Dark Star Orchestra, Los Lobos, Hot Tuna
DarkStarJubilee.com // $158 (camping included) // VIP options available.
Nelsonville Music Festival
June 1- 4
Nelsonville, OH  (4 hours 38 minutes away)
Headliners: George Clinton and Parliament Funkadelic, The Decemberists, Ani DiFranco.
NelsonvilleFest.org // $150 (plus camping fees) // VIP options available.
Big Dub
July 25 - 29
Artemas, PA (4 hours 10 minutes away)
Headliners: Caspa, Modestep
bigdubfestival.com/lineup // $195 (plus camping fees)
MO POP
July 27 - 28
Detroit, MI (4 hours 1 minute away)
Headliners: Bon Iver, The National, Portugal the Man, St. Vincent
mopopfestival.com // $145 (no camping option)
Flood City Music Festival
Aug. 3 - 4
Johnstown, PA (3 hours away)
Headliners: Blues Traveler, The Devon Allman Project with Duane Betts
floodcitymusic.com // $50 (no camping option) // VIP options available
Veld Music Festival
August 4 - 5
Toronto, ON (3 hours 17 minutes away)
Headliners: DJ Snake, Marshmello, Martin Garrix, Migos
Veldmusicfestival.com // $199.50 CAD (no camping option) // VIP options available
The Werk Out
Aug 4 - 5
Thornville, OH (3 hours 45 minutes away)
Headliners: The Werks, Umphrey's McGee
thewerkoutfestival.com // $149 (camping included) // VIP options available
Curveball
August 17 - 19
Watkins Glen, NY (3 hours 11 minutes away)
Headliners: Phish
phish.com/curveball // $250 (plus camping fees) // VIP options available
Resonance Music and Arts Fest
Sept. 20 - 22
Thornville, OH (3 hours 58 minutes away)
Headliners: Papadosio, Sunsquabi, Kung Fu
resonancemusicfest.com // $150 (camping included) // VIP options available
Cayuga Sound
Sept. 21 - 22
Ithaca, NY (3 hours 45 minutes away)
Headliners: X Ambassadors, Young The Giant
cayugasoundfestival.com // $99.50 (no camping option) // VIP options available
Nick Warren will be attending as many of these festivals as humanly possible, and can be reached at Nick@eriereader.com