The 1918 Influenza Pandemic, Trump, and Social Distancing
How lessons from Philadelphia's "Spanish Flu" are useful in the Coronavirus outbreak today
March 19, 2020 at 1:37 PM
When the realization finally sunk in, it was like waking up in the eye of a hurricane. Except the storm hasn't quite hit yet and the eye wall isn't traveling westward: it's closing in around you, a creeping sensation of confusion and anxiety and dread begins to settle in, first, slowly, like a trickle, then seemingly all at once, panic. The impending storm becomes a reality. Leaders begin to act and in cases when it's too late… react.
"This all feels like it's still a dream, though not quite a nightmare just yet," Nick Warren wrote in this publication the other day.
For my students, particularly as their history teacher who often helps contextualize current events, I tried to balance the fine line of not being alarmist when they asked questions, while also not downplaying the severity of what was coming — particularly as I saw what was unfolding elsewhere and the accompanying data.
Of course, not long after school was dismissed on Friday, March 13, Governor Wolf made that last point quite clear to students across the state when he made the unprecedented move to shut down public schools for (at least) two weeks. 
For a decade, I've taught about and studied the 1918 influenza pandemic (better known as the Spanish flu, despite not originating in Spain). I am by no means an expert on its history, but it has been a source of endless fascination for me. Sifting through old newspapers and journals and photographs from that year, I've many times wondered what it was like to live through such a tragic time, how anxieties and fears would manifest under such conditions (which included a world war), and how society could possibly continue to function during such a deadly threat.
COVID-19 isn't the Spanish flu. That pandemic, which ravaged the world throughout 1918 and 1919, resulted in 675,000 deaths in the United States and as many as 50 million worldwide — but two years ago when I wrote about the Spanish flu in Erie (the second wave of which killed 504 people in Erie), I quoted Dr. Greg Poland, a virologist and vaccine researcher, about whether another pandemic could strike the United States.
"There's absolutely no controversy that we will have another pandemic," he had said. "What's unpredictable is the severity of it."
In the case of the coronavirus, we are still trying to determine that. There are so many unknowns, but there are also dire warnings from those who dedicate their lives to studying pandemics. As a result, leadership at all levels of government — and precise and difficult decision-making that puts saving lives before politics — is going to be more important than ever.
Leadership matters.
"This is a pandemic," President Trump said during a March 17 press conference as the reported cases in the United States soared to 6,000. "I felt it was a pandemic long before it was called a pandemic"
Trump's statement would be laughable if the consequences weren't so potentially severe.
The first case of coronavirus in the United States was confirmed on January 21, 2020 and the World Health Organization (WHO) declared an international public health emergency a little over a week later.
As late as February 10, Trump implied that by April, the growing pandemic would pass. "You know, a lot of people think that goes away in April with the heat," he had said. "Typically, that will go away in April."
"The Coronavirus is very much under control in the USA," Trump tweeted on February 24, when — clearly underreported — cases in the U.S. were around fifty. "CDC [and] World Health have been working hard and very smart. Stock Market starting to look very good to me!"
"We have contained this, I won't say airtight but pretty close to airtight," White House National Economic Council Director Larry Kudlow agreed the following day, directly contradicting the Centers for Disease Control and Prevention (CDC). "I don't think it's going to be an economic tragedy at all."
Kudlow then added, "There'll be some stumbles."
This same day, a CDC report reiterated: "COVID-19 is a serious public health threat."
Rush Limbaugh, who was awarded the Medal of Freedom by President Trump on February 4, argued on his radio show this same day that the coronavirus (which he suggested was made in a Chinese laboratory) was being used as a political tool to bring Trump down.
"Now, I want to tell you the truth about coronavirus. I'm dead right on this," Limbaugh declared. "The coronavirus is the common cold, folks."
"This is a flu. This is like a flu," Trump said in a press conference on February 26. There were sixty confirmed cases at this point and he noted that we needed to be prepared, but then immediately added the false and confusing statement implying that coronavirus cases were decreasing: "I don't think it's going to come to that, especially with the fact that we're going down, not up. We're going very substantially down, not up."
When asked about cuts and proposed cuts to organizations such as the CDC, NIH, and WHO, the president doubled-down. ". ... I don't like having thousands of people around when you don't need them. When we need them, we can get them back very quickly."
In a tweet on the same day, he blamed Comcast and CNN for "doing everything possible to make the Caronavirus [sic] look as bad as possible."
The following day, while speaking at a conference, Trump said that his administration had done an incredible job and that coronavirus would simply disappear.
"One day, it's like a miracle, it will disappear," he explained. Then he added with his bewildering train-of-thought: "And from our shores, we… you know, it could get worse before it gets better. It could maybe go away. We'll see what happens. Nobody really knows."
People did know, of course.
By early March, he was claiming that a vaccine was coming "relatively soon" (most experts agree that it will be at least 18 months). He also blamed President Obama's administration as the reason for the slow rollout of the testing, which is false.
"Anybody that wants a test can get a test," President Trump said on March 6, which also wasn't and isn't true.
On March 13, after the diagnosed cases in the U.S. surpassed 1,000, Trump finally declared a national emergency and governors were already taking actions into their own hands, such as shutting down public schools.
By March 16, 2020, there were over 4,200 confirmed cases — a number understood to be much lower than the reality, as testing is still extremely limited.
So, here we are.
While there are still so many unknowns, the extreme increase in cases in recent days (and what is now being seen in Italy) has been shocking. It has spurred state, county, and local governments into action in unparalleled ways.
Terms such as social distancing and flattening the curve (although certainly not new concepts) have newly and rapidly engrained themselves in the American lexicon.
Now as nations face this pandemic head on, strong, thoughtful, and proactive (rather than reactive) leadership is essential. Transparency and honest communication between government leaders and those it represents is critical, as is the aptitude to make extremely difficult (and perhaps not politically popular) decisions, knowing that they're the right thing to do.
History demonstrates this. 
The decisions by those in positions of power matter. Repeatedly these past few weeks, I've turned over in my mind the failure of leadership in Philadelphia in 1918, which led to the deadliest outbreak for the U.S. during the flu epidemic.
"One sailor is dead of influenza, presumably of the Spanish form," the Philadelphia Evening Ledger reported on September 19, 1918. "Doctor [Wilmer] Krusen said there was no occasion for alarm over the spread of the disease downtown. The cases were not numerous and very few were severe enough to require hospital service."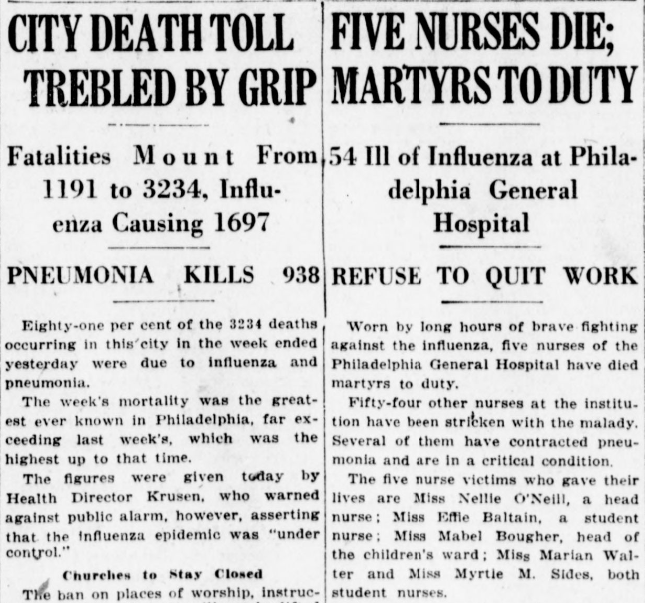 Dr. Krusen was the city's public health director. He assured Philadelphians that despite the disease spreading from the naval base into the city, they did not need to worry. On September 28, the massive Liberty Loan parade was held in the city. As many as 200,000 people attended.
It happened fast. For this strain of influenza, the incubation period was 24 to 72 hours. Within three days, there wasn't a bed left in any city hospitals. Soon, undertakers were literally piling up bodies, unable to keep up.
With Dr. Krusen not using his influence to stop the parade and act swiftly (a blame shared among many city officials), he set the stage for the rapid spread of the virus throughout the city — and by the time that they chose to act, it was already too late.
Within a week of the parade, reports coming out of Philadelphia were chilling.
"Every death record in this city has been shattered by the influenza," reported The Philadelphia Evening Ledger on October 5. "New lines of battle are being formed by Director Krusen's health army as the mortality rate rolls upwards."
In the previous 24-hours, 254 people had died from the flu and nearly 1,500 new cases had been reported. Ordinances were quickly passed: No spitting! Nurses were already exhausted and overwhelmed. Policemen were being used to fill in. Medical school students were called up. Doctors attached green flags to their vehicles so that they could travel Philadelphia's streets with ease.
Meanwhile, morgues continued to be overwhelmed.
"There have been so many deaths this week that every undertaker in the city is overtaxed," The Ledger reported.
In one instance, the cold room of a brewery was used to store 500 bodies. The health department requested that families no longer hold public funerals. The city also appealed to the public for volunteer nurses. Reports came out of dozens of nurses who were working while afflicted, but continued to care for others, many of them dying, the papers declaring them "martyrs."
On October 12, when the total death toll had soared to 1,697, The Ledger reported that the "week's mortality rate was the greatest ever known in Philadelphia, far exceeding last week's."
There was another entire week of this, with one day's death toll reaching 759 people, an unfathomable amount of impossibly overloaded hospitals and misery and death, before on October 19 when the deaths finally peaked falling from 696 the previous day to 606 — but even then, the devastation was far from over.
On October 21, Dr. Krusen stated: "We are convinced the epidemic has been mastered in this city." And indeed, the decline would continue, although the daily death toll ("only" 493 during the previous 24-hours) was still high.
It took until November 9 before the statewide quarantine order was lifted. By the end of it, 12,000 people had died in Philadelphia.
This isn't 1918, but there are a lot of lessons to be learned from that horrifying time in Philadelphia, but one of the most important: social distancing strategies work. It's also important to enact them before the virus begins its rapid spread. Other cities in 1918 learned from Philadelphia's mistakes: that the difference between a day or two in working to contain a pandemic can be the difference between life and death for hundreds, thousands… or even more.
Particularly in times of great challenges, our leaders — at all levels of government — and their ability to lead matters. Their willingness to surround themselves with teams of rivals, to ask questions, to listen, and to act boldly matters. Their words matter. Their messaging matters.
We are fortunate in the year 2020 to have sophisticated modern medicine, lightning speed methods of communication, and an ability to track and contain contagion with more precision than any other time in history.
The story of Philadelphia during the 1918 influenza pandemic then isn't meant to alarm. It's meant to inform.
As the oft-shared saying among historians goes: History doesn't repeat.
It echoes. 
Jonathan Burdick runs the historical blog Rust & Dirt. Follow them on Twitter @RustDirt, and on Instagram @Rustanddirt.