The 2022 Year in Review
Does patience pay off?
December 14, 2022 at 8:30 AM
Good things take time — and a bit of effort.  Want to bake a life-sized replica of Han Solo frozen in carbonite? This year, California's One House Bakery proofed it could be done, but not everyone is bread for such a challenge.
The mother-daughter duo labored after hours for weeks on end to complete "Pan Solo."
Thinking about compressing Hidden Valley ranch seasoning into a diamond? Dress lightly, because the months-long process requires an oppressive 2500 degrees Fahrenheit and 400 tons of pressure, all for just two measly carats (the cost of crudités these days!)
You could become the fifth person to push a peanut up Pikes Peak with your nose (following 53-year-old Bob Salem this past July), but be prepared to army crawl through approximately 13 miles of red dirt on your way to the summit, with squirrels and birds conspiring to leave you naught but an empty shell.
Whether conceiving a masterpiece or testing the limits of the human spirit, patience is unequivocally a virtue. In 2022, Erie began to see its patience pay off in many areas, with gratification eluding us in others like 22,000 minks passing in the night (referring to an as-of-yet unsolved mystery in neighboring Ohio). Should we talk about it? Because we teased it on our cover, we probably must(elid).
Well Worth the Wait
Let's begin our annual ReCap on a positive note — seeing Erie's arts and culture scene bounce back this year was more refreshing than the entire line of Blind Tiger Spirit-Free Cocktails and Zenedge Energy Drinks put together (by the way, all three locally-invented products referenced in this sentence reached multi-state distribution deals this year — we're always thirsty for success stories!)
The much-anticipated grand reopening of the newly renovated Warner Theatre in January opened the curtain on public recreation's complete resurgence, with the Erie Philharmonic hosting two concerts and one sell-out crowd in the same week. The momentum carried through the cold months (e.g. the Erie Winter Carnival) into a picture-perfect summer, with festival season back in full force, culminating in an incredibly eventful August featuring a trifecta of Gem City specialties — Erie's Blues and Jazz Festival (back in its familiar time slot), Celebrate Erie (headlined by X Ambassadors, Mya, Ja Rule, and Jimmie Allen), and Tall Ships. The latter two events attracted more out-of-town attendees than ever before in their first installments since 2019, an encouraging sign for our tourism industry.
If you'd woken up before September ended, you'd be pleased to know that the Erie SeaWolves enjoyed their best season on record. Led by first-time manager Gabe Alvarez, the 'Wolves made their first Eastern League playoff appearance since 2013, dispensing with the Richmond Flying Squirrels in the divisional series before falling to the Somerset Patriots in the championship round. Despite the disappointing finish to an otherwise magical year, fans were overjoyed to behold a pair of playoff victories at UPMC Park.
Across town, Waldameer Park and Water World was Sky-Riding high after a Ravine Flyer of a 2020 and 2021 plagued by attendance dips and staffing shortages, respectively. By implementing improved wages and bonuses for workers, the park maintained a robust staff and avoided the weekday Wipeouts of yesteryear. With an additional lift from the weather, Walda observed its best season to date, and will apply those profits toward a "water coaster" set to debut in 2023.
For those of a certain age, going back to school is not exactly a walk in the amusement park, but thanks to Erie Arts and Culture's Purposeful Placemaking project, it is no longer without its share of attractions. The organization commissioned muralists from near and far to beautify inner-city neighborhoods with vibrant, expansive, and eye-catching works of public art — all strategically placed along Erie School District walking and bus routes.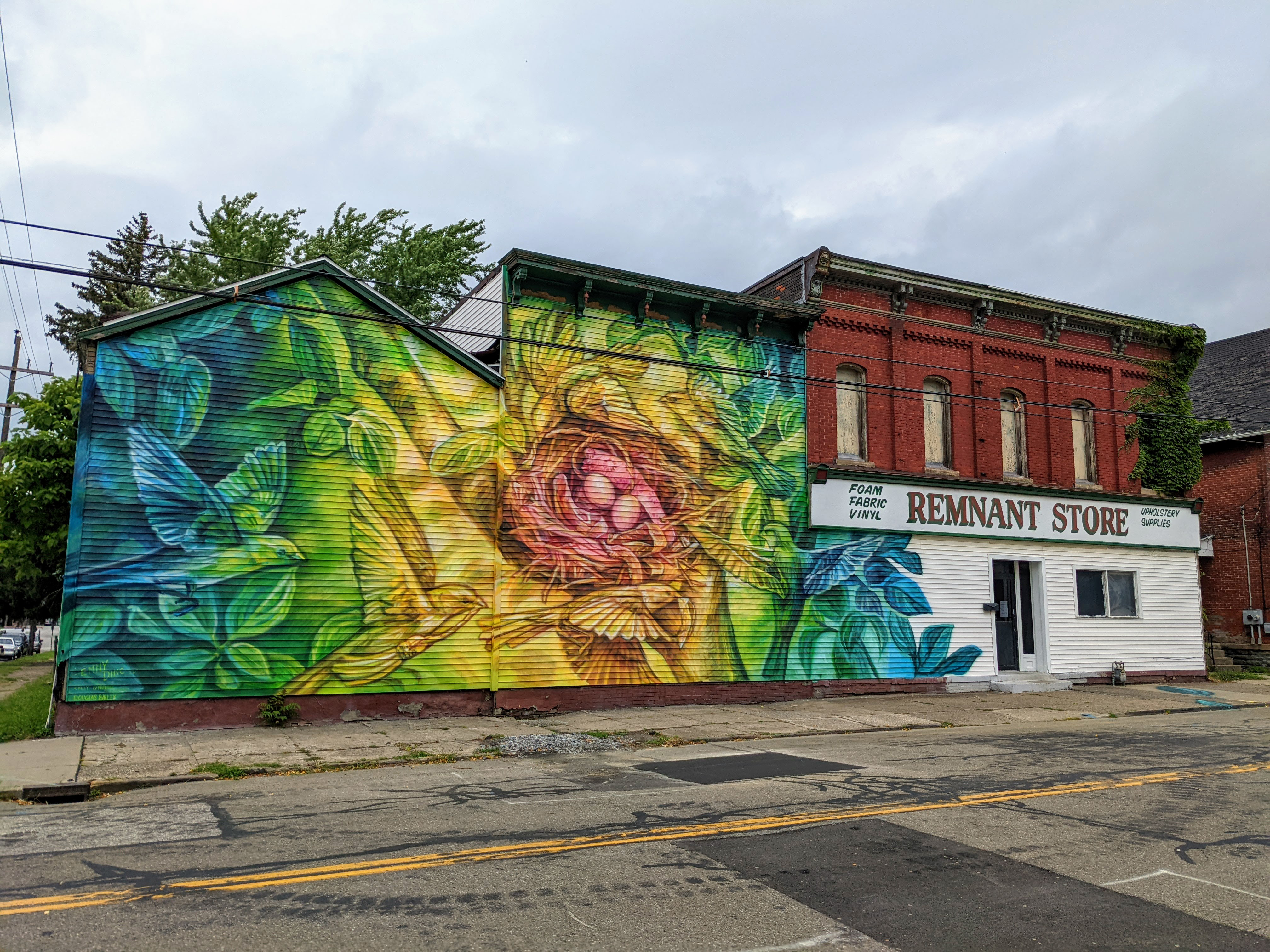 The Purposeful Placemaking mural project, spearheaded by Erie Arts and Culture and the United Way of Erie County, has made the walk to school for many inner city students a bit more colorful and creative in 2022.
The very first Purposeful Placemaking mural to be completed (of a planned 50 total) adorns the exterior of the former Wayne School, now home to the Erie Center for Arts and Technology (ECAT), along with the United Way of Erie County and other service-based institutions. The vitality of creators, entrepreneurs, and visionaries to Erie's future is not lost on organizations such as ECAT, which hosted the very first ErieMade Business Academy in 2022. The mentorship program, helmed by 40 Under 40 alumna Kristen Santiago, aimed to empower designers, artists, craftspeople, micro-manufacturers, and makers of all backgrounds from the greater Erie region with access to financial, educational, and motivational resources.
Along with ECAT, newcomers such as Alison Stinely's Foundation Art Academy (inside the Performing Arts Collective Alliance building, itself a bulwark for Erie's creative scene), Rick Bowser and Sarah MK Moody's 10/20 Collective, and Benton Bainbridge's FEED Media Arts joined fixtures such as the Inner-City Neighborhood Art House, Erie Art Museum, and Erie County Public Library to help cultivate new generations of artists and makers — just the sort of humans that lend depth and meaning to our humanity.
That's not to neglect the old standards of reading, writing, and arithmetic — or increasingly science, technology, engineering, and math (STEM). Behind a multimillion dollar influx of new state funding, a number of public schools across Erie County are in the midst of receiving welcome (and in many cases desperately needed) upgrades, including Erie High School ($65 million worth), Fairview High School ($45.1 million), and McDowell Intermediate High School ($22.3 million). Beyond improved utilities and reinforced structures, lab facilities and technologies are a common point of emphasis. The same goes for the now combined Prep-Villa Maria, where the three-story Salata Technology and Innovation Center is being built onto the private school complex.
Hopefully these trends signal the long overdue reprioritization of education.
Let's See How It Shakes Out
The recently vacated Villa Maria Academy property was not left vacant for long. The rapidly expanding Erie County Community College of Pennsylvania (EC3) quickly identified it as the ideal site for its west side campus. Now in its second year, Pennsylvania's 15th and newest community college has doubled its enrollment and nearly quintupled its programming, with many of the certificates and associate's degrees focused on technologies and hands-on trades, as Erie employers seek reinforcements in a labor market that is still attempting to figure itself out in the wake of record inflation and the changing needs of the American workforce.
Erie County's four-year universities are also still very much figuring themselves out. As the collective mentality around labor has shifted, so has the perception of the bachelor's degree, and whether its value justifies the high tuition costs. Coupled with declining U.S. birth rates and a consequent decrease in the college-aged population, many institutions of higher education find themselves either at the edge of — or tumbling over — the "enrollment cliff."
The most visibly affected by this phenomenon has been the former Edinboro University, now known as the Pennsylvania Western University at Edinboro (or PennWest Edinboro) following a merger with two other Pennsylvania State System of Higher Education schools (Clarion and California universities) earlier this year. The restructure was intended to maximize faculty and administrative resources between the schools, without sacrificing the individual traditions and cultures of each campus.
Enrollment at Mercyhurst University and Penn State Behrend have held steadier, with Gannon University actually reporting record-high enrollment for a second straight year, thanks in large part to its incredibly diverse international student community (1,074 students from 68 countries), which makes up over 20 percent of its student population and has even spurred the adoption of multilingual signage across campus.
Global-mindedness (via worldwide recruitment, remote learning) is one way to survive the inevitable enrollment cliff; local-mindedness is the other. Through initiatives such as the NWPA Innovation Beehive Network (which added Allegheny University in neighboring Crawford County this year), direct pipelines between local universities and local businesses are created, and young entrepreneurs are given the tools and the audience to test and refine their ideas — thereby incubating more local businesses (and jobs), especially those on the cutting edge.
Fresh ideas are instrumental to any region's prospects — but even more transformative is the wherewithal to convert ideas into action. According to Bruce Katz and Florian Schalliol of the consulting firm New Localism Associates, Greater Erie is uniquely positioned to do just that. But in order to secure the best outcomes, it will have to act quickly and synergistically. A "historic sequence of federal investments" in the form of the American Rescue Plan ($1.9 trillion), the Infrastructure Investment and Jobs Act ($1.2 trillion plus $549 billion in new spending), and the COMPETES Act ($250 billion).
The investment playbook "Infinite Erie" (initially known as "Erie's Inclusive Growth: A Framework for Action") identifies where and how to direct this "fire hose" of funding, while also laying a framework for public, private, and civic stakeholders to coordinate the investments, starting with the "Greater Core" (Downtown Erie, the East and West Bayfront, and the West 12th Street Corridor) and radiating out into the city, county, and surrounding region. The investments stand to address longstanding inequities, transition to a new economy with one or more defining "business clusters" (e.g., plastics recycling, advanced manufacturing, and tech), and maximize underutilized assets (both natural and human).
Three "anchor institutions" — Gannon University, UPMC Hamot, and Erie Insurance — operate within that Greater Core, with a combined $2.97 billion in annual spending power (enough to purchase 247,500 Hidden Valley Ranch diamond rings!) Erie Insurance and UPMC also happen to represent Erie County's top two employers, amplifying their economic influence within the Greater Core all the more. This is especially true now that Erie Insurance's employees have been filtering back into the office, with most working hybrid schedules.
It's tough to mention Erie Insurance's investments in the community without mentioning company chairman Thomas B. Hagen, the 586th wealthiest person in the world according to Forbes. The 87-year-old has not shied from investing his own fortunes around town, most prominently in the recently renovated and expanded Penn State Behrend Federal House and 20 historic properties throughout Erie via the Historic Erie Preservation Trust (HEPT). Earlier this year, HEPT purchased the Carter-Shannon House (203 W. Sixth St.), and the Frederick Jarecki House (221 W. Sixth St.) from Gannon University. These two properties, along with the Olds-Norman House (216 W. Seventh St.), will be renovated and leased to Gannon upon completion of the restorations.
Hagen's Erie Insurance, of course, is also the preeminent private funder of the Erie Downtown Development Corporation (EDDC), which has already dramatically shaken up Erie's Greater Core in the area surrounding Perry Square. Following the debuts of The Flagship City Food Hall and The Shops at Fifth and State in 2021, The Flagship City Public Market premiered in 2022 (featuring Luminary Distilling, Gordon's Butcher and Market, and the Erie Food Co-Op), standing as an oasis in Downtown Erie's food desert. The nearby Cashier's House continues to add studio tenants and will further beef up its occupancy in the coming months with Bricks, a USDA prime dining destination. You'll just have to make sure to let your meal settle before attempting Ascend Climbing Gym's four-story climbing wall across the street (or, alternatively, simulate shortness of breath at the also forthcoming Brig Cigar Lounge).
EDDC CEO John Persinger announced he would be scaling down his involvement with the organization earlier this year in anticipation of a move down under (Australia, where he met his wife during his time as an attaché to the U.S. Ambassador to Australia). That followed the resignation of Matthew Wachter, the EDDC's former VP of finance and development. Tim NeCastro, Erie Insurance CEO and EDDC board chairman, told the Erie Times-News in August that he did not know what the organization's next phase looked like, but reasserted Erie Insurance's commitment to Downtown Erie.
In any case, Downtown Erie has largely acclimatized to new buildings rising out of the ground ever since the Local Economic Revitalization Tax Assistance program passed in 2019. There and elsewhere, construction worker couture is in, so strap on that bejeweled hard hat and let's run our way through these projects (and there sure are a LERTA them).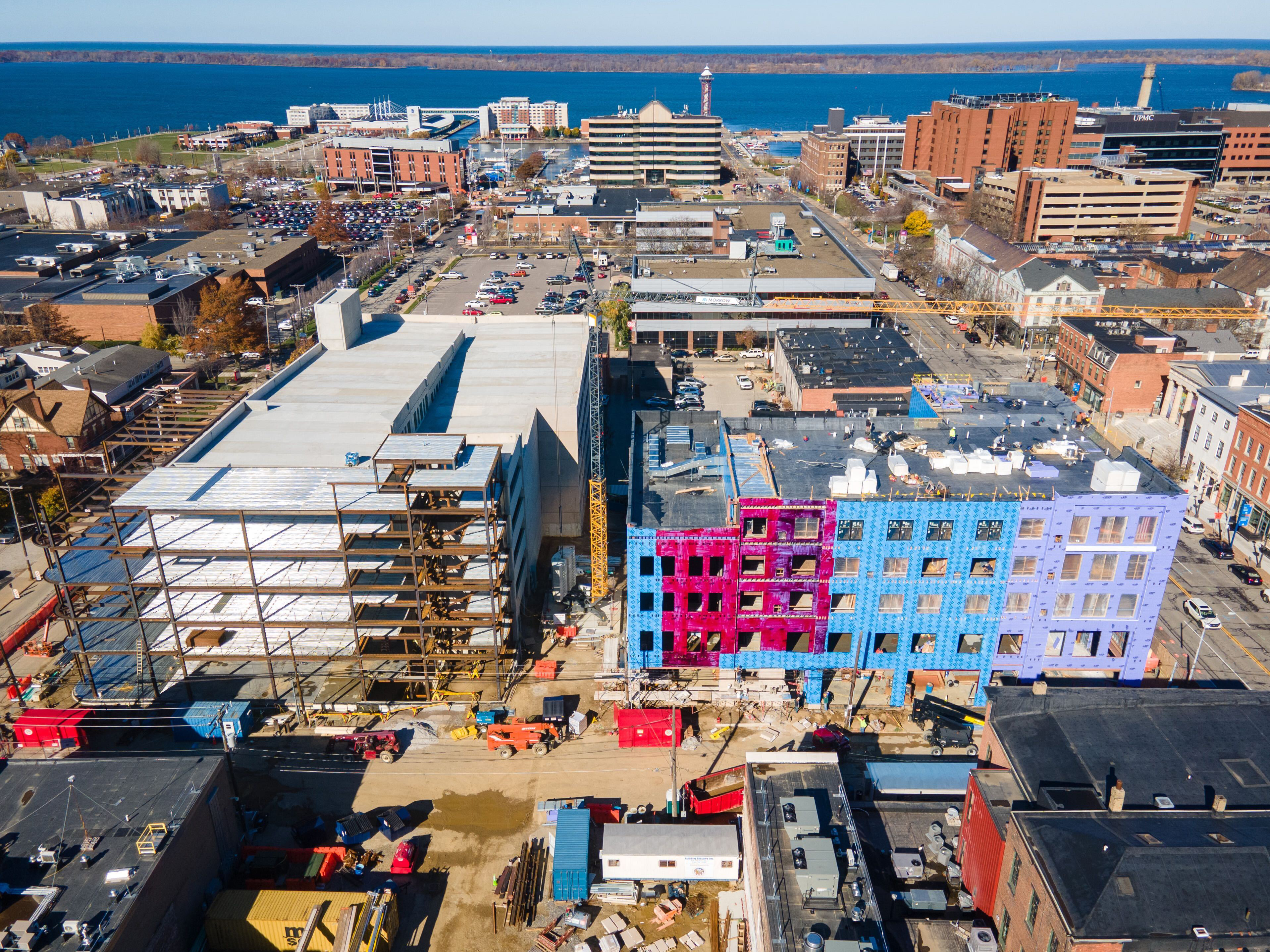 Construction season was in full swing in 2022, with work being done on a record number of properties through the city, most notably in the downtown core. The EDDC and others took advantage of LERTA programs and Historic Preservation tax credits, bringing major structural changes to State Street. (Photo credit: Corey Cook)
Downtown Erie
expERIEnce Children's Museum (420 French St.) — Three story-addition underway, highlighted by a two-story ship climbing feature, renovation to existing building.
Richford Arms Building (515 State St.) — Two-story addition underway, featuring communal kitchen space, TV lounge, laundry room, wellness center, support staff offices, storage areas, and apartments.
Great Lakes Insurance Building (1128 State St.) — Former Citizens Bank undergoing glassy exterior makeover; renovated interior offices will host Great Lakes Insurance employees after already welcoming Erie Regional Chamber and Growth Partnership.
F.W. Hirt Perry Square Building (100 Erie Insurance Pl.) — Renovations to roof, skylight, windows, and entrance are underway.
Methodist Towers (160 W. Eighth St.) — Apartment building slated for $20 million worth in rehabilitation.
ValueMomentum Erie Development Center (1030 State St.) — Former Northwest Bank building scheduled to house 80 of the New Jersey-based IT service provider's employees by next spring following a $5 million renovation.
Bayfront
International Recycling Group Recycling Plant (1540 E. Lake Rd.) — With business and environmental interests at loggerheads, construction has yet to officially begin on IRG's $185 million facility on the former Hammermill site (although the idea sounds good on paper).
Bayfront Market House (West Bayfront Parkway) — Renderings have been completed and funding has been pledged toward Erie Events' next crown jewel, although ground has yet to be broken on the former GAF Materials site.
Harbor Place Development (East Bayfront Parkway) — Scott Enterprises complex hopes to add a 500-foot-long zip line, "nautical-themed" mini golf course next summer.
The Bayfront Parkway itself — PennDOT's $100 million plan includes roundabouts, vehicular underpasses, and pedestrian overpasses at key intersections — and continues to receive significant pushback from parties such as Connect Urban Erie, who contend it will effectively sever downtown from the bayfront (as a de facto highway) and are lobbying for a more pedestrian- and cyclist-friendly boulevard instead.
Elsewhere
Millcreek Presque Isle Gateway — Long-term project aims to redefine the area bound by Pittsburgh Avenue and Peninsula Drive (from east to west) and West 12th to Presque Isle (from south to north), for a more walkable "Main Street" feel.
EMI Business Park (West 12th and Cherry streets) — The Erie County Redevelopment Authority has been pounding out plans for an expansive industrial park at the former site of Erie Malleable Iron, with multiple commissioned public art installations.
Quin-T Tech Paper and Boards property (140 E. 16th St.) — Following demolition and site remediation work, plans for a public park and rec facility are pending.
Harbor Village (Buffalo Road) — A forthcoming mixed residential and commercial complex in Harborcreek, much akin to Palermo Realty and Development's existing Copperleaf in Summit Township.
LECOM (multiple sites) — Ever-expanding just like our universe, LECOM got its foot in the door to a new podiatry school, and will also be footing the bill on a $14.5 million ambulatory surgery center.
Splash Lagoon (8091 Peach St.) — Completed its sixth renovation since 2003 opening, with a multi-level treehouse attraction further whetting aquaphiles' appetites.
Erie Sports Center (8161 Oliver Rd.) — Since a very deflating January that saw its golf dome collapse, the former Family First Sports Park has received a score of upgrades.
Granite Ridge (16 W. Division St., North East) — The former Mercyhurst North East campus will partner with the above Erie Sports Center for athletic programming, but other uses including residential rental units, film production facilities, and classrooms for faith-based and charter schools are all in play.
Corry CATCH (965 Shamrock Ln., Corry) — Once known as the Corry Area Memorial Hospital, the Corry Area Technology Center and Hub (CATCH) aspires to be a home for high-speed fiber internet, a cloud storage system, a tech incubator, a tech job and remote career training center, a co-working space, and a daycare center focusing on early technology education. In other words, a technology CATCH-all.
Totally Over It
The Erie Wastewater Treatment Plant's recently rehabilitated sludge incinerators process up to 100 tons of sludge per day — 36,500 tons a year!
During any annual news cycle, we, too, go through some shit. But not quite like this.
The very essence of journalism is in our ability to question— to not accept reality as it appears, but to plumb the depths of our institutions. Traditionally, that doesn't endear us to those in power. An editorial piece (and explicitly presented as such) written by our own Jim Wertz ("Erie at Large: A Congressman and a State Senator Walk Into a Bar") didn't go over so well with U.S. Rep. Mike Kelly (PA-16) and Pa. State Sen. Dan Laughlin, provoking legal threats and a good deal of ire. The article implicated the two Republicans in the signing of amicus briefs ("friend of the Court" filings) aimed at influencing court rulings regarding the who, when, where, and how of elections — a sore spot after Donald Trump's loss in the 2020 presidential election.
With independent local news sources facing critical endangerment (see Jonathan Burdick's excellent reflection on this topic elsewhere in this issue), it's important that we collectively stand our ground. A free press, after all, helps maintain crucial checks and balances in any free society. Sometimes, truth hurts. But if we need to settle this with a pillow fight to soften the blow, so be it — as of 2022, it's officially a sport (Just like how in 2021, the 2020 general election results were officially certified in favor of President Joe Biden.)
Feathers also flew in this year's midterm elections, with combatants hellbent on securing the top bunk at the public office sleepover. In most local races, the incumbent prevailed — with Mike Kelly defeating Democratic challenger Dan Pastore in the race for Pennsylvania's 16th Congressional District and Democrats Bob Merski, Ryan Bizzarro, and Pat Harkins holding onto their respective seats in the Pennsylvania House of Representatives. The 4th Legislative District, which comprises a large swath of rural Erie County, was up for grabs with Corry Democrat Chelsea Oliver facing off against Waterford-area Republican Jake Banta, the conspiracy-slinging frontman of Jake's Blues — but given the demographics of the recently redrawn district, the GOP guitarist was the people's pick.
The perennially tenuous state of checks and balances was preserved in statewide races for governor and U.S. Senator, with former Pa. Attorney General Josh Shapiro defeating right-wing extremist Doug Mastriano in the gubernatorial race and former Pa. Lieutenant Governor John Fetterman winning the Senate seat over celebrity doctor Mehmet Oz in a tightly contested vote. Enormously consequential decisions regarding women's reproductive rights (after the U.S. Supreme Court overturned Roe v. Wade on June 24, 2022), voting rights, and education are, and will continue to be, at stake.
Driving a stake into the also perennially tenuous state of race relations in Erie County was newly elected County Executive Brenton Davis, who has been systematically dismantling the County's Diversity, Equity, and Inclusion (DEI) Commission aka Diverse Erie (after cutting funding to Greater Erie Community Action Committee programming aimed at assisting the economically disadvantaged, since restored in the county's 2023 budget) and attempting to undermine Erie County Council members seemingly every step of the way (Jim Wertz goes into further detail in this month's "Erie at Large.")
A point of particular contention — a desire to use American Rescue Plan funds (which are intended for "populations disproportionately impacted by the pandemic") to help fund Penn State Behrend's Project Resolve, a 10-year plan to ignite Erie's advanced manufacturing economy, beginning with the construction of 60,000-square-foot innovation and battery testing center in Knowledge Park. While the decision narrowly passed a Council vote, Erie's Black community has had its resolve tested enough over the years, with many of its leaders calling for Davis' resignation.
Defunding and disempowering bodies such as Diverse Erie come as a blow to potentially transformational initiatives such as the East Side Renaissance plan, an effort being steered by Bishop Dwane Brock, Matthew Harris, and Marcus Atkinson to revitalize the Parade Street corridor through a combination of real estate and human development. A social club, bank, and grocery store top the list of targeted developments, with a tentative new ErieBank branch location satisfying one of those items. The environmental changes would be coupled with community outreach and training programs to affect a change in attitude and perception of the area (Parade Street between East Sixth and 12th streets), with a hopeful ripple effect throughout the 16503 and 16507 zip codes, in neighborhoods long scarred by blight and crime.
Bickering between bureaucracies and political parties only serves to distract from the more dire issues at hand. The opioid and mental health epidemics continue to impact record numbers within our community (see Dan Schank's examination of these subjects in this issue and elsewhere), and gun violence continues at an alarming rate — particularly among youth. That troubling trend was made tragically clear this year with public incidents at Erie High School and the Millcreek Mall, and the shooting deaths of a seven-year-old and a 14-year-old.
We cannot just patiently stand by while these problems pile up and hope they go away. Earlier this year, absentee waste collection company Raccoon Refuse forced residents of several Erie County communities to pick up after themselves. When we remove burdens for those who have been historically piled onto, we pick up our prospects for a more promising future.
A quectogram of common sense can make a quettagram of difference (shoutout to the International Bureau of Weights and Measurements for redefining the world's smallest and largest unit measurement prefixes for the first time since 1991 — turns out bureaucracies can get stuff done!)
Matt Swanseger can be reached at mswanseger@eriereader.com. No Spam please, figgy pudding-flavored or otherwise.