The Dirt on Jessica Harrington at Signature Landscapes
Cultivating a woman's spirit of entrepreneurism
January 18, 2017 at 3:00 PM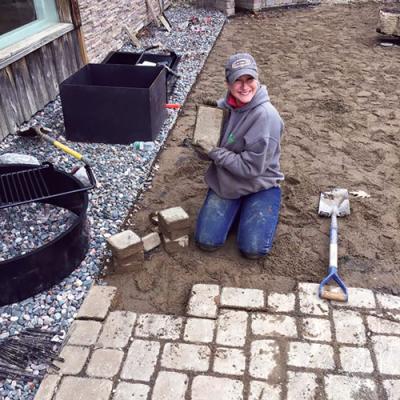 Some of us dig our jobs. Some feel like the work is nothing more than shoveling fertilizer all day long. Some feel like a lone woman toiling in a man's world.
Jessica Harrington's workplace is all of the above.
Harrington is the owner of Signature Landscapes, which she runs out of her home near Penn State Behrend. She's among the less than 2 percent of women who own landscaping businesses in the United States, according to the U.S. Census Bureau.
She has been firmly planted in her job since the 1990s, when she cut grass in high school to help her sweetheart. She married him, went to college as an adult to become a teacher, but left school to help in the business, then called Harrington Landscaping. "It grew, and grew, and grew," she said.
By 2014, he wanted to quit and find a job with regular hours.
"I begged him to keep 25 lawns," she said. "I was relentless that he not sell everything."
Turns out, he wanted out of more than just the landscaping. The couple, who had two young daughters, split in 2014. "Thank the Lord for those 25 lawns," Harrington said during a recent interview. "I have operated the business on my own [since] 2014."
Harrington's is among the 9.4 million firms, employing nearly 8 million people, that are owned by women, according to the National Association of Women Business Owners. They account for about 30 percent of privately held firms in the U.S.
Landscaping traditionally has been a male-dominated field, but women are making inroads as more people discover that it really is a beauty business.
Landscaping traditionally has been a male-dominated field, but women are making inroads as more people discover that it really is a beauty business. You transform dull and/or overgrown exteriors into a scent-sational home. It takes knowledge of the growing zone, soil quality, and horticulture to turn your basic overgrown ranch into a showplace.
Just ask Heidi Parr Kerner, who hired Harrington in the spring of 2016 to update her Fairview residence. "Jessica did a wonderful job for us. She worked with us to create a completely new look for the front of our home, which included the removal of several truckloads of old bushes. Everything was completed on-time and on-budget. Plus, she gets right in there with her staff and did several of the plantings herself. I was 100 percent satisfied with her work, and would highly recommend her."
The two women met at the Coffee Club Divas, a women's networking group founded by Parr Kerner. "Heidi has really taught me a lot," Harrington said. The networking experience came at the same time her husband was leaving. "It taught me to put myself out there in ways I never had."
In addition, the experience connected her to like-minded entrepreneurial women.
Landscaping, of course, isn't all flowers. There's lighting, retaining walls, maintenance, excavating, lawn seeding, and snow plowing.
Here's where the story takes a fairytale turn. Months after her husband left, Harrington met Pat Twining. He has a varied background that includes roofing, tree cutting, and grass cutting, and working as an electrician and licensed inspection mechanic. "I'm actually very fortunate that I jumped from job to job," he said. And he loves snow, including plowing it.
Together they became certified Master Gardeners in 2016 at Penn State. "It really taught us a lot," Harrington said.
The business has doubled lawn-mowing accounts, and tripled its snow-plowing business. On the landscaping side, "we've done some really neat stuff," she said.
"We're really branching out. We are more than just a lawn-mowing crew," she added.
On a personal front, Harrington's divorce planted the seed of another idea. "There are support groups for everything. For divorce, there are zero," she said. "I thought, 'OK, I am going to start one.'"
She has her life coach certification and is working on her master certification. But the real twist comes from horses, which have been used in therapeutic settings for years. There's the Therapeutic Riding Equestrian Center in Fairview, which uses equine-assisted recreational therapy for students and veterans.
During her divorce, Harrington took riding lessons with her two daughters, Kaylin and Madeline. "It was one day a week I looked forward to. It made me realize how strong I was. I guess horse therapy works for all types."
Harrington is looking to combine her coaching with horse therapy to create a program for people in the throes of divorce. "You don't teach horses," she said. "They teach you. Because I feel like they teach at a low point in your life, they really teach you. And I can't explain how they do that. My horses (Izzy and Bug) have always pulled me out of my funk. There is nothing more head clearing than to be in nature with your horse."
Harrington is working on cultivating the plan and expects to see it germinate in the spring.
"I feel I am finally at the point where I can help others," she said.
For more information about Signature Landscapes, call 897.7876 or visit signaturelandscapeserie.com.
Marnie Mead can be contacted at marnie@marniemeadmedia.com and you can follow her on Twitter @makeiterie.