The Gathering at Chaffee's Reviewed
Easy to love, hard to leave... a lot like a family.
August 8, 2013 at 1:16 AM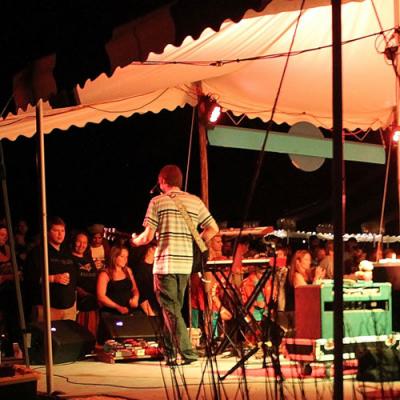 I was just making my way to the main stage at this year's Gathering at Chaffee's when I heard the first strains of "Play That Funky Music," instantly recognizable, carrying over the cool summer-night air.
For a moment there, I almost scoffed. Kinda predictable, that old horse is, I thought.
But flash-forward about six minutes or so: The band is in deep, bending and working that old funk-rock staple out in ways I hadn't figured possible, giving it a whole new (and way better than I'd ever heard before) kind of pulse.
I look around, and see this crowd is really gettin' down now – and, man, I am too.
The tentacles of the mighty Funktapuss – extending their reach over a usually-quiet section of northwestern Pennsylvania countryside – had pulled a crowd of hundreds into their grasps, and I didn't see a soul trying to get away. Just the opposite, in fact: Everyone caught in the moment – myself included – was exactly where they wanted to be.
It seemed the players who make up the Funktapuss' appendages felt the same.
"This is a beautiful, beautiful crowd. I'm lovin' it," frontman Latez Crawley, all smiles and all smooth, told the audience before going back into the grooves. "We've been havin' fun all day" at the Gathering, he said. "I love it."
The Gathering at Chaffee's – to my first, too-short experience there late last month – was indeed easy to love, and hard to leave. A lot like family.
And those who bring the big, little fest about – founder Doug Chaffee, promoters Tracy Evans and Ryan Bartosek, other organizers, volunteers, and the bands – say that's what it is, and they're happy to have their family growing.
It's "really great to be a part of something that so many people look forward to each summer," Bartosek said. "I was on cloud nine all weekend knowing that both the artists and the audience were having a blast."
Evans (who's also Funktapuss' general manager) said the Gathering is about hundreds – and what's looking to grow in coming years to be thousands – "of like-minded people coming together to enjoy time with old friends ... making new ones, and joining forces to jam the day and night away to some pretty amazing music. Nothing compares to the feeling of walking up to and waking up to the sounds of people forgetting their problems for a weekend," and from both sides of the stage, "it's nothing short of amazing," she said.
As far as the music goes, the whole weekend – two days full of sets by plenty of local favorites, new-to-here acts like Funktapuss and main-headliners Aqueous and Cope – was "a gigantic eargasm," Evans said.
I was only there for a Friday-night quickie myself – long enough to catch the Funktapuss and Aqueous sets – but I can't say I left the Gathering feeling at all unfulfilled.
That rendition of "Play That Funky Music," easily the best I've ever heard, was worth the trip in and of itself. And Aqueous – amazing, prog-jam wizards, those fellas – treated my ears (hell, my whole body and being) to what was, again, easily a best-I've-ever-heard with their rendition of Supertramp's "The Logical Song."
And those are just a couple of examples of the many ways in which minds were blown.
"I'm losing myself in my space," a guy beside me who was dancing – a truly into-it, beyond-thinking groove – kept repeating. "The music – I keep losing myself in it, losing myself in my space."
"Well that," I told him, "is never a bad space to be in, my friend."
He smiled. So did I.
And everyone danced some more.
Ryan Smith can be contacted at rSmith@ErieReader.com.