The Great Blue Heron Festival Reviewed
In its 22nd year, the Sherman, New York festival is going stronger than ever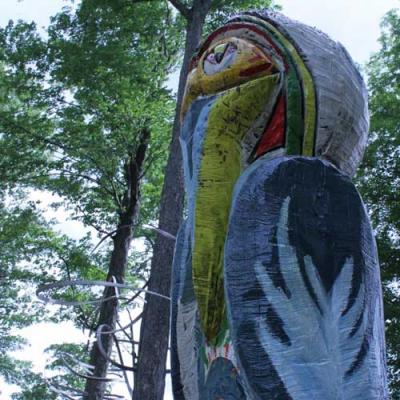 "You okay, brother?" I hear a woman's voice – calm, light – ask from somewhere nearby. I crouch down, hurriedly combing around on the ground for all the important crap I'd just let tumble out of my open camera bag.
"You are stopped in a *weird spot," I hear the voice say, closer this time.
Sounds like someone must be a little outta sorts somewhere close by, I think to myself. Well, that woman sounds nice and matronly – she'll take good care of 'em.
And then, before that thought even ended, I realize... she's probably talking to me.
I take a quick glance down at the isolated patch of goopy mud my feet are planted in (yep, it is a weird spot to stop) then get a quick mental image of me as I may be appearing to others at this moment: Confused-looking guy, all by himself, huddled atop a lonely mud pile, scouring and picking like some kind of monkey over the hay-covered ground for who-knows-what.
"Aw, yeah, I'm fine," I say as I look up and see the woman, who's probably in about her late-50s, pretty and white-haired, with kind eyes, a big, floppy sunhat and a long, flowing skirt.
I get up, and she eyes me up. She gives me a friendly smile, puts a hand on my shoulder.
"I'm just a mom," she says, walking on her way back down toward the stage to check out the rest of Big Leg Emma's closing-day set. "Once a mom, always a mom."
I'd only been at the Great Blue Heron Music Festival for about 10 minutes, but I was already feeling like everyone who makes their way there – myself included now (and from now on) – is part of a really big little family.
And, having just concluded its 22nd year (with over 30 bands and somewhere around 5,000-plus attendees on the grounds from July 5 to 7), it seems that's just the way everyone at the Great Blue Heron has always wanted it, and just the way they want it to stay on those cozy, wooded, friendly festival grounds/farmlands in Sherman, N.Y.
"This isn't a crowd – it's a community," said Renee Semrau, an Erie resident and Edinboro shop owner who's been a part of the Heron most years in the last decade or so, either as vendor, volunteer, or regular ticket-holder. "Sometimes I think, 'We've hit every realm of this place possible' – until we come next year, and it's a totally different experience."
And "each of those experiences changes you," she said. "That's why people keep coming back to this... (and) everyone just gets closer."
Charity Nuse of Big Leg Emma – from nearby Jamestown, N.Y. and among the longtime members of the Heron's immediate family of performers – said much the same thing.
"I started coming here (as a volunteer) when I was a teenager," Nuse said, during a chat following Big Leg's high-energy, deep-grooving set on Sunday. "It's a community. And it's all about family and positive energy – and music.
For the day I spent there, that was plainly evident, palpable all around in the sounds and good vibes carried through the air, the trees, the trails, the waters, and everything – and most everyone – else there.
"Here," Semrau said – and she means right there, right then – "people are beautiful. There's just that essence in this land."
"It really is my favorite festival – and we've been all over the place," said Nuse. "We have some of our best shows here," and it's because everyone is drawing from and giving to the shared energy unique to that space.
"It's an amazing experience," said Nuse.
The kind of experience that keeps people like Nuse and Semrau – and thousands of others from points near and far, all walks, all ages – coming back, like a pilgrimage, to the Heron each year.
"I've been right here for the last 20 years," an all-smiles guy named Bob Johnson told me, showing off his wife, his daughter, and his grandchild as they relaxed and jammed out in the same spot on the hill he always (really – for the last 20 years) sets up at.
"Just look out there," he said. "It's beautiful."
Ryan Smith can be contacted at rSmith@ErieReader.com, and you can follow him on Twitter @RMSmithPlens