The Mulligans: Erie's Wild Rovers
Irish trio never, nay never disappoint on St. Patrick's Day
March 13, 2019 at 9:15 AM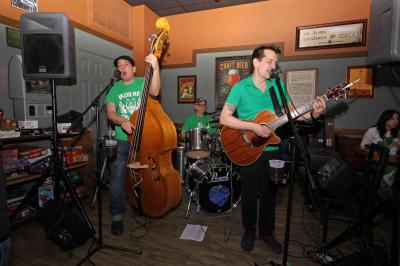 By: Nick Warren
When asked what St. Patrick's Day means for The Mulligans, the band's singer and guitarist Jonathan Nolan joked that "it means being really busy, actually." When you look at the band's schedule in March, however, you find that it's not exactly a joke. The trio is made up of Jonathan, his brother Joe Nolan on upright bass, and Brian Strobel on drums. Catching the band over St. Patrick's Day weekend has become a tradition for some, with the first iteration of the group forming back in 1997. Before that, the brothers would visit relatives in the Boston area every year. "When you went into the pubs in Boston and they did 'The Wild Rover,' everybody knew how to clap and everything," Nolan explained. For those who have nay, never heard the tune, he emphatically enthused, "it's the greatest drinking song ever." He elaborated that "not everyone knows it. We're teaching it to people. We heard people do those songs and there are so many songs — when you go there — that everybody knows all the words and the whole bar sings along. So we went one night, and well, by the third night, we knew the songs!" So the brothers took that tip across I-90 and back home, later enlisting Strobel. At the time, they were one of the only bands with that kind of Irish flavor, but soon others started coming up.
The three are highly seasoned musicians and can make nearly any room their own — particularly Lavery Brewing Company and U Pick 6 Tap House, where they're playing dual sets. Jonathan fronts the bluesy rock band Hard Luck Story, and plays fingerstyle classical guitar — both brothers perform in the metal band Save Yourself as well. They also founded Nolan School of Music (note the shamrocks present on the signage of their Buffalo Road storefront). In addition to playing "Eileen," his bass in The Mulligans — as well as mandolin, harmonica, and other instruments — Joe has been a pivotal player in the Erie hardcore and punk scene, providing guitar for bands like Digression, Smoke and Mirrors, and the world-famous Shockwave. Strobel is a well-versed theater drummer, playing for Mercyhurst, the Erie Playhouse, and numerous visiting productions. "He's the perfect drummer for any room we play. He's kind of our secret weapon," Nolan said assuringly.
With performances in the Philadelphia area and Cleveland the week preceding the holiday, the three are set to gear up for six different sets between March 15 and March 17. "We try to do a 45-minute set, take a 15-minute break, repeat that, and then go the last hour straight through. It's slightly harder on Joe and Brian, because slapping that upright bass and playing the drums are a little more physical. So I actually have the easiest job of the whole thing," Nolan laughed.
You can catch The Mulligans at the following times and locations:
Friday, March 15:  Millcreek Brewing Company: 7-10 p.m.
Saturday, March 16: U Pick 6 Tap House: 1 - 2 p.m., 3 - 5 p.m. (with a break for Erie's St. Patrick's Day Parade), Lavery Brewing Company: 8 - 11 p.m.
Sunday, March 17: The Brewerie At Union Station: 9 a.m. - 12 p.m., Lavery Brewing Company: 2 - 5 p.m., Molly Brannigan's Irish Pub & Restaurant: 7 - 10 p.m.
Nick Warren can be reached at nwarren@eriereader.com