The Post-Chaffee's Blues
Diagnosing the hole in our heart some music festivals leave us with
August 12, 2021 at 5:03 PM
July 23rd of 2021 marked the first official day of that ever-so-special time of the year in Girard, PA where festival lovers from the city of Erie and Erie County rejoice in a unique way to celebrate music, nature, and unity. Within the deep enchanted woods that make up the backyard of one the most beloved families (the Chaffees), some of the most bizarre events occur which has lead attendants to saying one validated statement each year: It gets weird. Everything from free bars and open mics with a house band to wanderers of the night and tent parties light up the trails, leaving everyone with a story to tell for the following morning. And oh, let's not forget about the ongoing music from some of your favorite local and regional bands ranging from Jam to Hip Hop all throughout the weekend. Did I mention the food trucks and local business tents that are constantly swarmed? If you haven't guessed it yet, I am specifically talking to you about the Gathering At Chaffee's which was created by Doug Chaffee back in 1980 while still attending high school. Starting with the name "The Party At Doug's Place", Chaffees was just a 4th of July party thrown by the youngster at his parents' house with him incorporating bands just a few years later. Now, with the 41st gathering sadly over with, the lingering desire of wanting to go back to relive the memories is at an all-time high with many of the festival's faithful campers and visitors. But, this feeling isn't anything new seeing that this particular two- day/two-night event has always made people feel lost in the next few days into the week. Everyone from parking lot loiterers to band members have experienced the inevitable Post-Chaffee's Blues.
Alas, the diagnosis has been claimed. Post-Chaffee's Blues is the mild "depression" that happens when the Gathering itself is coming to an end and it is about that time to pack up the tent and drain the coolers to return to real life. It is the sudden sadness that engulfs the festival's grounds with no remorse to remind everyone that the time of their lives must be put on hold until next July. The aching sounds of endless cars leaving the premise and the silence of the music stages while the sun relentlessly beams over a near-desolate party all add to the memories that seemed far from ending. Yes, that may sound like a bit much, and this Post-Chaffee's Blues crap could all be a myth. But I kid you not that this emotion is real every year and could sometimes start sooner than Sunday morning when it is time to exit.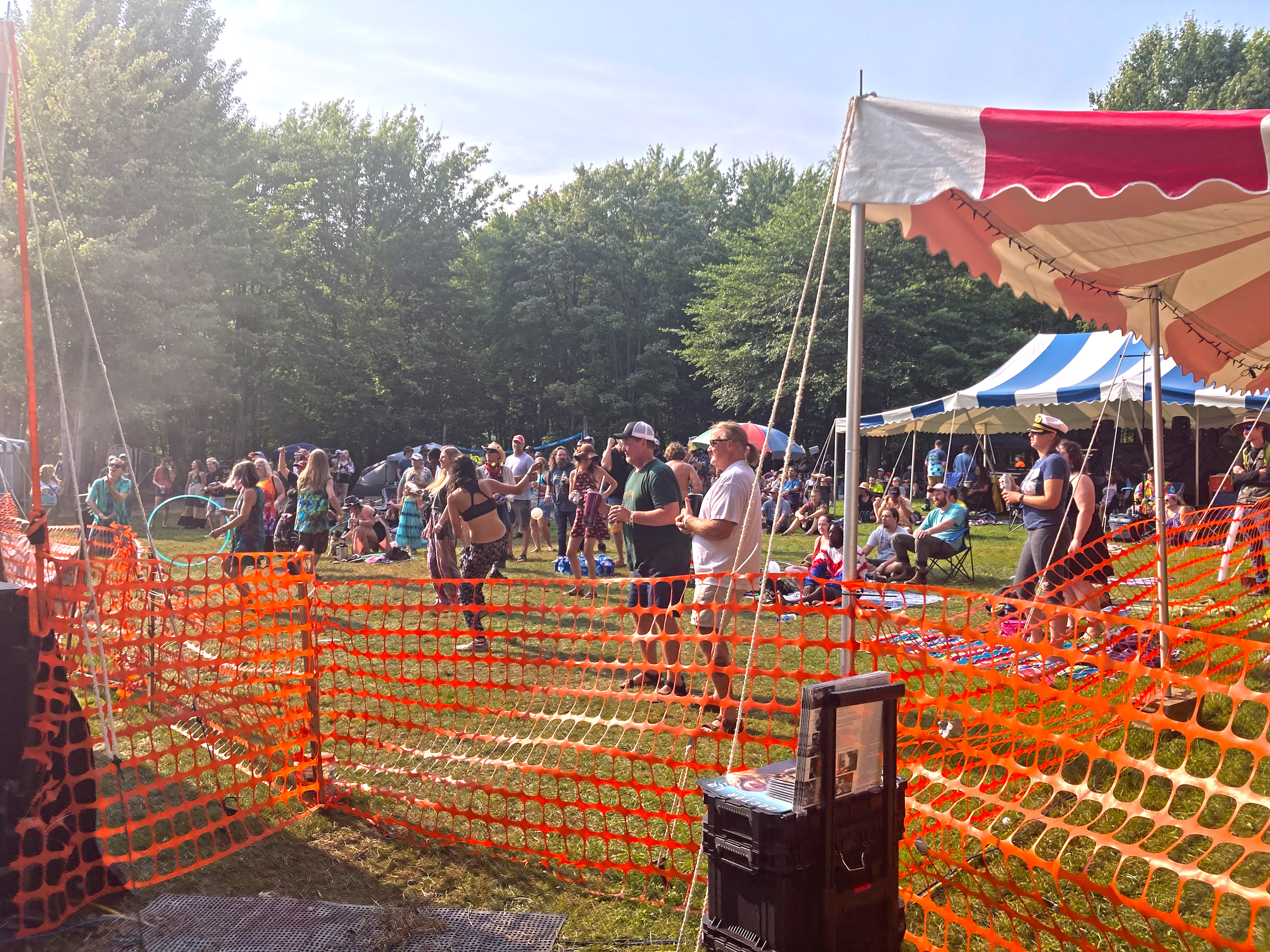 I've had the pleasure to talk to one of the most prominent figures in the Erie music festival scene which is none other than the daughter of Doug Chaffee, Emma Chaffee. Emma has played a huge role in the Gathering making sure that everything runs smoothly between the crowd and musical acts. Though her task can sometimes be tedious, she finds herself enjoying the awesome vibes along with everyone else. But along with those vibes, she has also witnessed the undeniable blues that many Chaffee goers can't shake. "Sometimes I see some people think about it (the end of Chaffee's) as early as Saturday morning," says Emma. "But definitely see the lag in people Sunday when they're packing up and leaving." Emma herself has even felt the emotional effects take form after such a vibrant weekend. "Oh yes, I see them start to develop with me when I finally lay down to go to sleep Saturday night/Sunday morning at four to six a.m. It's hard when there's so much build-up and months of preparation. Then boom, it's over in the blink of the eye. This year seemed to be even harder as it was one of my favorite Gatherings ever." 
No one is for sure if there is a solution for Post-Chaffee's Blues besides the return of the festival itself. When speaking with Emma, she was able to explain a little further what the fans of the gathering are experiencing and how she's able to lift her spirits. "I'm not sure that there is a cure," she laughs. "It's pretty difficult and I would absolutely compare it to seasonal depression of sorts (not that it is any kind of severity that seasonal depression is). I know I help myself by having a little solo or close friends/family time to recharge before throwing myself into social situations immediately again. But most importantly, I listen to music. Maybe some of the music I heard over the weekend, but anything. Music ranging from sad and happy to nostalgic, etc. It helps immensely." Though the Post-Chaffee's Blues are known to sting a lot of its friends and family that attend the Gathering yearly for a few days, the most important part is that everyone enjoyed themselves with intentions of coming back again to revive the excitement. PCB isn't deadly enough to hold anyone back from checking in every Summer. The pain sucks, but it only makes the people get prepared for the next go-round.