The Rook's New Summer Reign
Extensive outdoor events fill club's summer nights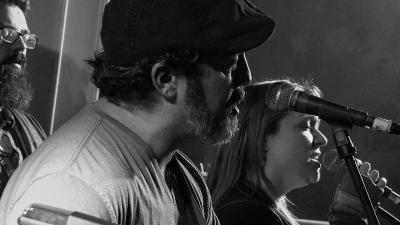 Friday, June 1
Erie's home for live original music is ready to shake things up for summer. Beginning Friday, June 1, the King's Rook Club is reinventing itself, with Outback Jack's, its revamped outdoor patio complex.
"Memories are going to be shared and made this summer," stated Ryan Bartosek, the club's promoter and assistant manager. "This will be the first time in roughly 15 years it's really been fully opened and put to use for people to enjoy," he said of the new area. "We want to take advantage of it being somewhat of a time capsule. The overall decor and vibe of Outback Jack's is meant to be similar to a little cabana beach bar you'd find in Jamaica, or a beer joint in Mexico. Very rustic, comfortable and homey."
Featuring the new outdoor "Funky Munky" bar (flanked by two life-sized sharks), a small stage, lounge chair and table seating, marble fire pits, and sand pit (with free cornhole and bocce every night), the new patio will also make itself available to local food trucks The Big Cheese, SorcERIE, The Atacolypse, The Cluck Truck, Curry Point, and A Waffle Miracle.
Forgoing their usual model of having full live bands each Friday and Saturday, this summer will now feature singer-songwriters, along with DJ sets — with acts already scheduled until the end of August. Acoustic acts will perform from 9 to 11 p.m., with a DJ taking over duties from midnight until 2 a.m.
Thursdays, which were previously reserved for open mic nights, will now be privy to special fun events. Karaoke nights, game nights, and trivia nights will happen eight weeks over the summer, all hosted by songwriter/princess/bartender Brooke Surgener. Alyssa Santangelo will continue her successful run of paint nights, happening three Thursdays over the summer. The club has plans to return to its regularly scheduled programming beginning August 31. Three Saturdays will make way for "Flow Nights" featuring DJ Voto, and fire spinning by Hekate performing arts.
Those familiar with the deceptively capacious venue are aware of the various areas (upstairs has a full bar, stage, game room, and upper patio, while the downstairs contains a mid-sized venue and bar). Most current members of the club, however, are relatively unaware that the back patio even exists. Their parents are another story, however. Patrons of the club in the 1990s will remember that part of the club vividly (though some memories may be admittedly spotty), as Outback Jack's was first set up in 1991. Bartosek reasoned that they "want our members in their early 20s to be able to bring their parents with them to check the club out, and their parents to instantly feel like they've stepped back in time."
"We want to have something for everyone, and have a laid-back vibe," Bartosek explained. Finding the perfect recipe for summer nights, under the stars, he concluded that "we really want it to feel like a big backyard BBQ." — Nick Warren
10 p.m. // 1921 Peach St. // 21+ // facebook.com/kingsrookclub