To Do List
Although you're a fully grown adult and Alex Bieler cant TELL you what to do, he can tell you what you SHOULD do. And he thinks you should do this.
December 12, 2012 at 12:13 PM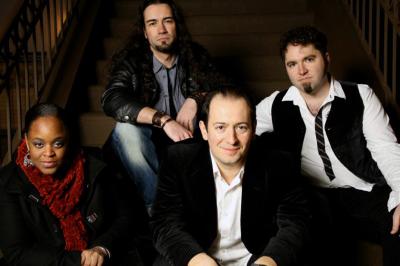 Joe Deninzon & Stratospheerius
When thinking about violinists, the classical theme tends to run to the forefront of one's imagination. Whether envisioning the centuries-dead white-wigged musicians of old or the formally-dressed stringsmiths battling between first and second chair for the various orchestras, the violin carries a very prim and proper reputation.
But not all violinists live in the classical world. Some, like Joe Deninzon, are more likely to rock the devil horns and wear Queen T-shirts instead of a three-piece suit.
Deninzon and his electric violin will be coming to Sherlock's with his band Stratospheerius, taking the stage with local band Special Guest at 10 p.m. Thursday, Dec. 13. Over the years, Stratospheerius evolved from a more jazz-oriented group to its more progressive rock, alt-bluegrass sound today. Although Deninzon, sometimes referred to as the "Jimi Hendrix of the violin" is a rocker by trade, he started off with the white-wigs.
"My parents are both musicians and my father is a violinist, so he started teaching me when I was about 5," Deninzon said. "Along the way, I picked up a bunch of instruments. It was a gradual thing. I was studying classical violin my whole life, but my main interests were Led Zeppelin and KISS and Rush, those kinds of bands."
Along with violin, Deninzon learned both guitar and bass, which was where he started gaining an appreciation for rock, pop, and jazz. It wasn't until he was noticed by another musician in Cleveland – where he and his parents had moved from St. Petersburg, Russia when he was 4 – that Deninzon started to expand his sound.
"Michael Stanley asked me to play violin in his band when I was 16," Deninzon said. "His daughter went to my high school, and he heard me play in a talent show and I was playing classical violin, but he asked me to play in his band. I'd never improvised before on the violin, but I knew how to play rock and blues, so it just came naturally because I had been doing it on other instruments."
Since then, Deninzon has continued to hone his craft with Stratospheerius, which is no stranger to Erie. The band has been coming to the Flagship City since 2001, due in part to "the great vibe" Erie has, according to Deninzon. Locals can expect to hear plenty of new material off of Stratospheerius's latest album, "The Next World," in addition to tracks that have yet to be released.
It doesn't take a trip to the orchestra to see a violinist at work, so keep the formal wear at home and head to Sherlock's for a classic rocking.
Holiday Art Show and Sale
The pressure is on. The days fly by and you still haven't found what you need in the search for the perfect Christmas present.
It's not easy to find the right gift. In the overwhelming stream of gizmos, doo-dads, and other items flashed across various glowing screens, sometimes you need to find something that isn't processed by a massive corporation that pumps out an unfathomable amount of copies over the holiday season. But where can you find something matchless, something wonderful, something exciting and fresh?
"If you're looking for something that's a little different and unique, we've got a real mixed bag sort, stuff you won't find anywhere else," said Lee Steadman.
Well, that was easy.
Steadman, the director for Center City Arts, is talking about the Ninth Annual Holiday Art Show & Sale, a collection of works brought together in celebration of hard work, clean living, and originality.
"Our center is a creative wellness center, and we're hoping that people can sort of get that vibe while they shop and understand what we're about," Steadman said. "Our studio is all about wellness and feeling good in the moment and we're hoping we can spread that around the Erie community."
Located at the Rose Koehler Curtze estate at 26th and Holland streets, the sale will be held from 5 to 8 p.m. Friday, Dec. 14. While the sale promises many hand-crafted wonders, such as paintings, sculptures, and more, fused-glass items are a big draw, with Steadman declaring that Center City Arts has "sort of become the fused glass center of Erie."
Not only does the Holiday Art Show & Sale promise excellent gifts, a large percentage of the proceeds go directly back to the artists.
"I like to think that you support local, you buy local, it's no different than buying local vegetables at a supermarket or local beef – something like that. Why not support local art as well? We have a ton of talent here in Erie, it's great to support it, it's great to feel good about it, it's a completely unique, one-of-a-kind gift, no else is going to have it, and I think that's kind of cool."
When an opportunity to support the community like the Holiday Art Show & Sale presents itself, well, that's the gift that lets you keep on giving.
Alex Bieler can be contacted at aBieler@ErieReader.com.