Upfront: Krampusnacht
A Christmas Legend. Krampus is coming. And he has a chain and brings fear. Were you good this year? You'd better hope so.
December 14, 2011 at 9:00 AM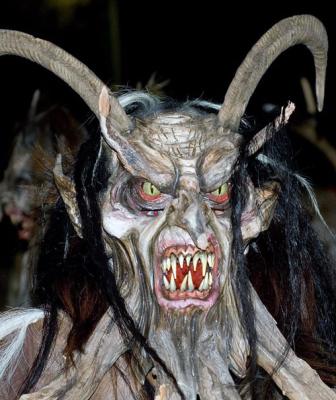 Twas the Krampusnacht before Christmas, when all through the house
Not a laptop was stirring, not even my mouse.
The windows were boarded with planks out of fear,
From dread that old Krampus soon would be here.
Just then I was hidden, deep under my bed,
With firearms all loaded and helmet on head.
Silently waiting to bust a proverbial cap,
From horror and from fear, I deigned not to nap.
Soon out in the fields, there arose such a clatter,
I remained 'neath my bed, dismayed at the matter.
When finally I peeked through the hole in my door,
I saw him and knew just who he'd come for.
The glare on the face of the black slushy snow
Gave sharp sanguine shape to the nightmare below.
When, what to my horrified eyes should appear,
But a goat-headed demon, a terror without peer.
With naught but my rifle, so shiny and slick,
I hoped and I prayed it was all but a trick.
More rapid than eagles my bullets they flew,
But he whistled, and shouted, and caught them all too.
"Now shooter! Now, sinner! Now, show me your face!
I come to seek vengeance and enter your place!
From the top of your house, then right down your hall!
Don't dash away, bad boys! I'll eat your souls, all!"
As white trash before the wild hurricane fly,
I ran down my hallway and cursed at the sky.
Old Krampus was here and I certainly knew,
He'd come to punish me for the year I'd been through.
And then, with a clanking, I heard in my brain
The jingling and jangling of what sounded like a chain.
I steadied myself for Krampus to come 'round,
Instead down the chimney came Santa with a frown.
He was all dressed in red, from his head to his feet,
His clothes were blood-stained with carnage and meat.
A sack full of toys, of which naught were for me -
Presents of vengeance would appear 'neath my tree.
His eyes—how they strained, like rats in a cage!
His face was a horror, contorted with rage!
His droll little mouth bore a great, vengeful smile,
The beard of his chin soaked with putrefied bile.
The smoke of his anger gave fuel to my fears,
Concluding when black smoke escaped from his ears.
He glared 'til his anger rose to a peak,
Then called off his Krampus and started to speak.
"Bad boys and bad girls, they used to get coal;
To correct naughty children was always my goal.
But nowadays kids, they fear nothing undead
So I summon the Krampus to beat them near-dead.
"Krampus, my chauffeur, my valet, my muse,
Brings with him fear, fear I can use.
Armed not with coal, but a rusty old chain,
He'll force good behavior into your bad-addled brain!"
A beating ensued that I'll always remember
Throughout the whole year, until late next December.
Two-thousand and twelve will be filled with my fear;
I promise you Santa, I'll be better next year!
With apologies to Clement Clarke Moore.
Cory Vaillancourt is a brilliant writer/complete hack and can be complimented/heckled at cVaillancourt@ErieReader.com.