Watch The Decemberists Turn YouTube Comments into Short Songs on Kimmel
The Decemberists appeared on Jimmy Kimmel Live to promote the band's new album What a Terrible World, What a Beautfiful World and ended up making songs out of YouTube comments.
January 23, 2015 at 1:30 PM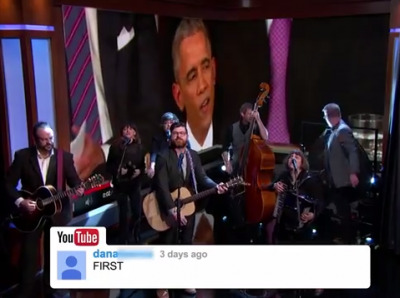 "Don't read the comments." It's a common phrase that you'll read online, usually coming from level-headed people trying to prevent others from delving into the fiery hell pit of rage, ignorance, stupidity, and spam that is your typical Internet comment section. There was even a Twitter account with over 40,000 followers that used to regularly warn people about venturing too far below the fold.
There are a few sites where the comments section manage to keep things not only clean, but also pretty amusing (I'm talking about you, The A.V. Club). Still, many pages that host the ability for people to converse with one another degenerate into rotting cesspools of hate and idiocy, leaving decent people to avoid such online areas.
Well, The Decemberist not only read the comments, the band sang them as well during a visit to Jimmy Kimmel Live! The veteran crew of storytellers were on the late-night talk show to promote their latest album What a Terrible World, What a Beautiful World and play "Make You Better." The Decemberists did a pretty nice job closing out the show with its new single - unfortunately, Nick Offerman and "Colon Meloy" were nowhere to be found - but it was the band's performance earlier on that really caught people's eyes (and ears) when Meloy and the gang turned some YouTube comments into quick ditties.
The band applies its usual dose of ethnically-inpired folk-rock to amusing comments ranging from the ubiquitous "FIRST" cry to a lengthy defense of Kim Kardashian's admitted and potential plastic surgery. Also, I do believe that I detect a bit of "16 Military Wives" in the song for "Noisy Kittens Waiting for Dinner," which is great. The Decemebrists don't really deal with, as Kimmel puts it, the "I want to get busy with your bottom" style of songwriting, so this whole idea is pretty fun. They even got the audience to join them in singing "boring" over and over, apart from one person on the left at the 4:07 mark of the video (yeah, I saw that you non-participating-type lady). Check it out below.