Watch The War on Drugs Perform on The Tonight Show
The Philapelphia-based band kicked off 2015 by performing "An Ocean In Between the Waves" on The Tonight Show with Jimmy Fallon.
January 7, 2015 at 3:26 PM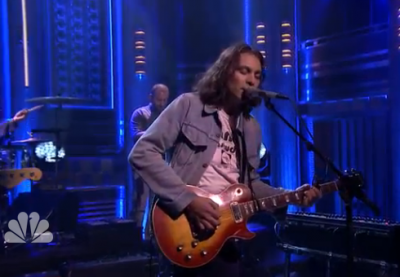 The War on Drugs released one of 2014's best releases with Lost in the Dream. In fact, you could say that it was the year's best album according to aggregate site Metacritic's roundup of music critic' top 10 lists, where the Philadelphia band held a slight edge over St. Vincent's also excellent self-titled release as of Jan. 7, making my own ranking of Lost in the Dream seem low in comaprison (No. 7 isn't all too shabby, however).
While 2014 was pretty great for Adam Granduciel and his band of modern heartland rockers, it's time to move on to 2015. The War on Drugs aren't slowing down, however, as the group stopped by The Tonight Show with Jimmy Fallon last night, getting back to work less than a week into the new year, even setting up and breaking down their own equipment, much to the surprise of fellow Philadelphian Questlove, the lovable leader of Fallon's extremely talented house band The Roots - a mighty fine band on its own, mind you.
While Questlove was impressed with The War on Drugs pre- and post-show work, viewers should be quited pleased with the band's TV performance of Lost in the Dream's "An Ocean In Between the Waves." It's a pretty awesome job, one that will please fans of The War on Drugs and any baby boomers who are grumpy that there aren't enough bands that are putting a modern spin on Bruce Springsteen and Tom Petty. And then there's the wonderful shot of Granduciel pulling away from the microphone around the 3:20 mark as the saxophonist gives him a look that just screams "Yeah, you're pretty cool." Also, this is the first time that I've noticed that Fallon and Granduciel look extremely similar. Like they could have switched positions for the night and they might be able to pull it off. Check it out for yourself.