Welcome to the State of Synesthesia
Edinboro-based Soundscapers GNOSiS entrance crooked i crowd.
March 19, 2014 at 7:43 AM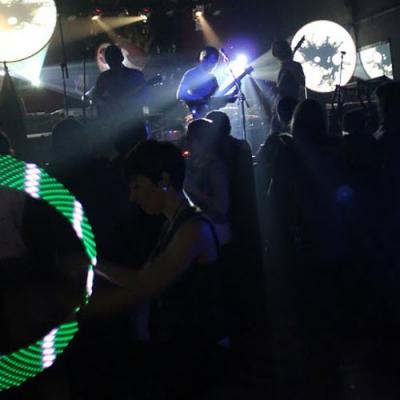 Synesthesia: A strange, rare phenomenon – born deep inside, at the level where mind and body fundamentally connect – in which stimulation of one sensory pathway (say, your ears) leads to automatic sense experiences within other pathways (say, your eyes).
Put most simply, it's a pure union of the senses – what some people are talking about, for instance, when they say they've had the sensation of feeling (really feeling) music all over, inside and out, up, down, and all around them.
It's a special state of being indeed, and one that few ever get lucky enough – get opened up enough – to experience.
But GNOSiS – a local band making some serious soundwaves around the region these days – is out to make synesthetes of us all.
And, after catching the Edinboro-based groove collective at the crooked i last week (where they opened for Ohio-based jamtronica outfit Broccoli Samurai), I'd say those fellas are doing something – hell, a lot of things – just right.
Coming from a variety of different musical backgrounds ranging from reggae to metal and points in between, GNOSiS (featuring Ethan Pieper on guitars and vocals; Sam Edwards, percussion; Pat Scutella, guitars; Michael Fraser, keyboards and synthesizers; and Owen Walsh on bass) melds together elements of all of it, creating a fast-and-funky soundscape that's all their own.
As GNOSiS laid the bricks of that auditory pathway down (and up, and all around), they had berserker pixel-pusher Psyence – effectively a sixth member of the band – busy in the back, pumping out wild visuals onto dual round screens. It's not just your typical trippy, oily blots and exercises in fractal geometry he's working with, either: This Psyence guy (a.k.a. Josh Malin) has a whole lot more going on, and the result is something beyond logical reason, something approaching mind-melting.
When taken in with GNOSiS' sound, what you get – if you let yourself let go and tune in – is something strange and rare... something beautiful and indescribable... something synesthetic.
While very much doing their own thing, GNOSiS is drawing from that small but growing cadre of musicians and bands (groups like Papadosio, Lotus, Consider the Source, Snarky Puppy, and others) who are effectively re-defining the term 'jam-band' for a new generation, the now generation. Taking it all in last week – the sounds, the visuals, the electrified hoola-hoops creating multi-colored neon loops in the darkness – I thought, hell, these boys would be a perfect fit at any of the many new-age summer music festivals popping up throughout the region and elsewhere around the country.
And, with some luck and a little help from their fans, out onto that wider, wilder road may just be where GNOSiS is headed next.
"If you like us here, go there," Pieper, gesturing toward a merch table in the back, said to the i crowd near the end of GNOSiS' set.
It was there that fans could vote for GNOSiS to be added the lineup at Hoopla in the Hills, a sweet, early-season festival – headlined by Papadosio, EOTO, and a slew of others – coming up later this month in Athens, Ohio.
No worries, though, if you missed that chance to cast a vote (or votes) for GNOSiS to play the Hoopla – there's still time. Until March 23 at 11:30 p.m., supporters of their mission may cast multiple votes by visiting 'Vote for GNOSiS to play hoopla in the hills' on Facebook.
After hearing (and seeing, and feeling) GNOSiS at the i recently, it's a sure bet they have this guy's vote.
You can also catch GNOSiS – and come down with a strange case a synesthesia yourself – at McKean's Valley Inn Saturday, March 22; at Annabell's Bar and Lounge in Akron, Ohio on April 19; at Erie's own King's Rook Club on April 26; at the Tudor Lounge in Buffalo on May 17; and at the Gathering at Chaffee's on July 25 and 26.
Wherever they go, "it's always a journey," Pieper told me. And "it's exciting every time."
Agreed.
Ryan Smith can be contacted at rSmith@ErieReader.com, and you can follow him on Twitter @RyanSmithPlens.