What Not to Do at a Concert
Arts and Culture Editor Alex Bieler recently attended a concert where a few concert goers nearly ruined the experience. Here's a guide of what not to do at a show.
December 14, 2014 at 6:36 PM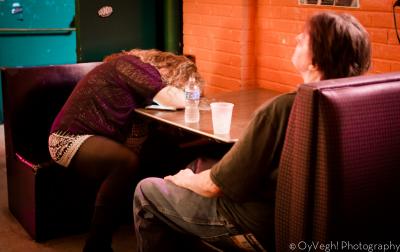 Like many music fans, I love going to concerts. Live music can give off such an intoxicating energy when done well, creating a whole new experience from what you may find on a recording while a giddy crowd follows every sound emitted from the stage.
Of course, shows can have complications. Equipment can fail, venues can be questionable, or, simply enough, a band can fail to provide a pleasing product. And then there's the crowd. While plenty of people attending a show are generally decent human beings, there always seems to be a chosen few who seem to be on a mission to ruin the night.
I recently went to a show where I met a couple of these awful dunderheads, a tiresome twosome of alcohol-infused twits who apparently decided that only they were allowed to enjoy the show in question. I now offer you a guide of what not to do at a show based on their actions.
Don't show up late to a show, shove your way to the front of the stage and not expect to meet resistance from the people who have been waiting since the doors opened.
Don't seem surprised when people give you grief for barging your way into prime position and then decide to depart without apology solely because you don't want to see the second opener.
Don't proceed to shove your way back to the front when the headliner returns.
Don't use the stage as your personal storage space, setting several drinks (some of which spilled next to electrical equipment), purses, and even footwear on a space reserved for the musicians.
Don't body up and dance on the photographer I let move in front of me, dancing wildly to the point of where you come within inches of elbowing her in the head on several occasions and possibly damaging her pretty expensive-looking camera.
Don't drunkenly stare at the photographer after she requests that you knock your nonsense off, smile, and then place your arm around her like it's no big deal.
Don't start creeping in on the photographer's space when she focused on shooting the show, slowly but surely taking up more space for yourself at the expense of the area the photographer had a right to.
Don't place your massive phablet on the stage for texting purposes so that it illuminates and distracts from a show that you deemed important enough to shove your way to the front.
Don't try and shove me out of the way when the photographer leaves to shoot from a new area and I move back into the space I previously occupied.
Don't wait until I look away to lower your shoulder and  use your rather large frame and ram me into my girlfriend, squishing her between my rather large frame and the massive speakers to our right.
Don't try and blame me for everything when I start yelling at you about this shoving incident, claiming that you have "been here the whole time," using your swaying arm to indicate a spot about four feet over from where you originally started.
Don't continue to "dance" on me, which is a convenient way to elbow me right in the side.
Don't seem shocked when I request that my girlfriend go get someone on staff and he already knows exactly who you are from my girlfriend's short description of you.
Don't act like you've done nothing wrong and try to ignore the staff member when he requests that you come with him, only budging when he threatens to call the cops.
Don't start acting innocently when your friend, who you purposefully swapped places with so that we have to contend with her drunken largesse, is then escorted under staff supervision.
Don't take your friend's "place" and bump me, leading you to passive-aggresively shake my hand and say "I don't mean to bother you."
Don't try and dance and text at the same time, causing you to accidentally throw your beloved phablet a few feet to the right and have it land at my girlfriend's feet.
Don't give me puppy dog eyes because you have now lost your phone and want me to help retrieve it.
Don't take numerous photos throughout the rest of the show after I, despite every desire to not help you, hand you back your phone, which only stops for when you return to texting.
Don't place another member of your group, who has done nothing wrong so far, in the uncomfortable position of having to separate me from you. Actually, this is probably one of the better things you have done.
And finally, don't get so miserably drunk at a show that you become an absolute waste of life. The venue staff don't want to deal with it, your (sober) friends don't want to deal with it, and I don't want to deal with it. When you do, you deserve to be shamed for your selfish actions, particualrly when it leaves you passed out by the bar. If you think that the above actions are appropriate at a show, save everybody else the annoyance and don't go out in public.