Strand of Oaks Provide a HEALing experience
Strand of Oaks show off the healing power of rock 'n' roll during a blistering live show in Cleveland.
August 6, 2014 at 12:30 PM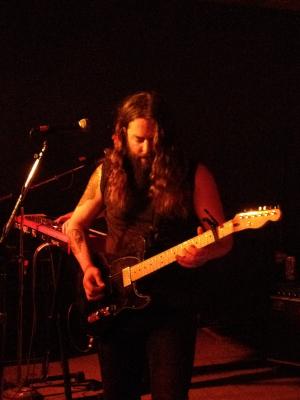 Strand of Oaks' Timothy Showalter may have described himself as looking like the Hell's Angel who's playing rock 'n' roll" in an interview with the Erie Reader, but when the Philadelphia-based musician rolled through the Beachland Tavern, he was almost playing the part of a pastor as he perfomered the majority of the song's off of his intensely personal, and rather good, new album HEAL.
It took just three songs in for Showalter to make his transformation from long-locked rocker to fiery preacher, owning the microphone as he intone the words "You've got to heal" to the Beachland crowd. It was more of a command than a suggestion, as Showalter grasped the mic stand with his right hand in a way that the "SURVIVE" tattoo on his arm was clearly visible from the crowd.
It was an emotional night in Cleveland for Showalter, who had recorded 
HEAL
in nearby Akron and had friends in the crowd. In fact, members of
Cloud Nothings
were in attendance, witnessing Showalter pour out his heart and soul on stage, most notably on show highlight "JM," a 7-plus-minute slow burner that left Showalter throttling the neck of his guitar in an effort to produce as much passion as possible in the ode to the
deceased Jason Molina
. By the time Showalter sang "I won't let these dark times win/ we've got your sweet tunes to play," the crowd was already completely committed to the Showalter's shredding on his six-string, and this was only five songs deep into the show.
After a crack that people can only take so much of a bearded guy headbanging, Showalter stayed onstage with keyboardist Eliza Hardy Jones to tackle a pair of quiter songs from past albums in "Diamond Drill" and "Two Kids," a lovely calm before returning to the emotional storm when drummer Mike Sneeringer and bassist Deven Craige returned for five more songs, including a blistering take on "Mirage Year" during the encore that ended with Showalter throwing his guitar down and storming off the stage. Instead of being alone, however, Showalter ended up in the adoring crowd, laughing and talking to a crowd that witnessed a true healing experience.