You Ought to Know: Kassahun Yilma
?When you live you have to do something for your country, you have to make a contribution. You have to stand for the truth.?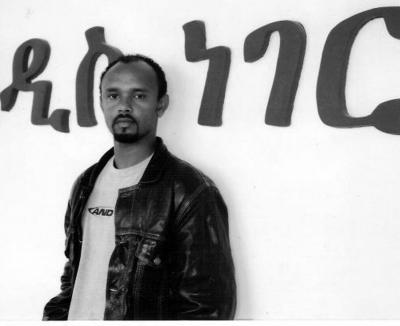 Addis Ababa seems to have little to do with Erie, Pennsylvania. For starters, Addis Ababa is a city of 7 million located at the foot of Mount Entoto on the grassland plateau of central Ethiopia in East Africa. It's also nearly 7,000 miles distant. Erie is neither large, African, nor distant. But Erie does have connection to Addis Ababa. More specifically, events there conspired to alter Erie, perhaps in only a small way. But perhaps not.
Enter Kassahun Yilma. He's an Ethiopian refugee, a journalist driven from his country for daring to dream of an independent and free press, and resettled here, by the shores of Lake Erie.
After arranging to meet in an Erie coffeehouse, I find him quickly. He's wearing a white dashiki and an open, handsome face under a slightly receding hairline. He's shortish -- my height -- and shakes my hand warmly, and I can tell that he's eager to talk to me. Throughout our afternoon together, he gestures with his hands skillfully, and they dance and thrust and tap my elbow constantly. He's mostly good-natured, but often crosses over into impatience and anger and a kind of passionate seriousness. For good reason. Here is a man who is an exile in a strange land, cut off from his family and friends and everything he had learned about life, and for the crime of simply doing the right thing.
This is his story.
Some 7 years ago, Ethiopia was at a watershed. National elections were being held, and, for the first time in the country's history, there was hope for true democracy. The ruling regime under Prime Minister Meles Zenawi had given space for the elections, opened up the country's media, and was letting voting proceed openly and fairly. Not out of any ideological ground, as it turned out, but as an overestimation of its own popularity and an underestimation of the ability for opposition parties to band together and form a working coalition.
Perhaps the first the first time the regime realized it was in trouble was on May 7, 2005, when more than 2 million people gathered in Addis Ababa in support of the opposition party, the Coalition for Unity and Democracy Party. Nonetheless a day after the election, Meles Zelawi declared his party the winner of the election, even as the votes were still being counted. Suspicion of a rigged election grew into a certainty in the minds of many Ethiopians, and they began to take to the street. And then the shootings began. At one May incident, university students protested at Addis Ababa University. Federal police and soldiers arrived and fired into the crowd. By the end of the year, hundreds were dead and tens of thousands were jailed.
When the clashes began, Yilma was there. "I ran 10 kilometers to join my friends," he says, explaining how he left his office where he worked as an insurance claims officer. "I had my tie and everything, and I ran and joined them. Everywhere there were riots. People burning everything, throwing stones. And the police were shooting people."
After he found his friends, he helped carry the wounded and dead to the hospital. The memory of one elderly woman shot by the military still haunts him. "I know her sons," he explains. "They worked in jobs around our village...and when I brought her in to the hospital, the nurses and doctors there cried, because she'd been there just that morning." He returned home that night in bloodstained clothes, still clutching her purse.
Later, when the Meles regime released its political prisoners and eased up on media restrictions, Yilma quit his insurance job and worked at a startup newspaper, writing mostly about sports. "But I didn't want to write about sports," he says. "When you live you have to do something for your country, you have to make a contribution. You have to stand for the truth." He quit that paper and joined Addis Neger, which means "New Thing" in Amharic, and it was just that. Modeled after reputable Western newspapers like The New York Times and The Guardian, Addis Neger was an independent newspaper, presenting stories based on research and factual claims and not skewed toward one side or another. It was something Ethiopia hadn't seen before, and it took off.
Yilma started out writing about sports, but his focus quickly changed. He started writing about social issues, about the government's unfair distribution of its resources to party members and to Triginya, people who live in the region where Prime Minister Meles Zenawi is from.
It was a heady time for Yilma and the others at the paper. They worked furiously, writing about critically important issues in a way no one in Ethiopia had done before. There were long hours and long weeks, and the all-day Sunday editorial meetings that often degenerated into shouting matches over which stories should win the valuable space on the pages of the newspaper. These were Yilma's friends, too, and, in a sense, it was more than just a media outlet, more than just a newspaper, but perhaps also a model for Ethiopia, a kind of rough, noisy, and passionate democracy.
Not everybody was thrilled with Yilma's work at Addis Neger. His wife, for example, liked it better when he was an insurance claims officer. "When I am working in insurance," he says, "we have time on Saturday and Sunday to chill out. When I worked for the paper, on Saturdays I was at the university, finishing my journalism degree, and on Sunday was the editorial meeting, the whole day from 9 a.m. to 6 p.m. She didn't like the job."
His mother disliked it for a different reason. "She was afraid because I am her only son," he says. "She knows I am emotional, and she knows I always want to sacrifice myself for the country. We always argued at home."
The Meles regime didn't care for the newspaper, either. Wary of letting another opposition movement grow, the government worked to curb Addis Neger and other media outlets from issuing reports critical of its policies. To do that, the regime passed an anti-terror law that made it illegal to "publish...or cause the publication of a statement" that is a "direct or indirect encouragement" to a terrorist act. With the definition of terrorism left purposefully vague and with various opposition leaders labeled terrorists (for no other reason than disagreeing with the government), writing anything critical of the government or positive about opposition parties essentially became punishable by 20 years in prison.
Not long after in 2009, the editors of Addis Neger got a tip from an internal source that their arrests were planned and imminent. They fled.
"I called my editor, and the phone was switched off," says Yilma. "I called another editor. Switched off. Managing editor, switched off. My instincts made me realize something was wrong at the office." He called another reporter who explained the situation, and he agonized over what to do. He knew that others accused under the anti-terror law had been imprisoned and tortured, even forced to go on the government-run television and "confess" their crimes. Yilma decided to flee, too. He placed his wife with some friends, and gave most of his money to his mother. "I met her in the middle of the night for 10 minutes," he says. He went to Kenya, with $400 in his pocket.
There, he had to dodge the corrupt police and unfriendly Ethiopian expatriates, and somehow eke an existence without a job or friends to rely on. Yilma met some of his colleagues from Addis Neger who had also fled to Kenya, contacted a variety of international organizations who help refugees like himself, and managed to scrape enough aid to survive. "You think about your wife," he says, "you think about yourself because you don't know what will happen to you. It was a tough time. Two years was like 200 years."
His wife joined him in Kenya, and the two endured an agonized wait over their application for asylum and resettlement to the United States. "The process was very slow," says Yilma of the interviews and the background checks. "Even after a long wait, you might be rejected."
They were not rejected, but accepted, and assigned to settle here through the International Institute of Erie, a field office of the U.S. Committee for Refugees and Immigrants.
"Now I feel so lucky to be relocated," Yilma says.
Not that everything is perfect. Yilma is struggling -- like a lot of Pennsylvanians -- to find a good job, especially one in journalism or insurance. He's without a car in a city built around driving. His wife, too, is struggling to acclimate; her English language skills aren't as refined as Yilma's. Soon, their financial support will dry up, and Yilma will be faced with that steady tug of threatened poverty. Worse still, he has no outlet to express his rage, his ideals, and his love of his country.
At least, not yet.
Jay Stevens can be reached at Jay@eriereader.com
Want to comment on this story? Click here.