You Ought to Know: Lyell Cook
And now, the man you've been dying to meet...
February 9, 2012 at 10:10 AM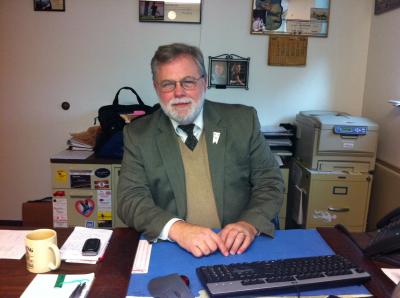 In a world where depression and anxiety are the rule not the exception, there are individuals who not only stay above the fray, but also find a way to take life a little less seriously. While this is an admirable feat all in itself, especially in this day and age, it's even more notable when it applies to someone that works with tragedy and death 24 hours a day—a person that has every reason to be jaded in today's unforgiving world, yet still finds the ability to shift their perspective and remain jovial and light-hearted, giving credence to Greek sage and philosopher Epictetus, "It's not what happens to you in life, but how you react to it that matters." This person is our own Erie County Coroner Lyell Cook.
I walk into his basement office on a beautiful yet balmy, ahem, Monday morning. At the time he was meeting with someone, so I wait in the lobby for a few minutes with his assistant. A few of the deputy coroners were discussing a recent death in the adjacent room, and like any good assistant should, she immediately sensed I was eavesdropping and went to shut the door. Shortly thereafter, Lyell greets me. Now, for those of you who don't know him or have never seen him, Lyell reminds me a bit of Kris Kringle—not the regular Santa type but the Edmund Gwenn version. You know, the "Miracle on 34th Street" one; the kind, funny, and dapper gentleman that wears nice suits when he wants to and maybe if you're lucky enough, buys you a house with a white picket fence …or something like that.
Anyhow, Lyell takes me back to his office and as I sit down I notice the swing music he's listening to in the background, which I quickly learn is his favorite genre. Artifacts and toys riddle his office and he immediately pulls out a stuffed cut off arm and a pair of funny glasses in his bottom drawer. Handing me the arm, he puts the glasses on. I tell him he should hang the arm out of the back of his trunk – I mean, isn't that's why they were made? He just gives me a wry look. I go on and tell him a bit about the article, what the Reader is, and that I need a photo of him. He replies, "Well that will make your circulation immediately plummet." Disregarding his quip, I remind him I still need the photo (preferably with the glasses) and then I ask him about his childhood, his faith, his family and what on earth ever made him go into the field of mortuary science.
"It's something I wanted to do since I was 5 years old. Probably got hit in the head or something," he tells me in a deadpan voice. "My family thought I was crazy. They still do – now I've just proven it." I laugh as he goes on. "There's actually no family history of it. I was part of a fifth generation lumber business that my family owned.  At one time, Erie County had the largest cider mill in the state, and I used to press all the cider for Heinz vinegar and float it on the Erie Canal. But ultimately that's not what I wanted to do. I wanted to get into the funeral business. And no, I wasn't one of those weird little kids that like to torture animals – I couldn't even shoot anything. I was accepted into medical school after college. At the time, the interest rate was 23 percent, so I just couldn't afford it. I ended up going to mortuary school in Pittsburgh; I then ran a funeral home in Greenville, Pa, and ultimately moved back home to Erie and worked for Burton Funeral Home for 15 years. "
As for what transitioned him into his current role? "At the time I moved home, Merle Wood was coroner. He would offer the deputy coronership in each county for two years and I was awarded to serve as one of the deputy coroners in West County." Lyell did this for a number of years. "I really enjoyed it, so, I ran in 1999 when Merle retired, and took office in 2000." And in his usual dead-pan style, he adds, "Each time I run for re-election, I tell people I'm running for the most unwelcome guest in anyone's home." In addition to himself, Lyell has a team that covers all the autopsies for NWPA. "We conduct all the autopsies for Erie and 13 other counties. We actually have a board-certified Forensic Pathologist, Dr. Eric Vey, and he's only one of 600 in the entire world. In addition to that, I have two full-time deputies, and nine part-time ones."
In my book, a good day in this field means less business. Lyell explains, "Over the course of the year, my deputies and I will go out on the scene of about 450 deaths. Of those deaths, Erie County orders about 60 autopsies." He goes on to tell me that Erie County has a staggering cremation rate. "In 1981, only 9 percent of Erie County deaths resulted in cremation of the body. Today, approximately 71- 73 percent do. The numbers need tweaking, but their close. Of the 1700 - 1800 deaths that occur annually, about 1300 are cremated." This is rather interesting to me, and though he tells me he has ideas why there is such an increase in the numbers, he doesn't elaborate. Instead, he adds, " I also have to approve all cremations before they're done because they make the body unavailable for further study."
I learn there are also bodies that go unclaimed. "If they're unclaimed I have to offer them to a medical school – here it would be LECOM. If the body is not usable for training purposes then we put a notice in the paper, write up a court order, and we have them cremated." Interestingly, I am told, if the unclaimed person is a veteran, their ashes are sent to Indiantown Gap National Cemetery in Lebanon County. "Every veteran is guaranteed a grave and a marker, and if not they stay here (he points to the closet behind him)." Alarmingly, I ask it there's actually ashes in there,  and laughing (at me) he says, "There have been – but none right now. Actually, on 9/11, myself and other officials were out conducting an ash scattering ceremony at the Almshouse Cemetery at Pleasant Ridge Manor as the towers were falling. As a result of that tragedy, we decided that every other year on September 11, we would take the unclaimed ashes and have a scattering ceremony. It's an event that's open to the public - we have music, a number of clergy show and there's a memory wall where everyone's name gets placed, so they're just not forgotten." He adds, "This is something I'm really proud of. As Past President of Pennsylvania Coroners and talking with other Coroners throughout the state, we know of no other county that does this."
So, as a person who clearly has respect for every individual's life, and someone who responds to death by giving others dignity, I wondered, given all the tragedy in his day to day occurrences, if he had a belief in something greater. "Quite honestly it would be very difficult to do this job if you didn't believe in something. If I thought in my heart that when someone died that that was the end of life as we know it - I couldn't do this job. Now, we can't be religious or emotional in this business. I learned that early on. However, you really do have to have some kind of belief in something because when you witness the horrible tragedies that do occur - without any explanation - it can really wear on you. No matter how horrible of a situation that we might run into, you have to claim into the idea that they've gone onto something better." 
Ending on a positive note, I ask about his family. "I have one son and two grandchildren, which are 6 and 7 years old." As for how long he's been married? "You said there'd be no math," he looks at me sternly for a moment, and then quickly turns up a smile, "Oh, I don't know…about 14 or 15 years. And don't even ask me the month – I think… it was chilly." I begin to wonder if he is serious, and then he goes on, " I remember we got a phone system a few years ago and you have to put a password in to access the voicemail, so my wife Nancy put in our anniversary date – we had 99 calls waiting because I couldn't remember and I wasn't going to ask her – it took me a whole day to get rid of them."
I do think he's kidding, but I leave it alone. Instead, I ask about how he met her. This is where he lights up. "Well, I met her at work." So, I jokingly say, you hit on her at a funeral home?" He responds, "Well, I offered her shiny cars and flowers every day." He smiles, "She's an incredibly sharp woman. She ran a veterinary clinic for a number of years out on our property and she is a figure skater – still teaches here locally. Oh, and she has a horse named 'Ghostie.'
Of course she does.