A Night on the Town: New Years Eve Edition
Resident socialite Rebecca Styn maps out NYE in Erie PA.
December 15, 2011 at 10:00 AM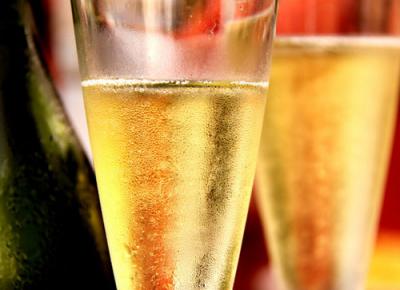 New Year's Eve. The ever-celebrated last hurrah of the year. An evening in which we all wistfully celebrate days gone by, eat a little, drink into excess, and ultimately stagger into the evening's final moment, where the ball drops, our glasses raise, and toasts are made to what is promised to be our best year yet.
But before you wage warfare on your resolutions this January, be sure to take part in one of the great events going on around town the night before. A sampling of everything from a gourmet meal or a classic celebration to debaucherous revelry is on the menu—helping you bring in the new year with a 'new' you (and probably a brand new hangover).
First Course: A small sampling of restaurants to help kick off your evening, well, tastefully.
Avanti's  - A neighborhood staple that serves coffee and eggs by day and gourmet meals at night. The menu is handcrafted and is yet to be determined, but diners in the know have come to enjoy consistent favorites, such as roasted porterhouse of lamb and chocolate covered cherry cannoli. So, I can't even imagine what they'll pull out of their hat for this one.
Bertrands – How about a trip to Paris right in Perry Square? In addition to their classic French menu, Bertrand's will offer up a seven-course meal with options such as Rigby Island oysters and stuffed rabbit and a chocolate ganache tarte for dessert.
1201 – Although their standard menu will be offered that night - their contemporary Asian/Latin cuisine is anything but typical. Whether your evening is built around the meal, or you're just in the mood for some sushi or apps, this decadent restaurant has something for everyone.
Second Course:
Boogie on the Bay –the Bayfront Convention Center will host its third annual dance party featuring the sounds of Red Line – a band supposedly so incredible, a friend of mine hired them for their wedding. A $40 admission includes a couple of drink tickets, hors d'oeuvres, and champagne toast. Don't want to worry about driving home?  The Sheraton is offering a hotel stay and ticket package.
Boardwalk Complex – Can't make it to Times Square this year? Well, here's the next best thing (without standing outside in the cold). Catch the ball drop via live-feed at the stroke of midnight. The club will offer a variety of table packages depending on location and champagne choice. General admission for the night is $10.
Brew Year's Eve – Owner Chris Sirianni offers up his reasons to attend this event. "Being able to transition from one hall to another and experience different entertainment in such a historic atmosphere is pretty unique. The Man's Room band will perform in the concourse and DJ John will spin tunes in the Rotunda. Couple in an open bar and hors d'oeurves, it's a steal for the price." The steal is $40 a person and tickets are limited.
Gamehendge 2012! – Phish lovers (or not), who doesn't want to know the story of retired Colonel Forbin from Long Island, who enters the land of Gamehendge and rescues a document from an evil dictator named Wilson? Now's your chance. Presented by Eric Brewer and Phriends, The crooked i will play host to this Phish saga from 10 p.m. to 2 a.m. $5 cover.
Jr's Last Laugh –The club is putting aside their comedic performances (well, aside from your own after a few drinks), and putting on their dancing shoes. The M-80's will be performing, party hats will be aplenty, and a full hot breakfast will be served at 1 a.m. And who doesn't love bacon (breakfast = bacon)?
New Year's Eve Gala – the Playhouse's traditional concert gala will feature 100 talented vocalists and musicians under the creative direction of David Matthews and Andrew Rainbow. It's a Broadway hit parade – showcasing memorable songs that have become an indelible part of the fabric of American music.
Presque Isle Downs – How about little bit of country (or a little bit of rock and roll)? Country artist Chris Higbee will perform in the Clubhouse and New York City DJ Brian Massey will host an ice bar dance party in the downstairs mutuels, the wagering area that takes you to the back patio. And there's a variety of entertainment going on throughout the Casino the entire evening.
And……for all those that literally want to start the new year off right (read: crazy), join the Erie Runner's Club for it's five mile (yes, miles) New Year's Day race the next morning at 10 a.m. Go to www.erie-runnersclub.org if you're insane.
Remember: Reservations are highly recommended (or mandatory). It is best to call in advance to find out times and costs. Unless you want to wait until 10 p.m. (or later) to eat, or find your event sold out long before you even got there.