Baseball Monday: Are the Pirates for Real, Part 2?
After the Pittsburgh Pirates' whirlwind 2013 season, the question lingers: will they do it again?
October 14, 2013 at 9:13 PM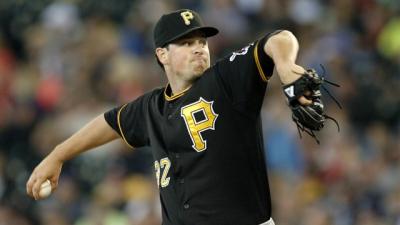 Are the Pirates for Real? Part Two.
A long, long while ago, back in the mists of June, the Pittsburgh Pirates had the best record in baseball. I asked the question that was on nearly every Buc fan's mind: were they for real? After all, the Pirates had started strong in 2010 and 2011, only to fade to mediocrity in the end. Me, then:
Is Pittsburgh the best team in baseball? Probably not. And if I were a betting man, I'd put money on the Cardinals to win the division, not the Pirates. But are the Bucs an above-.500 team? Definitely. And if their luck holds, they have a good shot at a playoff game.
*Pats self on back.*
All well and good. But now the Pirates are the subject of a new narrative – no longer the fast-starting, choke-down-the-stretch gang – they're the Up and Comers! This is only the start, goes the narrative, of something good.
Dayn Perry, of CBS Sports:
Save for their narrow defeat in the NLDS, everything went right. First and foremost, the Pirates barged to 94 wins and their first winning season (and first playoff berth since 1992.
...[T]his was pretty much the best possible season a franchise could have without winning the World Series. Hats off to the Pirates and hats off to Pittsburgh's re-emergence as a cradle of baseball. What unfolded in the Steel City in 2013 is one of the best baseball stories in a long time – a renaissance in every sense of the word.
Pittsburgh has a young team and a stacked farm system, so a lot of folks are picking them to keep improving.
But here's the problem. As Perry pointed out, everything went right for this ballclub. Jeff Locke's amazing first-half. Francisco Liriano pitching himself into the Cy Young discussion. The bullpen! Four relievers tossing 70+ innings with sub-3.00 ERAs: Mark Melancon (1.39), Tony Watson (2.39), Justin Wilson (2.08), and Vin Mazzaro (2.81). Their defense was superb. Midseason acquisition Justin Morneau got on base at a .370 clip. Sterling Marte came of age. McCutchen was the National League's best position player in 2013. And so on.
And then there's Pittsburgh's run differential. In 2013, the Pirates outscored their opponents by 57 runs. That's not much. In fact, all of the playoff teams other than Tampa Bay had a better run differential. Boston, St. Louis, and Detroit's run differential were three times Pittsburgh's.(For the curious: Boston +197, St. Louis +187, Detroit +172, Oakland +142, Atlanta +140, Cincinnati +109, Cleveland +83, Los Angeles +67, Pittsburgh +57, Tampa Bay +54.) That run differential isn't that of a usual 94-win team.
So why the low run differential and the high number of wins? Fangraph's Jeff Sullivan found that the Pirates' pitching staff was the best in MLB at not allowing baserunners in high-pressure situations – in late, close ballgames. They led the league during these high-leverage situations in holding batters to a .238 wOBA – or weighted on-base average, a stat that accounts for hits, walks, extra base hits, etc., and puts it into a single number. A .320 wOBA is average, a .290 wOBA is awful. A .238 wOBA? Well, that's otherworldly. In fact, that's the best in the game since Fangraphs had starting measuring these leverage situations in 2002.
Is this a skill? Sullivan:
You can't help but think about the sustainability, or unsustainability, as it were. Last year's leader in this category was the Rays at .247. This year, they're at .311. Last year's runner-up was the Orioles at .254. This year they're at .329. But then, in third last year was the A's, at .268. This year they're at .269. Like all things, you figure this has been a blend of talent and luck, and we can't really speak to the proportions. The Pirates shouldn't count on this repeating in 2014.
That's the thing. Everything broke right for the Pirates in 2013. You could call it luck, or catching lightning in a bottle, or that every move they made broke their way – Vin Mazzaro? are you kidding me? – or whatever cliché you want to slap on it, but it's very possible, likely even, that the Pirates could have a better team in 2014, and have a worse record.
But the tide has turned, and this team will be competitive for the foreseeable future.