Baseball Saturday: Are the Pirates For Real?
The Pittsburgh Pirates have the best record in baseball. Are they for real? And who's coming to Erie this week in AA action?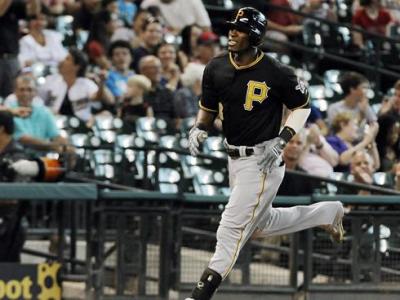 There was a surprise for baseball fans in this morning's sports pages: the Pittsburgh Pirates, at 49-30, are in first place in the NL Central and have the best record in baseball.
I suspect, though, that Bucs fans are not jumping for joy.
After all, it's not the first time in recent history they've come out strong, and then faded. Exactly one year ago, the Pirates were 41-35, but finished with 79 wins and far out of contention. After losing to the Toronto Blue Jays 2-1 on June 29, 2011, the Pirates were 40-39; they finished fourth in their division at 72-90.
So don't fault Pittsburgh fans for not gushing about this year's club.
That said...what if...you know...this team is for real?
For starters, it seems as if the Pirates offense is for real. Russell Martin's .240/.340/.416 seems in alignment with recent performance. Neil Walker's .254/.361/.402 might even be a bit low for what we expect from the second baseman. Pedro Alvarez is having a breakout year of sorts, belting 19 homers, but hitting only .246 with a dismal OBP of .310. McCutchen seems to have lost some power this year, the platoon of Sanchez and Jones at first is producing, well, passable results, as is Snider's performance in right.
And then there's Starling Marte. Hitting .287 with 8 triples and 8 home runs and 22 stolen bases and playing extraordinary defense in left. This year, he's arguably one of the best all-around players in the league, and, at 24, this might be just a glimpse of the kid's future.
That is, no one's having what you would call an extraordinary year, an outlier, a performance that you wouldn't expect to continue over the rest of the season. Barring a spate of injury, I think the Buc hitters might just be this good.
The pitching, on the other hand, is a prime candidate for regression.
Jeff Locke, for example, he of the 2.04 ERA and 7-1 record has an xFIP of 4.11 – xFIP is a stat that estimates pitcher ERA based on the events they control: walks, strikeouts, flyball rate. The difference between Locke's ERA and his xFIP suggests he's been lucky so far this season – although Tom Verducci suggests the Pirates' superior defense has something to do with that. Maybe that's true, but Locke came into the season with a 5.50 ERA in 50 innings pitched. He's probably not that bad of a pitcher, but it's not likely he's Pedro Martinez either.
There are other concerns, too. Jeanmar Gomez' peripheral stats – walk and strikeout percentage, for starters – suggests he's still the pitcher who came to the Bucs with a lifetime 4.72 ERA. Francisco Liriano hasn't pitched this well – a 2.30 ERA – since 2006, when he was 22. Injuries and inconsistency have plagued him since. Gerrit Cole is a top prospect and highly touted and has started well – 4-0 with a 3.70 ERA – but he lacks a strikeout pitch and has K'd only 4.1 batters per nine. It seems only a matter of time before he gets knocked around.
Likewise, most of Pittsburgh's bullpen seems to be overperforming. Mark Melancon's 0.94 ERA jumps out, for example. And can 36-year-old Jason Grilli continue to hold up as a dominant reliever with the workload placed on his shoulders? Currently he's on pace to pitch 75 games, a number Grilli has yet to equal in his 11-year career.
Still, the Pirates' staff has shown remarkable resiliency and depth. Despite injuries and DL stints for AJ Burnett, Wandy Rodriguez, and Jeff Karstens, the Pirates still have been succeeding, finding good starts from Cole, Gomez, and Charlie Morton. It may not be sustainable, but when – or if – the injured starters come back fully healthy, the team will have weathered their absence.
So? Are the Pirates for real?
With the pitching overperforming like it has, I suspect the Pirates are in for some ugly stretches of baseball, but there's no question this team is better than the 2011 and 2012 squads.
Is Pittsburgh the best team in baseball? Probably not. And if I were a betting man, I'd put money on the Cardinals to win the division, not the Pirates. But are the Bucs an above-.500 team? Definitely. And if their luck holds, they have a good shot at a playoff game.
This Week for the SeaWolves
I thought I'd preview each week's home games for the Erie SeaWolves by letting you all know who to watch on the opposing teams...
Tonight and tomorrow, the SeaWolves are squaring off at home against the Richmond Flying Squirrels, the AA affiliate of the San Francisco Giants. There's not much to see here, as San Francisco has one of the weakest minor-league systems in all of baseball, but the Flying Squirrels do feature the Giants' second-ranked prospect, according to Baseball America: second baseman, Joe Panik.
Panik is a contact hitter and a gamer, a guy who works the count and is able to put the bat on the ball. It's not sexy, but workmanlike, and there's a strong chance Panik will be replacing Scutaro in a year or two, doing the same thing Scutaro does now, being that dirty-uniformed gritty two-hole hitter championship teams need.
Also keep an eye on catcher Andrew Susac. He's a prospect with premium defense and, as attested by his home run against Erie last night, he's got pop. He's also hitting better than expected by preseason prospect reports, .264 with a robust .374 OBP, and is likely to move up the organizational rankings next year. Still, with Buster Posey blocking him in San Francisco and the typical slower development time for catchers, it'll be some time before Susac makes the majors.
Next week – Monday through Wednesday – brings the Harrisburg Senators, the Washington Nationals' AA affiliate. Last year's NL ROY, Bryce Harper, is currently rehabbing an injured knee with the team, but is expected to be back with the Washington for Monday night's game, and thus missing out on a trip to Erie.

That's not to say there aren't prospects to see. Two of Baseball America's preseason top ten Nationals prospects are on the Harrisburg squad – outfielder Brian Goodwin (#3) and pitcher Nate Karns (#5). Karns is scheduled to pitch on Sunday, so it's likely he'll miss the Erie series, too, but Goodwin – after Anthony Rendon – is the organization's top positional player prospect. He's a toolsy 22-year-old center fielder hitting .258/.358/.400 – a bit of disappointment so far this season. But he hits for power, draws walks, and has decent speed, and might someday be an impact player in the major leagues.