Baseball Monday: Are the Tigers in trouble?
The Detroit Tigers have a three-game lead over the Cleveland Indians. Can they hang on the rest of the year?
July 29, 2013 at 10:31 PM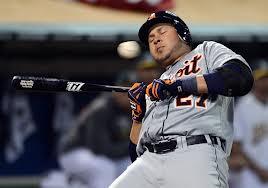 Are the Detroit Tigers in trouble? It's almost a ridiculous question, given the Tigers' record – 59-45 – and place in the AL Central – first, with a three-game lead over the Cleveland Indians. Most any other team in baseball would be happy with such a record and lead in the standings, given that there's no real dominant team in MLB right now.
But fans of Detroit and others following baseball closely, there is something off about the Tigers, something that hints that maybe the Tigers are indeed in trouble.
Consider: The Tigers arguably have the best rotation in all of baseball history and, in the form of Miguel Cabrera, have the best hitter in all of baseball, yet they're only three games up on the Indians, a team with major holes in the lineup and an inconsistent and shaky (if performing well) rotation.
So, why aren't they running away with this thing?
For starters, you probably noticed I didn't call Miguel Cabrera the best player in baseball. That's because he's a bat-only player. He doesn't run the bases well, and he's a statue in the infield. And that's kind of representative of the Tigers as a whole: they're a bad defensive team. Cabrera, Peralta, Avila, Fielder, this is a big and slow team. The best defenders are Austin Jackson – who's really just average for center – and Omar Infante, who's injured. Even Torii Hunter, once a great outfielder, is now far past his prime. And as anyone who watched the San Francisco Giants pepper little ground balls through the enormous gap between third and short during last year's World Series knows, defense matters.
The Tigers' bullpen has also been erratic. Only Joaquin Benoit and Drew Smyly have been good – and already at 60+ innings already this year, Smyly's arm is likely to fall off – the rest of the relief staff has been utterly putrid. Exhuming Jose Valverde's corpse to close games did no favors for Detroit. Acquiring Jose Veras will help.
Injuries have also dogged this team. Omar Infante, Austin Jackson, and Alex Avila have all missed substantial time to injury. Miguel Cabrera sat out a few games with a bad back and hip problems – injuries that tend to be chronic, and at 30, he's no kid anymore.
And then there's Justin Verlander. The last two years Detroit has won the AL Central and Verlander went 41-13 with a 2.52 ERA and 489 strikeouts – average one per inning. He won the AL Cy Young voting in 2011 and finished second in 2012. His ERA hasn't been over 3.50 since 2008. This year, Verlander is 10-8 with a 3.99 ERA and has been getting uncharacteristically pounded in recent starts. (Giving up 7 ER in six innings against the White Sox [!] in his last start, for example.) Having just turned 30, there's a suspicion Verlander is on the downslope of his career.
And Verlander's decline has been the topic of many an article and blog post. Basically, the guy's velocity is down, and there's less movement on his breaking pitches. Hitters are teeing off on him. There's no doubt he's not the same pitcher this year as he was in recent history. Is the decline because of injury? Or has he just lost some stuff because of the natural aging process? That's the mystery.
And another bad blow is waiting in the wings. Shortstop Jhonny Peralta's name was found in Biogenesis records, and it's likely he's facing a lengthy suspension. It's quite possible the Tigers will lose their shortstop for the remainder of the season in the midst of a career year. (Though happening at 31 with his name linked to PEDs brings that into question, eh?)
So it's not impossible to imagine a scenario where Cabrera misses significant time to injury, Verlander continues to pitch poorly, Peralta is suspended for PEDs, and the Tiger bullpen implodes, allowing the Cleveland f***ing Indians to take the AL Central.
Are the Detroit Tigers in trouble? Well, no. Not yet. But they're making what was supposed to be a cake walk an awfully tight race.
The Next Big Thing: An A-Rod Suspension

The big buzz in baseball right now, of course, is the Biogenesis scandal. After Braun's suspension, we're all waiting for the other shoe to drop. And that shoe is Alex Rodriguez.
There's rumors swirling that MLB wants to lower the boom on the Yankee third baseman – talking about suspending him for all of the remainder of this season and all of the next, some 200 games – and there are rumors A-Rod would fight any suspension MLB would drop on him – and he'd have good reason to, what with the questionable sources baseball is using as evidence in these actions – Tony Bosch, the former head of the Biogenesis clinic, who is naming names to avoid a lawsuit.
If A-Rod accepts his suspension, it'll essentially end his career, but save him $60 million on the end of his contract. If he doesn't...well, there's talk of a lifetime ban.
It's a weird situation. MLB wants him out of baseball. A-Rod wants his money. The case could be shaky, but the players' union – if the Braun suspension is any indication – isn't interested in going to war for PED users.
The oddest position in all of this belongs to the New York Yankees. They seem kind of eager to see Rodriguez suspended, which includes loss of pay. It saves them money. And the longer the suspension, the more money they save. Weirder still is that if A-Rod never takes the field this year, the Yankees would receive some insurance compensation to help pay his salary, which goes a long way in explaining why Yankee officials and Rodriguez are bickering over his health and ability to play.
Frankly, it makes the Yankees organization look like a bunch of whiny jack*sses. (Yes, I know, what else is new?) And why should they be rewarded by a lengthy PED suspension for A-Rod? Didn't they have suspicions about A-Rod's PED use when they signed him?
Seems to me teams should be punished for having PED users in the lineup. That would give teams a bigger incentive to monitor their players' possible PED usage. Right now teams benefit in the win-loss column from players who use PEDs, and they benefit financially from players who are busted for PEDs. There's no real disincentive for teams to sign suspected PED users, or to prevent PEDs from entering the clubhouse.
...And in SeaWolves News...
So the SeaWolves are out of town until Tuesday, August 6, so I won't bother with any prospect previews here, but that doesn't mean there's nothing to write about.
To wit: Erie had a dynamite week.
Starting last Monday – July 22 – Erie went 6-1 in its recent home stand, outscoring Richmond and Bowie 42 to 26. During that stretch, the SeaWolves held opponents to 2 or fewer runs in five of those games, and to 3 runs in one other. And there were some notable performances, too.
For one, SeaWolves left fielder Tyler Collins destroyed Richmond Flying Squirrel pitching this week. He went 9-for-12 in the three-game set, with a pair of homers, 4 runs scored, and ten batted in. Just to prove what a funny game baseball is, Collins went into a 2-for-16 funk as soon as Richmond left town – although he mashed his 17th home run of the year in the last game of the home stand against the Bowie BaySox.
Collins has struggled this year – he's hitting only .226/.316/.438 in 2013 – but last year as a 22-year-old in high-A he hit .290 with an impressive .371 OBP. Baseball Prospectus' Jason Parks has criticized Collins' "complete lack of feel for the game" (subscription req'd) and said any adjustments the outfielder makes are "completely accidental." It's hard to argue these assessments based on Collins' play this year – although he's hit for much more power than anticipated. If Collins learns to make adjustments and develops a mature approach at the plate, the kid's athleticism could make him a major leaguer. So far, though, he's making Parks look correct.
But the week's success really belongs to SeaWolves starters. Drew VerHagen steered Erie to two victories with 10 innings in two starts, giving up 13 hits and two runs. Matt Crouse pitched eight innings in Erie's 4-0 shutout over the Bowie BaySox, giving up three hits, one walk, and striking out four. Warwick Saupold beat Richmond, 5-1, with five innings of five-hit, six-strikeout pitching. (He was roughed up for six runs by Bowie later in the week.)
Of the three, VerHagen's probably the highest-touted prospect. I've written about him already: Baseball America has him ranked the 14th-best prospect in the Detroit system in its preseason prospect lists. That is, none of these pitchers are projected to be star-quality starters, but they've carried the SeaWolves to a 56-49 record, good for second place in the Western division of the Eastern League.