Baseball Sunday: the Boston Red Sox and Clubhouse Chemistry
ESPN's Buster Olney finds clubhouse chemistry at the heart of the Boston Red Sox' success, but is he right?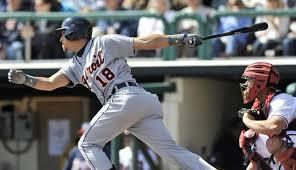 Sunday, a Buster Olney post appeared with the headline, "New clubhouse vibe key for Red Sox" (subscription req'd), in which the ESPN columnist describes the new atmosphere in Boston's clubhouse:
The change started last winter with that question that was asked in the Red Sox meeting. It started with Dustin Pedroia working with Jose Iglesias -- not only on his swing, but on his mind, challenging him to work to a higher standard. It started with Lackey recommitting himself to baseball, getting in so much better condition that when John Farrell first saw him in December, his first words -- said in astonishment -- were, "What happened?"
You get the point. While Olney in the post itself never comes out and declares Boston's turnaround is the result of its clubhouse vibe – as the headline does – he certainly implies it.
But is it true?
Last year, when the Red Sox finished fifth in the AL East with a miserable 69-93 record, their worst full-season record since 1965, the Sox clubhouse was a miserable place to inhabit. Coming off a historic collapse in 2010, the Boston Globe ran a piece basically blaming the season's outcome on spoiled players and a powerless manager, and things disintegrated from there. Manager Terry Francona was sacked, GM Theo Epstein resigned, and new manager Bobby Valentine turned the team into a circus.
The team stank.
This year it's vastly different. The clubhouse is fun. And the Sox are 58-37, good for a four-game lead in the AL East and the best record in MLB. (Apologies to the Pittsburgh Pirates.)
Stats geeks pooh-pooh clubhouse chemistry as being an important factor in winning ballgames. Or, at least, they claim it's not measurable. (Tho' this study disagrees. UC Santa Clara researchers claim that demographics, such as nationality and MLB experience influence clubhouse chemistry.) After all, good chemistry is often created by winning. And consider that the media enforces reactions: players must be appropriately mad or upset after losses.
The Red Sox clubhouse itself is evidence that chemistry might not be behind the winning. John Lackey, one of the main villains in the chicken-and-beer scandal, and last year one of the clubhouse's worst "cancers," is now seen as one of the main reasons clubhouse chemistry is good.
The difference? This year he sports a 2.78 ERA. In 2010-11 when he was a cancer? He had an ERA of 5.26. The narrative, as constructed by Olney: Lakey is "recommitting himself to baseball." But then, that's sports reporting.
No, the chemistry argument isn't entirely convincing in the case of the 2013 Boston Red Sox. As Jonah Keri explained in Grantland, the Red Sox were talented teams in 2010 and 2011, but suffered untimely injuries. This year they're healthy, and the players they acquired in the offseason are performing as expected. It's as simple as that.
But then there's Brandon McCarthy, a pitcher for the Arizona Diamondbacks, and one of the "more sabermetrically-oriented players out there," as SI's Jay Jaffe put it, who said, at a SABR Analytics Conference – the heart of baseball stat geekdom, its holy gathering – that if good clubhouse guys Brandon Inge and Jonny Gomes had not been a part of the 2012 Oakland A's, they'd have won 70 games instead of 94.
McCarthy:
It sounds stupid, but if you have a rookie that comes up and rookies are filled with self-doubt, filled with worry, and now you're in the big leagues and you come to a team where nobody makes you feel welcome. So now you're already nervous, you're kind of worried about your lot, and then the guys around you, you're not comfortable and you don't feel like you're one of them. You don't feel kind of free and like you can do what you do. But if you have a guy like Jonny Gomes or Brandon Inge or someone who just comes up and is just kind of (BS-ing) with you and it just sort of loosens you up and then everyone else can kind of get in the mix. I know it sounds really stupid, but it's kind of like being an artist where the more comfortable you feel, usually your better work comes out… It goes for veterans and everybody. There's guys that make you feel more comfortable. That loosens you up… there's a whole trickle down effect to it that's impossible to quantify but it does exist in there."
Last year, the A's relied on a number of rookies for their success. And Jonny Gomes this year is now a member of the Boston Red Sox.
Jaffe:
...I do think it's important to reiterate the idea that there's a difference between saying something intangible can't be quantified versus saying that said intangible has no value. The next time I hear a player talking about good chemistry, instead of waving my hand dismissively, I'll hope that he's up to the task of elaborating with insight as to why it might exist.
* * * *
The Erie SeaWolves play one more home game tomorrow against the Harrisburg Senators before heading off on a week-long road trip in Altoona and Akron, so there's nobody to look for this week in Jerry Uht Park. (Check out last week's column for info on the Senators.)
That said, there's still plenty of news about the SeaWolves to sift thruogh.
For starters, the Erie Times-News' Tom Reisenweber has penned excellent and informative articles (if a tad, well, familiar), profiling Jamie Johnson and writing a Sunday feature on what the everyday life of the SeaWolves' player is like. Good stuff.
As is news that several Seawolves players were recognized for excellence in the recent Eastern League All-Star game, including Hernan Perez, James McCann, Will Startup, and Warwick Saupold. The East won the game, 5-0, on a Richmond Flying Squirrel outfielder Javier Herrera first-inning three-run bomb off of Portland SeaDog Anthony Ranaudo.James McCann got a couple of hitless at-bats for the West, and Will Startup pitched an inning of scoreless relief.
McCann was also invited to the SiriusXM All-Star Futures Game, which showcases talent from across all of the minor-league levels in one game, U.S. players on one team, world players on the other. The Futures Game is a big deal; players selected to play in the game usually have bright MLB futures. Still, while McCann has made great strides in his game this year, Baseball Prospectus' Zach Mortimer sees McCann's ceiling as a glove-first backup catcher (subscription req'd), with "excellent makeup and a strong baseball IQ."
Manager Chris Cron's excellence was also recognized; he, too, will be participating in the Futures Game, where he'll be coaching his son, CJ Cron, a standout first base prospect for the Los Angeles Angels.
But perhaps the happiest Erie SeaWolves player of them all is Hernan Perez, who was called up to the Detroit Tigers to play second base for the injured Omar Infante. In his first game for Detroit, Perez deked a Chicago runner, which led to a double play...
In two games so far, Perez has one hit in seven at bats.