Buddy Guy Rolls Into Erie
At 74, Buddy Guy still feels like he has something to prove and after talking to him, it's clear that the blues legend just can't quit the blues.
March 30, 2011 at 12:00 AM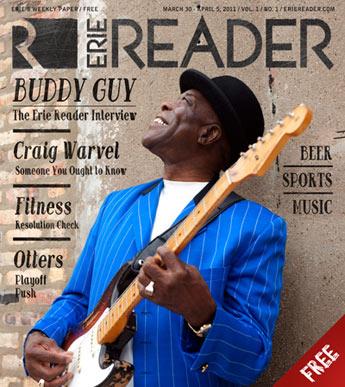 At 74, Buddy Guy still feels like he has something to prove.
"I've driven through Erie many, many times over the years – mostly in the dark on our way to other cities for other concerts. I always said to our guys that we had to stop there one of these times in daylight – it would be a great place to perform. I'm looking forward to being there. I just can't believe the amount of snow you guys get!"
This was what Buddy Guy, the six-time Grammy Award winner and inductee to the Rock 'n' Roll Hall of Fame, recently said to me on the phone. It just so happens that Buddy will be performing in Erie this coming Sunday at the Mary D'Angelo Performing Arts Center at Mercyhurst College.
I refer to Buddy by his first name because he gave me the sense that even without knowing him I was already considered a friend—of course this could be, and probably is, very wishful thinking. I was gifted ten minutes to ask him almost anything I wanted. There were of course a few guidelines, but you wouldn't know it by listening to him. He seemed like he would talk about anything. The charismatic, kind, and open spirit needed very little prodding to get him to chat about his most recent Grammy Award-winning album, his relationships with some great blues and rock artists of his time, and how, to this day, he still gets nervous right before he walks on stage.
Renowned as being "one of two living blues legends," Buddy is a man who inspired a generation of electric guitar rock stars and changed modern blues music forever. This incendiary guitarist has inspired some of the greatest musicians of the past 50 years. A 'who's who' list that includes: Eric Clapton, Jimi Hendrix, Jimmy Page, Keith Richards, and Stevie Ray Vaughn, to new a few. It's even been said that Jimi Hendrix would occasionally cancel his own shows just to go see Buddy Guy play.
And can the man sing.
Anyone who knows him or his music can't help but know how amazing he is. His story, his music, his life have all weaved themselves into creating the consummate artist who considers himself...
---

Grab a FREE copy at one of our distribution points to read the rest of the interview.