Check out the Latest Animation Showreel from MoreFrames
The animation wizards at MoreFrames have put together a short showreel for 2015, and it's wonderful.
December 12, 2014 at 7:00 PM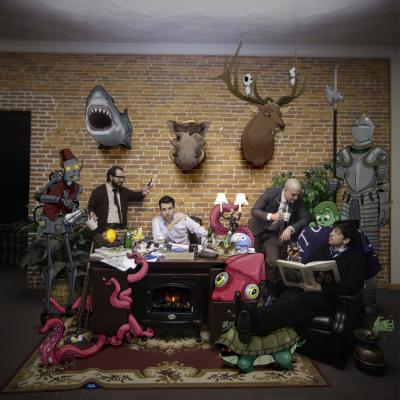 There are less than 20 days left in this month, meaning that it won't be too long before 2014 comes to a close. Naturally, people have been evaluating the past year, whether it be for best-of lists, special occasions, or what have you.
However, the end of the year also means thatwe can start anew, whetcher it be a 2015 calendar, an extremely unlikely New Year's resolution, or a shiny, spiral-bound 2015 edition of the AP Stylebook (oh joy!). The upcoming date change led the talented animators at MoreFrames in Erie to put together a fresh showreel showcasing some of the awesome new work that they have done, as well as including clips from some of the equally awesome older work in the years before 2014.
If you are already aware of MoreFrames, feel free to scroll down and check out the 132 seconds of animated coolness embedded further down in this post. If not, I wrote a several-thousand word feature on the animation studio back in November of 2012, but here's a 48-word description for the tl;dr crowd out there.
MoreFrames is an Erie Reader 40 Under 40-represented crew of animation rock stars located right in Erie who have done plenty of cool things, like creating a music video for Grammy Award-nominated groove-metal band Lamb of God and a motion comic for the Halo franshise. Oh yeah, they also brought Ghost Perry to glowing rectangles around The Flagship City and 
Got it? Good. Now feel free to check out the new 2015 MoreFrames Showreel, where you can witness glimpses of things like Medieval demon-hunting siblings, lessons on kung fu, and a really adorable spider. My only complaint. It needs more puccoon.
MoreFrames Animation Showreel 2015 from MoreFrames on Vimeo.
For more animated goodness, make sure to head to official MoreFrames Vimeo page and MoreFrames.com, as well as like MoreFrames on Facebook.